10 Comments
The Dual: Does track and field have a Justin Gatlin problem?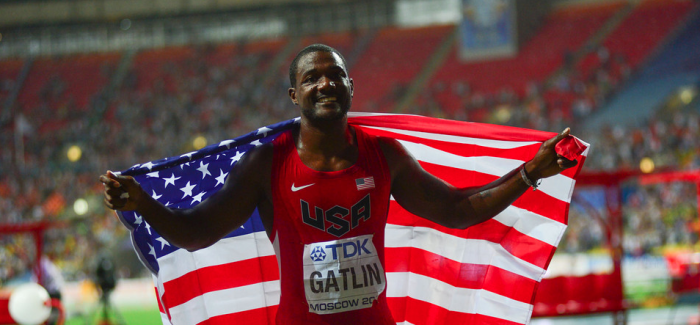 Kevin Sully | On 26, Aug 2014
The Dual is a two-person discussion about issues surrounding the world of and track and field. This week, Jesse and Kevin breakdown track's uneasy relationship with Justin Gatlin. 
Kevin
There were two Diamond League races last week.  Neither featured the fastest man of 2014, Justin Gatlin. Thursday's Diamond League final in Zurich also won't have Gatlin on the start line. Gatlin has served two doping suspensions and meet directors were quite vocal last week about blocking athletes from their meet if they felt an athletes has "brought the sport disrepute."
Gatlin's response?
"I look at myself as the `Batman' of track — a vigilante. You may not like me, but I'm needed."
Aside from the copyright infringement issues of Bershawn Jackson's nickname, what do you think of Gatlin's current place in the sport? Some meets welcome him, while others turn him away. It's a bit confusing for fans to follow, especially when Gatlin is in the midst of an undefeated season and competes in the sport's most popular event.
Interestingly, the criticism of Gatlin appears to be higher now than it was when he won a bronze medal in the 2012 Olympics. Is this because in a non-championship year there are few stories to talk about? Or, does track and field/IAAF/Diamond League have a Justin Gatlin problem?
Jesse
Gatlin has come in for a lot of flack this year and rightly so. I think he should have gotten as much flack in previous years too, but he hasn't. He's running faster, but not that much faster. It seems his greatest transgression is winning. No Bolt, no Blake, and an over-the-hill Gay means he wins almost by default.
If the Diamond League has a problem, it's that we pay too much attention to the men's 100 meters. I think it's among the least interesting events on the tour but it gets the most attention. I'd rather watch a race like the Stockholm women's 1500.
Kevin
You and me both. But the attention is on the 100 and it will continue to be for the foreseeable future.
Three questions for you:
1) In an alternate universe where Gatlin admitted his mistakes would he be viewed the same way? Would Tim Hutchings still have said the following?
Justin Gatlin "You may not like me, but I'm needed." NO YOU ARE NOT. Who told you you're needed? Head off in to the sunset & get a job?

— Tim Hutchings (@TimHutchings1) August 22, 2014

2) The Diamond League is already only a "league" in the loosest terms, but different meet directors going rouge in who they block from meets seems to only create more division throughout the sport. Is that fixable?
3) Say Gatlin runs something really fast in the final weeks of the season and both Bohdan Bondarenko and Renaud Lavillinie suffer bad defeats. Is Gatlin the frontrunner for Athlete of the Year? Is this the nightmare scenario for the IAAF?
Jesse
1) No. Gay did everything he could to make amends and he's still been excoriated. I don't see anything Gatlin could have done to satisfy his detractors besides disappearing forever.
2) I think meet directors have too much leeway on who to invite. I have thoughts on how it should be done. Note that the ATP, tennis' athlete union, was created on 1972 mostly to address the issue that tournament directors had too much control over who was invited and who wasn't.
3) It's possible, although unlikely. It's not my nightmare scenario. Mine is where no major sports media outlet cares who wins the IAAF athlete of the year, which has been the case almost since Alice Cooper released "Welcome To My Nightmare" in 1975.
Kevin
Congrats, you managed to reference Alice Cooper and ATP in a discussion about Justin Gatlin. Well done.
I agree with you on the first point, though I think it would be less venomous if several years ago he waged a charm offensive where he apologized, named names and tried to make amendments. Too bad Oprah doesn't care about track.
The public, at least in America, is willing to forgive pretty much anything. Plenty of steroid users, both past and present, have been welcomed back to Major League Baseball as players and coaches.
I'm curious to see your solution for the meet director issue. The problem is the global nature of the sport. The governing body is based in Monaco, the Diamond League meets take place on three continents and the athletes come from all over the world. Once you introduce a legal element to it (blocking athletes from races) you need a UN resolution in order to get anything accomplished.
Jesse
Eh, I don't know. Track is not baseball. Marion Jones did the Oprah thing and I think she's still the most hated person in the insular world of track & field. She'd be more liked if she had simultaneously whipped off her jersey and punched a mascot.
We have world rankings in track and field via All-Athletics. They're not perfect but we at least have them. The top five in each event should automatically get invites (although appearance fee negotiations might get in the way). Another two can get the equivalent of PGA sponsor exemptions, and one more should be able to win their way into the field from some smaller local meet. Remember when Ian Stewart wouldn't invite Nick Symmonds to British Diamond League meets? We thought that was too much power. It's two sides of the same coin.
Kevin
Of course, how did I forget this moment of track history?
The major difference is Jones was already "retired," while Gatlin appears to still have several years of good running left.
Using rankings to fill meets makes sense to me, but if it were easy it wouldn't be track and field. In the interim, it isn't all bad for Gatlin. Most meets will let him compete and unless the World Championships or Olympics block him, he still can run on the biggest stage.