2 Comments
5 Questions with Lawi Lalang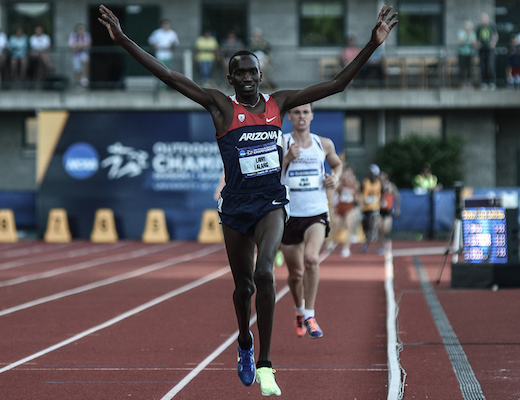 Pat Price | On 11, Jul 2013
photo courtesy: Track Town Photo
Welcome back to 5 Questions, where we pick the brains of people from all areas of the running scene. Today, we were lucky enough to catch up with multi-time NCAA Champion, and finalist for The Bowerman, Lawi Lalang. Follow him on Twitter @LawiLalang1

5 Questions with Lawi Lalang
1. Daily Relay: Congratulations on back to back personal bests in the 5000 at Ostrava and the 1500 in Paris. What has been the highlight of your European trip so far?
Lawi Lalang: Thanks a lot, the highlight of my European Trip has been Paris. It is a beautiful city and it is the dream of so many people to be in Paris, and so for me it is fulfilled. On top of that, I had a good race there, because it was surprise for me to do something like that in 1500m. Everything looks good there; nice track and nice crowd.
2. Daily Relay: When you were entering the last lap in Ostrava and Kenenisa Bekele was right on your heels, what were you thinking?
Lawi Lalang: Having Bekele behind me did not came into my mind in the last 300m. I was thinking of getting the guy who was second and I think that is the reason I could stay focused and strong until the finish line.
DR: How much did it mean to you to best a legend like that?
LL: It tells me that I can compete with the best in the world, and it is a form of encouragement, because there are few people who get that chance of beating the legend like that.
3. Daily Relay: With two strong races under your belt so far this trip, what else to you have planned this summer?
Lawi Lalang: I will have my last race next week at Diamond League Monaco. I'll be running the 5000m and the goal is to go sub 13:00, especially if the race is fast.
4. Daily Relay: You have had a strong training group since coming to America, with your brother Boaz, Stephen Sambu, Bernard Lagat and Abdi (Abdirahman). How much has this group and Coach Li's guidance helped develop you to where you are now?
Lawi Lalang: These are people who have made changes in my life. I have to thank God for having these wonderful people. Even coming to Europe, I remember Lagat telling me that I am ready and I can run with anyone in the world. They have supported me since I came to Arizona.
5. Daily Relay: Speaking of  Lagat; he said after Paris that you would be returning to the University of Arizona in the fall. What are your goals for your final year as a Wildcat?
Lawi Lalang: Yeah, that is right. I will be coming back for my last year, and my goal is to try my best to remain at the top of the game. I just pray to God to remain healthy, so that I will be able to compete with the other top athletes in college.
If you enjoy 5 Questions, check out the archive of previous interviews over at Writing About Running