No Comments
The Weekend's Best Matchups - July 12-15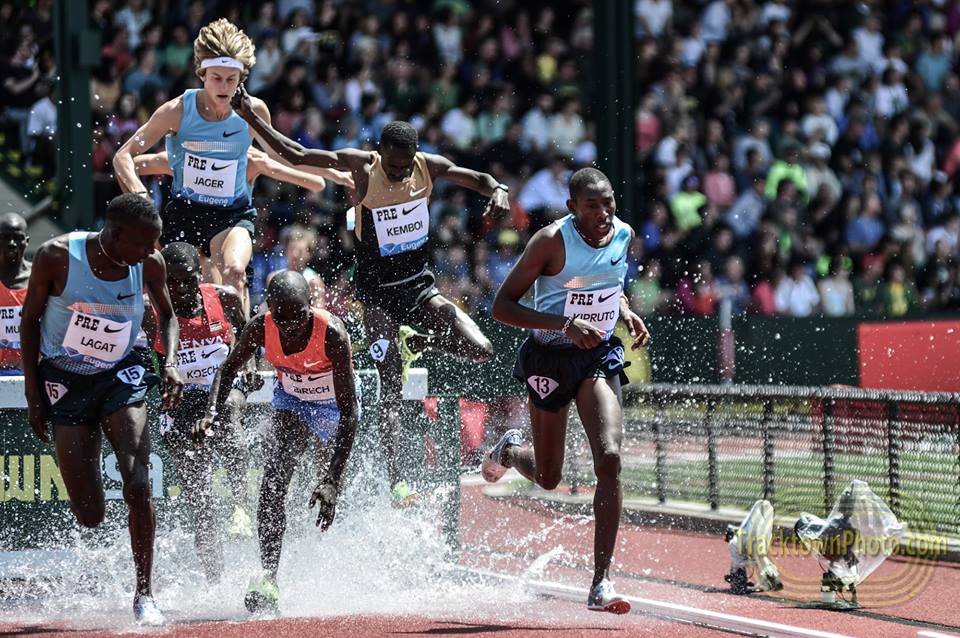 Jesse Squire | On 12, Jul 2013
The Kenyan Championships steeplechase is as good a race as at any Diamond League meet. (Photo courtesy Tracktownphoto.)

This weekend is a bit short on top-level clashes, so I've got just five matchups for you this time around. There is no Diamond League meet, but there are several national championships (Kenya and Great Britain), the World Youth Championships, the European U-23 Championships, and a couple of second-tier invitationals.
What are the competitions you should keep your eyes on?
1. Kenyan steeplechasers
Athletics Kenya Championships
Saturday, Naiyayo Stadium, Nairobi KEN
The Kenyan Championships is among the toughest meets on the planet, and nowhere more so than in the men's steeplechase. Eight of the world's top ten so far this year are Kenyans, and that means the fight will be keen.
Kenyan officials have changed their story on exactly how the Kenyan team will be selected, but the first two past the post are automatically on the team and the next two will (supposedly) be in contention for selection. Kenya gets four steeplechase entries to the Worlds with the "wild card" system, but no one knows if it will go to Ezekiel Kemboi (defending world champion) or Paul Koech (defending Diamond Race champion), and it can't go to both.
Kemboi raced in Paris last week and Koech has historically run poorly at altitude, so young Conseslus Kipruto could be the favorite. He's undefeated in his four European meets this year. Others to watch are Hillary Yego and Abel Mutai, but the depth of talent in this event is staggering.
Every race from 800 meters to 10,000 meters should be top-notch competition as well.
Xinhua: Kenya selectors face litmus test picking World C'ships team
Standard Digital: Athletes prepare for one-day event at the Nyayo Stadium in Moscow
2. Hasay and Erdmann vs 31:45
10,000 meters, Portland Roughrider Twilight Meet
Sunday, 9:30pm Pacific (12:30am ET) for Hasay. Erdmann's attempt will be TBA after Hasay runs.
Flotrack coverage and live webcast
The entire meet is organized around the two Nike Oregon Project runners, Jordan Hasay and Tara Erdmann, and their attempt to hit the World Championships 'A' standard of 31:45.00. They finished second and third at the US Championships but lacked the requisite qualifier. There is a possibility of a late change in date or venue if the weather is not conducive to a fast time.
If either (or both) go under 31:45, they're on the US team to Moscow. If only one does and the other gets under the 'B' standard of 32:05, they're both on the team. If both run under 32:05 but not 31:45, then Hasay is on the team (due to her higher finish at the US Championships), and if just one gets under 32:05 then that runner is on the team.
3. DeVaughn Baker (JAM) vs Ryan Clark (USA)
400 meters, IAAF World Youth Championships
RSC Olimpiyskiy, Donetsk UKR
Friday, 7:50pm local time (12:50pm ET)
Meet website
Live webcast link will be here
Age group competition is not often a good predictor of future achievement, but in the 400 meters it tends to be. Former World Youth medalists in this event include Kirani James, Arman Hall, Josh Mance, and Bryshon Nellum. So this is the event at the World Youth Championships most likely to have future implications.
The two above athletes, Baker and Clark, are the fastest of the year for the under-18 age group and carry the banner for the two rival nations in sprinting. Clark just finished his sophomore year, where he won the Georgia 4A title and was 7th at the New Balance Outdoor Nationals high school championships. Baker was the Jamaican high school champion in the U17 category.
4. Brigetta Barrett vs Blanka Vlasic
High jump, Meeting de Madrid 2013
Moratalaz Municipal Sports Centre, Madrid ESP
Saturday, 8:00pm local time (2:00pm ET)
Meet website
Vlasic was once the queen of the high jump but an injury and surgery knocked her out of the 2012 season. She has been regaining form steadily throughout the 2013 season. 2012 was Barrett's breakout season, hitting a PR of 2.03 meters (6′ 7¾") to win Olympic silver, and she's only improved in 2013. Vlasic beat Barrett at the New York stop on the Diamond League tour, when Barrett took an overnight flight straight from NCAA regional qualifying in Austin, and Barrett turned the tables on her in Paris last week.
Both of these women, however, are chasing Anna Chicherova, the World and Olympic champion and current Diamond Race points leader. Madrid may tell us if either is ready to challenge her for the World title in Moscow.
IAAF: Barrett, Vlasic, Storl: infield events take centre stage in Madrid
5. Cory McGee vs 4:09.00
1500 meters, KBC Night of Athletics
Stadion De Veen, Huesden BEL
Saturday, 7:15pm local time (1:15pm ET)
Meet website
Live webcast at Flotrack (subscription required)
Watch free here
Another US distance runner is seeking a Worlds qualifier, this time a 'B' standard. McGee was third at the US Championships but has not run the necessary qualifying mark, twice coming maddeningly close (4:10.55 and 4:09.85). This is the last shot the Florida junior will take at it.
A large contingent of US runners will be competing in a variety of events in this meet, especially the 800 and 1500 (and Ryan Hill chasing the 5000 standard).
Flotrack: Cory McGee against the clock… 4:09.00