2 Comments
5 Questions with Alexi Pappas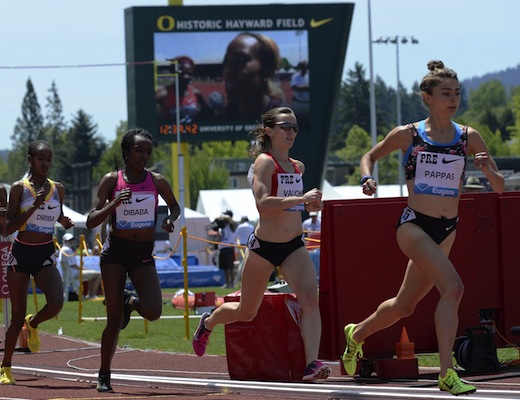 Pat Price | On 04, Jun 2013
photo courtesy of Track and Field Photo
Welcome back to 5 Questions, where we pick the brains of people from all areas of the running scene. Today, we were lucky enough to catch up with Alexi Pappas, who took some time away from final exams to answer some questions for us. If you are in Eugene this week for NCAA's, check out Alexi's "must" list below for places to visit while in town, and follow her on Twitter @AlexiPappas

5 Questions with Alexi Pappas
1. Daily Relay: What was it like pacing the best in the world in the 5000 meters at the Prefontaine Classic in front of the Hayward Field faithful?
Alexi Pappas: Pacing for the 5k was an honor and a thrill. I was nervous before the start in a similar way as before a cross country race– didn't want to mess up the pace and let the *team* down. The team, in this case, was just a different group of women with different uniforms, but all, nonetheless, trying to run together-fast. Racing at Hayward is always incredible and when the gun went off, I couldn't stop smiling!
2. Daily Relay: Your creative cheering for Jordan Hasay at Payton Jordan was a YouTube sensation. Can you describe your relationship with her and what you said to her after a disappointing 10,000 at regionals, before she bounced back in the 5000?
Alexi Pappas: Jordan is swell and I really do admire her. We've had very different life experiences and paths, running-wise and otherwise, leading up to our glorious uniting. So when we did become teammates, we learned a lot from each other. Developing our friendship and teammate-ship took time and effort– we consciously made an effort to be honest and open about the good-hard things that come with running and come with friendship. We try to be brave and have the best intentions for each other– the most I could ask for from a humble teammate and loyal friend. I am thankful for her as smiling companion during hard intervals, curbside post-race pizza, nail-painting, and all things in between.
Before the 5k, I told Jordan that I wasn't worried about her, which was the truth. Although running can surprise us in often great but sometimes inexplicably hard ways, Jordan knew as well as I that there was nothing to worry about– $hit happens. Between the 10k and the 5k, Jordan embraced the support around her, but most of all, she did a most admirable thing- she stayed on her own team.
3. Daily Relay: As a fellow film major, I couldn't be happier that "Tall as the Baobab Tree" is catching some deserved acclaim. How do the running and filmmaking lifestyles complement each other?
Alexi Pappas: I have found that running and film are both learned disciplines. We can learn how to better train, better race, better write, better act… you get the idea. I have trained myself to know that when a certain song plays, it is time to run or it is time to write (different song for pre-race than pre-write). No procrastination! And most of all, both running and film are most fun with a team.
4. Daily Relay: You'll be running the USA Championships later this month in Des Moines, what are your plans leading up to then? and after?
Alexi Pappas: I can't wait to head to Des Moines! I will train with my girls and my Coach Maurica (Powell) here in Eugene until then, and I hope to continue running afterwards– just not sure what that will *look* like yet!
5. Daily Relay: Lots of people are in town this week for the NCAA Championships. What are a few of your "must" places to visit in Eugene?
Alexi Pappas: OH MAN. Well, if I told you my favorite restaurants, this means I risk *running* into super long lines this week– I guess that's OK! For all the runners, Laughing Planet is usually a fav healthy quick lunch or dinner spot. For breakfast, Studio One Cafe, Keystone Cafe, or Off the Waffle are fab. For a powerful pre-race muffin, Humble Bagel power muffin is… powerful. And for pre and post-race pizza, Pizza Research Institute is experimental-alternative (delicious), Track Town (Pizza) is classic, and La Perla is wood-fired classy. And most importantly, Eugene is well-known for drive-through coffee spots galore.
If you enjoy 5 Questions, check out the archive of previous interviews over at Writing About Running