No Comments
Five Things We Learned at the Bislett Games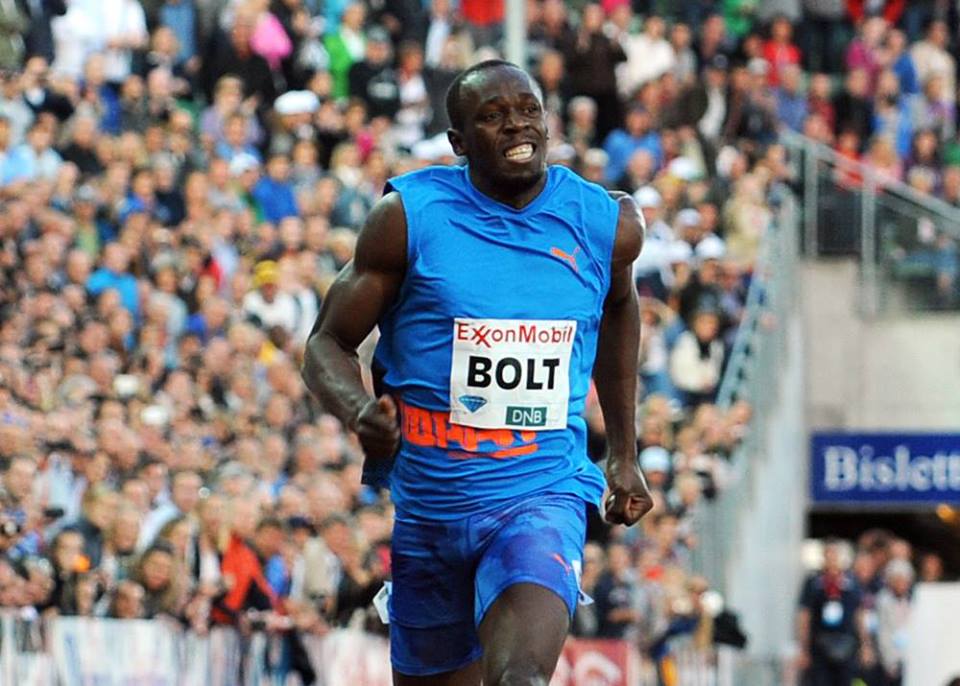 Jesse Squire | On 13, Jun 2013
Photo courtesy IAAF Diamond League Facebook page.
Five quick thoughts on today's Diamond League meet in Oslo (aka the Bislett Games)…
1. Usain Bolt still has it.
The greatest sprinter of all time has been anything but great so far in 2013. He barely won his season opener and ran in atrocious fashion, then lost his second race to Justin Gatlin while lacking any semblance of his top-end speed.
The consummate showman came out on the track at the Bislett Stadium in an F1 car for a few laps before the competition began. It's the right metaphor for Bolt at his best, given the difference in speed between him and even the best of his rivals.
In today's 200 meters, his first of the year, he had a lead off the turn and then pulled away to a huge win of over half a second. He wasn't smooth. The time, 19.79, was not exactly what we are used to seeing out of Bolt. But it's a world leader and stadium record, and a time he beat only three times in 2012 (and not until the Olympic final). He's progressing, clearly running better with each race. When the championship finals come around, expect more of the Jordanesque unstoppable force.
2. The Diamond League cannot function without the USA.
I don't mean without US fans–professional track and field is struggling harder for relevance in America these days than it ever has–but without US athletes, who were absent from the meet in preparation for next week's USATF Championships. Some events were clearly not of Diamond League quality.
The best example was the women's 100 meter hurdles. US hurdlers occupy twelve of the top fourteen places on the 2013 world list, and have run 29 of the 31 fastest times. None of them were present in Oslo, and in their absence the event was won by Tiffany Ofili (who wouldn't even have been here if not for switching from US to British allegiance a few years back). Her time was a pedestrian 12.76, and the second-place time of 12.95 would barely have made the final at last week's NCAA Championships. Three athletes picked up cheap Diamond Race points, the only ones this year not scored by Americans.
3. The Scandinavians love the javelin.
I guess we already knew this before today's meet. The jav is one event that did not suffer from a lack of Americans, and the old Bislett Stadium roared when Norway's Andreas Thorkildsen was introduced. He didn't do so well, finishing sixth in a field of ten.
"Thorky" and Finnish rival Tero Pitkamaki so thoroughly dominated the event for so long that you might think they still are if you're not paying close attention. They're not. Vitezslav Vesely, a 30-year-old Czech, is at the top of his game and is clearly the best in the world right now. Track and Field News ranked him #1 for last year's topsy-turvy season where no one had any consistency, but this year he's on. In five meets he has three wins and two seconds, getting over 85 meters in four of the five meets. He's the guy you want in your fantasy league.
4. Meseret Defar is still dangerous.
Time was when Defar was the best around, setting World records and winning gold. Only rival Tirunesh Dibaba could touch her. Over her career she's been #1 in the All-Athletics 5000 meter ranking for 155 weeks. While she won Olympic gold last summer, it was a bit of a surprise since she had been off her form of the mid-2000s for several years.
Today she won with a hard last lap (61 seconds) off a fast pace (14:26.91), leaving Viola Kibiwott and Genzebe Dibaba in her wake. It's her ninth time under 14:30 and no one else in history has more than three. "I think I'm in World Record shape," she said, "but not confident to try it".
As Ben Enowitz explained earlier this week right here at DailyRelay, championship racing includes a complex set of variables that are impossible to predict. A fast pace and a long kick are certainly possible but not certain, and Defar's skill set is probably not as broad as it was five or six years ago so she may not be able to come out on top in other scenarios. But on the whole, right now she looks more likely to have what it takes to win gold at the Worlds than anyone else.
5. The men's steeplechase may be the most interesting race in the Worlds.
Today was another great last-lap battle between Conselsus Kipruto, the new breakout steeplechase star, and Ezekiel Kemboi, the two-time Olympic gold medalist. Kipruto has to get through the Kenyan trials before the big Worlds showdown (Kemboi has a wild-card entry as the defending World champion), but it looks like it should be a great race. We've already been treated to two in as many weeks.
Besides an opportunity for mayhem every 15 seconds, let's see what else the steeplechase offers…
* accusations of off-the-field violence generally associated only with the NFL
* the kind of on-the-field violence generally associated only with Rick Mahorn
* Video gold.


(Image by VH1…yeah, VH1.)