4 Comments
National Championships preview - Men's Throws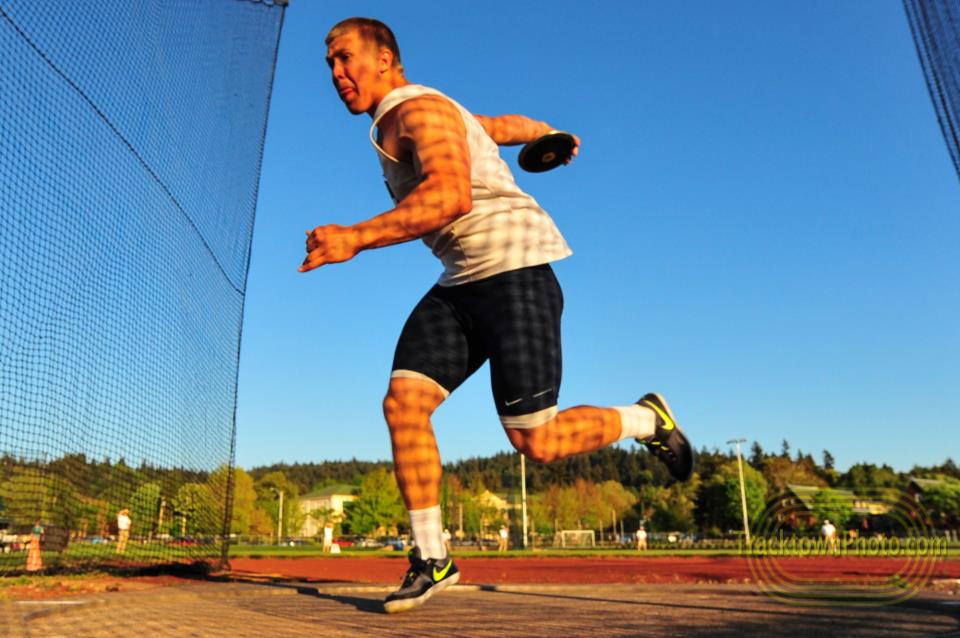 Jesse Squire | On 14, Jun 2013
Action in track and field around the world is rather thin this weekend, because the USATF Championships and other similar meets are coming up this week. Thus our previews of the national championships are starting early.
Field events generally get ignored but I'm going to fix that. Here is the first of several days' worth of field event previews.
Make sure and bookmark the Daily Relay Coverage of the 2013 USA Outdoor Track and Field Championships and follow @DailyRelay for updates!
A word about the listed standards: in general, one entry in an event at the Worlds needs to have met the 'B' standard, and any additional entries need to have met the 'A' standard. Jim McDannald covered the specifics earlier this week.
Shot Put
Final: Sunday, 2:10pm local time (3:10pm ET)
(no qualifying round)
Standards: A – 20.60m, B – 20.10m
The heavy favorite is Ryan Whiting (Nike), who leads the world list and has won eight out of his nine competitions. Reese Hoffa (Nike/New York AC) will be on the US team — he gets a "wild card" entry into the World Championships as the defending Diamond League champion — and he's been consistently the second-best in the world this year after Whiting.
That leaves two more spots open. 'A' and 'B' standards may play some small role, but not much since four more Americans already have that 'A' standard and another seven have the 'B'.
Those four are Cory Martin (Nike), Ryan Crouser (Texas), Kurt Roberts (Nike), and Joe Kovacs (Nike). Of these four, collegian Crouser is riding a hot streak of five straight victories and has the next best throw after Whiting and Hoffa. Fourth will probably come down to Roberts and Kovacs, the most consistent of this group of four.
Veteran putter Christian Cantwell had long-needed surgery on his elbow late last year and hasn't looked good in his three meets this year. It would be unwise, however, to count him out.
EDIT: Cantwell will not be competing in Des Moines.
Canada
The Canadian championships are this coming week as well, and it looks likely that three will make the team for the Worlds. Canadian criteria require achieving the 'A' standard along with finishing in the top three at the championship. Justin Rodhe, Dylan Armstrong, and Tim Nedow all have that 'A' standard, and all are more than two meters better than anyone else.
Final: Friday, 6:30pm local time (7:30pm ET)
(no qualifying round)
Standards: A – 66.00m, B – 64.00m
Unlike the shot put, the 'A' standard is likely to play a huge role in who makes the team for the Worlds. As of right now, no American has achieved either standard. If no one hits either standard at the championships in Des Moines, then the top four finishers will have until July 20th to do so. It's quite possible that the USA will send no discus throwers to Moscow.
There's still a national title on the line, though, and the fight for that looks wide open. Last year's hero, Lance Brooks (Nike), who hit the 'A' standard on his final throw, has been nothing like that this year. US leader Jarred Rome (Nike) has been the most consistent American this year. Track and Field News lists Jason Young (Nike) as the favorite but he had terrible results in his last two meets. Collegians Rodney Brown (LSU) and Andrew Evans (Kentucky) could make an impact as well.
Canada has no chance of producing a Worlds qualifier, as no one is within 11 meters of the necessary 'A' standard.
Final: Friday, 5:00pm local time (6:00pm ET)
(no qualifying round)
Standards: A – 79.00m, B – 76.00m
Only two Americans have the 'B' standard, A.G. Kruger (Nike) and Kibwé Johnson (Nike/New York AC). Both are capable of hitting the 'A' standard, as their PRs are 79.26m and 80.31m respectively. If one of them gets over the 79 meter line, then they probably both go to the Worlds, but if neither does, then it's whoever beats the other.
Johnson is a tough competitor and has thrown further in his lifetime, but based on 2013 results you'd have to say that Kruger is the favorite. He's undefeated in six domestic meets (including a win over Johnson) and has been highly consistent.
Could someone else throw a wrench into the gears and get on the Worlds team? They'd have to get over 76 meters to do so, and only Drew Loftin (OtterBox) has ever thrown that far.
Canada will more than likely not have a Moscow qualifier.
Javelin Throw
Final: Sunday, 2:00pm local time (3:00pm ET)
(no qualifying round)
Standards: A – 83.50m, B – 81.00m
As with the hammer throw, the USA has just two 'B' qualifiers, but it looks unlikely for either to improve to an 'A' qualifier. Those two are NCAA champion Sam Humphreys (Texas A&M) and unsponsored Corey White. Another thrower, two-time NCAA champion Tim Glover (Illinois State), has a PR over the 'B' standard of 81 meters. So the chances are that whoever wins will be the lone US entrant at the Worlds, as it would most likely require an 81+ throw from Glover for him to win.
The javelin is an event with a reputation for inconsistency, but Humphreys hasn't demonstrated that this year. He's undefeated this year, has gone over 81 meters twice, and only failed to get over 78 meters twice. White has thrown less and has been less consistent.
Canada will again likely not have any Worlds qualifiers, but might in the future. Four of the top six on the Canadian list are 21 years old or younger.
Tomorrow's preview will take a look at the women's throwing events.