8 Comments
Selecting Team USA for 2013 Moscow World Championships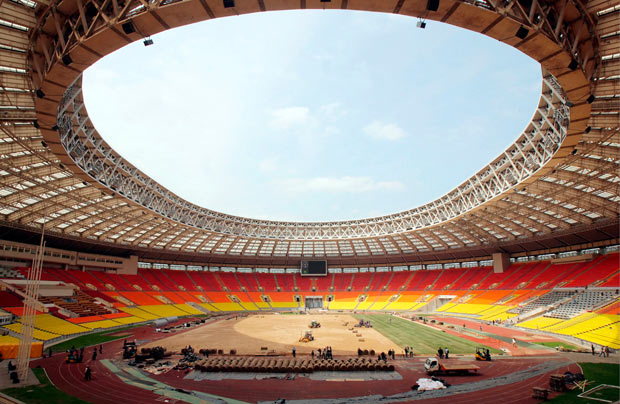 Jim McDannald | On 12, Jun 2013
Last year, I wrote about the selection criteria for the 2012 London Olympics. While some the rules are the same, it is important to point out some differences between Olympic and World Championship year qualifying process. So as the USA Championships draw near, this post should help clarify and simplify how athletes are selected for the upcoming 2013 World Track & Field Championships in Moscow.
More Automatic Qualifiers in 2013
There are 13 Team USA athletes who will secure a spot in Moscow after competing in Des Moines no matter where they finish. Per USATF, they do not need to compete in the same event that secured them that berth or even make the final. These athletes have gained entry to the 2013 World Championships by being: the 2011 World Champion or  2012 Diamond League winner. These athletes are exempt from need to achieve the IAAF 'A' or 'B' standard. Athletes who have qualified for automatic selection include:
2011 World Champs – Trey Hardee (Decathlon), Jesse Williams (High Jump), Jason Richardson (110m HH), Carmelita Jeter (100m), Jenny Simpson (1500m), Lashinda Demus (400m H), Brittney Reese (Long Jump), Dwight Phillips (Long Jump)
Diamond League Winners – Christian Taylor (Triple Jump), Chaunte Lowe (High Jump), ChaRonda Williams (200m), Dawn Harper (100m H), Reese Hoffa (Shot Put)
You'll note that 2012 Diamond League and 2012 Olympic 110m HH champion Aries Merritt is not listed. The USA is allowed to bring a maximum of four (4) athletes in the 110m hurdles and Jason Richardson's title from Daegu trumps Merritt's Diamond League victory. The world record holder will need to finish in the top 3 in Des Moines to make the team.
Order of Finish At USA Championships Is Most Important
This sounds like common sense but in events with only a few 'A' standard athletes or mostly 'B' standard athletes, place is the most important criteria in gaining selection. This is not the case in Olympic years because hitting standards before the Trials is also extremely important. These scenarios play out mostly in field events, middle distance and distance races.
Finishing in the top four (4) in Des Moines allows these athletes to 'chase the standard' after USAs. Athletes outside the top four (4) will only have performances counted from the opening of the qualification window until the completion of the USA Championships.
The last day to achieve the standard is July 20th. This extra month includes 4 Diamond League Meets and some great opportunities. Just ask Dorian Ulrey. Meets in the qualification window include: Birmingham, Lausanne, Paris and Monaco.
Even if an athlete don't make the top four (4) at USAs, it can be a good idea to keep 'chasing the standard' if an athlete competes an event where few have achieved the standard. In the past, USATF has made judgement calls to fill the spots for the team. After finishing 8th at the 2011 USA Championships, Lauren Fleshman achieved the 'A' standard in August and was selected to the World Champs team .
'B' Standards are More Valuable During World Championship Years
The key with 'B' standards is that only one athlete with a 'B' standard can make the team for Moscow.
Unlike last year, an 'A' standard does not automatically trump a 'B' standard. We go back to the importance of the USA Champs order of finish during World Championship years. If an athletes with a 'B' standard athlete finishes in the top 3 at the USA Championships, then that one 'B' standard athlete will be selected to compete in Moscow.
For example, if 2013 selection criteria were applied to the 2012 Olympic Trials Women's 10,000m, Natosha Rogers would have been an Olympian. She achieved the 'B' standard and placed 2nd in the Trials behind Amy Hastings, who had the 'A' standard. But in an Olympic year, Lisa Uhl & Janet Cherobon-Bawcom with 'A' standards get to be Olympians while Natosha Rogers gets left off the team.
If no athletes achieve 'A' or 'B' in an event before (which is the current situation in the Women's triple jump) or at the USA Championships, USATF will not send an athlete.
Also note, that Ben True and Neely Spence-Gracey have achieved the 'A' standard  in 10,000m with their top 15 finishes at the 2013 World Cross Country Championships.
Here are the IAAF Qualifying Standards, USATF's official document regarding selection and Track & Field News updated lists of A and B qualifiers.
Do you want to spitball scenarios? Play the 'What If Game'? Further questions? Leave them in the comments and I'll respond.