No Comments
Bromell/Prandini win, top vaulters square off and when a world record is not a world record: Monday Morning Run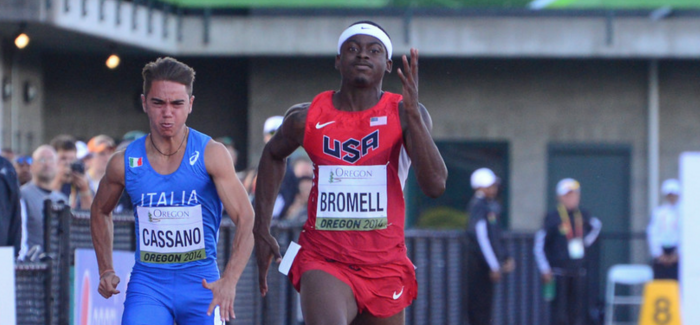 Kevin Sully | On 25, Jan 2016
The indoor season is picking up steam and the international marathon year began in earnest last week. Still, the major running headlines were fixed on:
-Adidas wanting to end their sponsorship deal early with the IAAF
-Nick Symmonds's company suing the USOC and USATF over sponsorship rules
-Two guys suing the New York Road Runners because the organization uses a lottery to select entrants for the New York City Marathon
Because I don't have a law degree, I thought it better to focus on the on-track action. Here's a brief trip around the running world from the past week.
Dubai Marathon: Dubai, United Arab Emirates
America's primetime marathon just so happens to take place in the Middle East. Dubai is 12 hours ahead of me in California, so the crack of dawn in the United Arab Emirates translates to a wonderfully accommodating 6:30 p.m. start time on the west coast. I extolled the virtues of the Dubai Marathon last year and all of it's charm was intact in 2016.
There were Ethiopian bagpipe players in the crowd, a commentator who asked Paula Radcliffe what glycogen is during the middle of the race, countless palm trees in the median and only four turns.
The men's field featured a huge group of unheralded Ethiopian runners swinging for the fences and hoping for a fast time. In Dubai, the prize money is big at the top, but doesn't go very deep so there is every incentive to try to stay with the lead group for as long as possible.
Or, run a smart, well-paced raced and gradually pick off people in the later mil……….nah screw it, this is Dubai. We can all be world record holders!!!
When you do swing that hard, on most occasions you whiff completely and land on your ass. On Thursday (Friday in Dubai) the pace slipped from world record, to sub 2:04, to course record and eventually to a very fast, but not close to the world record time of 2:04:24.
The winner, Tsefaye Abera, lost the least amount of time over the second half (the split at 13.1 miles was 1:01:36) and chopped over five minutes off his personal best.
But just because there were no sub 2:03s doesn't mean there were no records. Dubai is way too clever for that. The ridiculous early pace was rewarded with eight men breaking the 30K world record. That means that all eight also set the world record for going out way too fast in a race (I'm all in favor for keeping records of best positive splits of all-time).
Actually, the 30K record is slower than Dennis Kimetto's world record marathon pace, which speaks as much to the irrelevance of the 30K distance as it does Kimetto's incredible race. If a record in a particular distance is slower than an intermediate split of a longer race, then it probably isn't an actual record. Sorry 30K.
The women's race didn't get as much air time because they were mixed in with the men. Tirfi Tsegaye proved that a negative split was possible going 1:10:17/2:19:41 to win by over a minute. Tsegaye's time puts her 12th all-time and gives her another win in a big city marathon. She's now won Dubai twice along with Paris, Tokyo and Berlin.
Rod McCravy Memorial Meet: Lexington, Kentucky
-Trayvon Bromell popped a 6.54 in 60m, matching his best time in that event.
BREAKING: Trayvon Bromell (@TrayvonBromell) 6.54 Fastest in the World this year 60m Final McCravy Memorial ????? pic.twitter.com/w1o25G94lp

— I TWEET SPORTS (@iTweetSports473) January 23, 2016
More importantly, it looks like Bromell will no longer rock split shorts as a professional. In college, he was one of the only sprinters who wore distance runner shorts and did so consistently and with great success. In an era where milers are wearing half tights, Bromell was a reminder of a forgotten era. Signing with distance-centric company New Balance, gave us all hope that it might continue.
If Bromell has a setback or two in his first year as a professional, don't blame changes in his racing schedule, adjusting to life as a pro, or another rational reason, instead look no further than the shorts.
Alas, it is just down to you, David Oliver. You alone have the power to make cross country runners feel a little less self-conscious.
-The highlight of the women's meet came from Kendra Harrison, who ran a personal best of 7.83 in the 60m hurdles.
House of Track: Portland, Oregon
-While you shouldn't get too wrapped up in fast times this early in the year, the indoor season is so short that anybody running well now has a good chance of holding form until the World Indoor Championships in seven weeks. Jenna Prandini ran 7.28 in the 60m at the House of Track meet in Portland. Not a personal best and only the 11th best mark of the year, but she beat Octavious Freeman and Brittney Reese on the new track in Portland. That will be the same surface used for World Indoors. Not sure how fast it is quite yet, though 800m runner Laura Roesler said it has the perfect amount of bank.
-Andrew Wheating won the 1500m in 3:39.82. Let's Run said it was "his first banked indoor track race in nearly six years," if that amount of modifiers doesn't give you confidence, I don't know what will.
Perche Elite Tour: Rouen, France
-Jesse's top match-up of the weekend starred Renaud Lavillenie and Shawn Barber in the men's pole vault competition in Rouen, France.
That's right, the two best vaulters in the world went against each other in the first month of the season. Turns out, it's way hard to duck competition when you have to ship giant poles around the world.
Neither was rewarded for putting themselves out there in January as Raphael Holzdeppe cleared 5.84m to take the win. Lavillenie and Barber finished in fourth and fifth, with both men going out after 5.70m. Even the battle within the battle wasn't decisive. They will do it again in a couple weeks in Sweden.