No Comments
The Weekend's Best Matchups: Early Pro Competitions and College Rivalries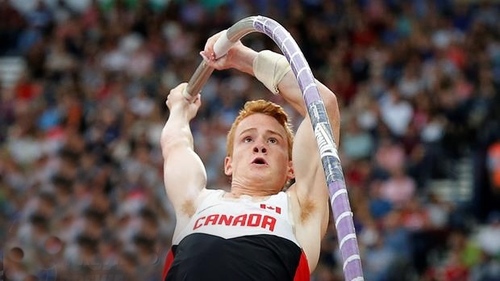 Jesse Squire | On 22, Jan 2016
We're still early in the indoor season and the action is a bit light, but there is still some good competition on tap this weekend. The Power 5 Invitational and rivalry meets highlight the college action, and the best American pro and college sprinters who are competing indoors will go head-to-head.
You can always count on pole vaulters to put on a good show, though, and they bring us the best matchup of the weekend.
Shawn Barber vs Renaud Lavillenie
Men's International Competition, Perch Elite Tour
Kindarena, Rouen FRA
Saturday, 8:00pm local time (2:00pm ET)
Meet website
Most of the world's top pole vaulters are at this meet, the conclusion of France's Perche Elite Tour ("pole vault" in French translates as "saut à la perche"), and the headline names are head and shoulders above the rest. Lavillenie had been the world's #1-ranked vaulter for five years in a row, but Barber ousted him from that spot last year. Barber, still just 21 years old, cleared an even 6.00 meters last week; only two others have ever done that at his age, indoors or out, and one of them is the legendary Sergey Bubka.
The best of the rest, in chronological order…
Chukwuebuka Enekwechi vs Cameron Brown
Men's Weight Throw, Power Five Invitational
Crossplex, Birmingham AL
Friday, 3:00pm local time (4:00pm ET)
Live results | USTFCCCA meet preview
Auburn and Tennessee are co-hosting this new meet at the Birmingham Crossplex, a top-notch facility that will host this year's NCAA indoor championships. As an SEC-heavy affair, the sprints will be competitive and get the lion's share of attention, but it's the men's weight throw that has the best matchup of the whole meet. In terms of best distances, Purdue's Enekwechi and Tennessee's Brown are the NCAA's top two weight throwers returning from last year and already the top two this year.
Wisconsin vs Minnesota
University Field House, Minneapolis MN
Saturday, 12:00pm local time (1:00pm ET)
Live webcast via Flotrack (subscription required)
Live results
Rivalry is one of the key components of college sports. There is always that one team that loyalty to your university requires that you HATE with all your heart, with all your soul, and with all your mind. Wisconsin and Minnesota have just such a relationship. This dual meet rivalry started up again last year after lying dormant since 1978.
Some other good rivalries on tap this weekend: Toledo (with Dayton) at Bowling Green (Friday, 5:00pm), Akron at Kent State (Friday, 5:30pm), Montana (with Idaho State and Utah State) at Montana State (Friday, 4:00pm MT), Central Michigan (with Oakland) at Eastern Michigan (Saturday, 10:00am), Marquette (with UIC and Eastern Illinois) at Milwaukee (Saturday, 11:00am) and Lafayette at Lehigh (Saturday, 2:00pm).
Trayvon Bromell vs Cameron Burrell
Men's 60 meters, Rod McCravy Memorial
Nutter Field House, Lexington KY
Saturday, 1:15pm
Live webcast via WatchESPN
Live results | USTFCCCA meet preview
Bromell proved himself to be one of the all-time great collegiate sprinters last year—which of course meant that he gave up his remaining eligibility to turn pro. Burrell is still on his college team at Houston and ran a blazing 6.56 last week. If it was a longer race then Burrell would have no chance against Bromell, but at 60 meters this could be very competitive. An interesting entry is Buffalo Bills wide receiver Marquis Goodwin.
Iowa Intrastate Battle Royale
Big 4 Duals
Lied Recreation Center, Ames IA
Saturday, 2:00pm
Meet information | Live results
They tell me wrestling is big in Iowa, but I'm not sure if it's the kind of wrestling that has battle royales. Anyway, the state's four Division I universities — Iowa, Iowa State, Drake, and Northern Iowa — face off in what has become a nice little rivalry meet.