No Comments
The Weekend's Best Matchups: Indoor Season In Second Gear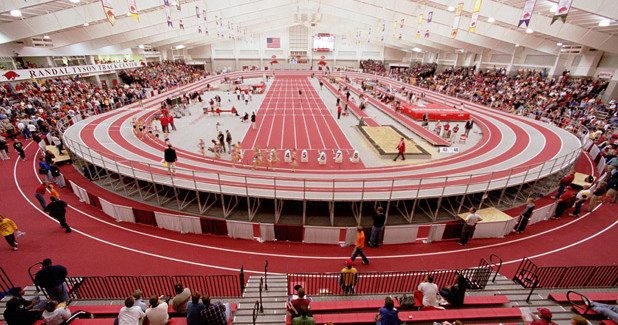 Jesse Squire | On 29, Jan 2016
The Razorback Invitational will be broadcast live on the SEC Network — but is four hours too long?
We've gotten past the truly early portion of the indoor season, but not quite into the middle of it. We're in second gear. So this weekend's matchups are still setting the table, to mix my metaphors, and indicators of what's to come. But they're good competitions and worth your attention.
Presented in chronological order, these are the matchups you should be watching this weekend.
Princeton vs streak
Men's competition, Harvard vs Yale vs Princeton
Ocean Breeze Park, Staten Island, New York City
Friday, 2:00pm
The "HYP" indoor meet is a very old tradition — I think this is the 64th annual edition — but the site is brand-new, the just-opened indoor facility at Staten Island's Ocean Breeze Park. Princeton is going for a 25th consecutive win in the men's competition. The women's winner has bounced back and forth between Harvard and Princeton, but Yale hasn't won since 1991.
Jarrion Lawson vs KeAndre Bates
Men's long jump, Razorback Invitational
Randal Tyson Track Center, Fayetteville AR
Friday, 6:30pm local time (7:30pm ET)
Schedule and live results
Live webcast via WatchESPN from 6:00pm ET
Arkansas' Lawson and Florida's Bates are the top two long jumpers returning from last year's NCAA indoor championships.
Jeff Demps vs Joe Morris
Men's 60 meters, House of Track High Performance Meet
Front Avenue Warehouse, Portland OR
Friday, 8:50pm local time (11:50pm ET)
Event website
The track for the upcoming World Indoor Championships is getting some early use at a vacant warehouse in downtown Portland. A small number of pros have come to the Friday night series along with the local collegians who make up the bulk of the entries. Morris, part of the Portland-based Ultimate Speed Athletics sprint group, is an up-and-coming sprinter just on the edge of being able to make it onto the US national team. Demps is the former NCAA champion for Florida who has bounced around pro football for a while, appearing in just two NFL games. Their 60 meter PRs are fairly similar, and at this summer's Olympic Trials they could end up battling it out for a place in the Olympic 4×100 relay pool.
Razorback Invitational vs TV
SEC Network
Saturday, 1:30-5:30pm ET
The Razorback Invitational is the first track meet ever broadcast live on the 18-month-old SEC Network. It's a scored meet among a dozen or so of the best teams in the country (and ones with big-name recognition regardless of sport). I hope it's a success, but four hours is a big block of time for a sports fan to set aside. It seems like this is trying to take one of the all-too-common all-day megameets – which are about as fun to watch as an organic chemistry lecture – and shoehorn it into a TV-friendly format. We'll see if it works.
Najee Glass vs Lamar Bruton
Men's 400 meter Invitational heat 2, Razorback Invitational
Saturday, 12:34pm local time (1:34pm ET)
One example of how the typical college track meet is not good for TV is the way we run the indoor 400 meters. The top two seeds, Glass and his Florida teammate Arman Hall, are in separate heats. Glass has the better foe in LSU's Bruton, a transfer from Ohio State where he ran fast times but didn't produce at the NCAAs. So the second heat should be the more exciting race, which is not the point of the two-heat final; everyone is trying to get a fast time.
CWRU vs CMU
Ninth Annual Battle for the Obelisk
Veale Center, Cleveland OH
Saturday, 2:00pm
Live webcast from 2:00pm
Case Western Reserve and Carnegie Mellon Universities, located in Cleveland and Pittsburg, have created a track and field rivalry. The traveling trophy is not a little brown jug or an old oaken bucket but a minature obelisk. Why? I don't know, but this is a fun little meet. CWRU head coach Eric Schmuhl describes is as "one of those quirky 'academic bowl' kind of things" which is "extremely competitive for a room full of [future] astronauts and doctors." Rivalry and tradition are the cornerstones of college sports, and weirder is better.
Devon Allen vs knee
Men's 60 hurdles, Razorback Invitational
Saturday, 1:05pm local time (2:05pm ET)

Oregon's Allen came out of nowhere to win the NCAA outdoor high hurdle title as freshman two years ago. He broke the meet record (set by current world record holder Aries Merritt) and went on to be the youngest US champion since Renaldo Nehemiah (the world record holder for more than a decade). Then he suffered a knee injury on the football field and all of that was on hold. This is his first race back.
David Oliver vs Aleec Harris vs Jason Richardson
Men's 60H, Camel City Elite
JDL Fast Track, Winston-Salem NC
Saturday, 3:30pm
Live results
Live webcast via Runnerspace Plus
The Camel City Elite is a two-hour subset of the larger Camel City Invitational, and the men's hurdles are the best race of the meet this year. Hurdlers aren't afraid of competing often or running against the best, and these are three of the leading candidates for the Olympic team. Harris, now a second-year pro, dominated the early season last year before fading. Oliver was the USA's best hurdler in 2015 and close to the world's best, and Richardson is showing signs of returning to the form he had in 2011-12, when he won Worlds gold and Olympic silver.
Faith Kipyegon vs Alemitu Hawi
Women's senior race, Cinque Mulini
San Vittore Olona, Italy
Sunday, 2:15pm local time (8:15am ET)
Meet website
Tracks are (mostly) the same, but every cross country course has its own features. The Cinque Mulini is the most unusual of all major cross country races because it goes around and through its namesake five mills in the Italian countryside. Kenya's Kipyegon and Ethiopia's Hawi are looking for a second straight cross country win; Kipyegon won in Seville two weeks ago and Hawi won in Vallagarina last week.