One Comment
What you have in common with Genzebe Dibaba, Rupp's debut in context: Monday Morning Run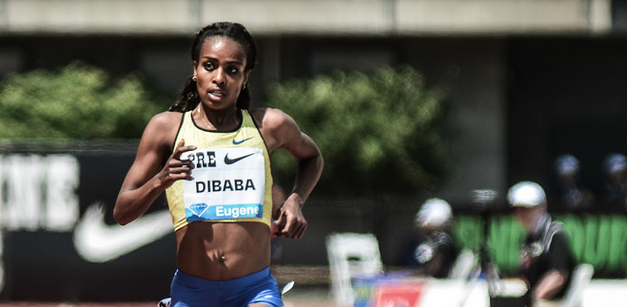 Kevin Sully | On 01, Feb 2016
Despite my completely logical arguments to the contrary, Galen Rupp is running the Olympic Trials marathon in less than two weeks. The loss of my (already very limited) credibility is the running world's gain. Rupp is the ultimate wildcard and adds a dynamic to the race that no other American athlete could provide.
It probably will go well. With all the precaution and preparation that Alberto Salazar is famous for, I'd be surprised if they didn't have a strong indication that he can hold up for the full distance. Obviously, he has the speed to run well under 2:10. Unless there is a flood of personal bests, he shouldn't have to run much faster than that to finish in the top three.
Going against this is the complex equation that is the marathon. Especially in the first attempt. In no other race is the word "respect" used to describe an athlete's attitude toward the distance. Predicting a marathon result is glorified guesswork. There are limited data points to pull from in the months before the race. Even someone as experienced as Meb Keflezighi is capable of having a completely off day where he ends up jogging in at 2:20. We know very little about how the rest of the field will do in Los Angeles. We know even less about Rupp. Yes, he has incredible 10,000m times and done well in the half marathon, but others have taken those same credentials into their first marathon and been humbled.
When looking at other high profile debuts, you can find reasons for both optimism and realism in Rupp's chances. Here are how a few big names started out, grouped by how closely they resemble Rupp.
Group one: Too young
-Meb Keflezighi
Waaayyyy back in 2002, Meb ran 2:12:35 in New York City to finish ninth. He was the top American in that race, in what was not considered the golden age of marathoning in the US. Knowing what we know now about Meb, I'm not sure his story is relatable to Rupp. Meb debuted earlier, had a slower 10,000m and has proven himself to be a complete anomaly when it comes to longevity.
-Ryan Hall
Hall ran 2:08:24 in London when he was 24-years-old. His career bore out the idea that he was best suited for the marathon. Even though there is a huge disparity in their 10,000m times, Hall's personal best in the half-marathon is still quite a bit faster than Rupp's.
-Dathan Ritzenhein
A little more than nine years ago, Ritzenhein ran 2:14:01 in New York City. New York is a tough place to start and Ritzenhein was only 23-years-old. Like Meb and Hall, Ritz was at an entirely different point in his career than Rupp is for his first marathon.
Group two: Too old
-Bob Kennedy
In his one and only attempt, Kennedy dropped out with eight miles left in the 2004 New York City Marathon. Then he retired from running. Because he tried the marathon at the tail end of his career (and he specialized more in the 5000m than the 10,000m ), there aren't many similarities between 2004 Kennedy and 2016 Rupp.
Group three: Just right
-Eliud Kipchoge
This is the pattern that Rupp is hoping to follow–Kipchoge had a great track career and then popped a 2:05:30 in his first shot at the marathon. It's not even about that time (although I'm sure he'd take a 2:05) it is more about the realization of potential. Kipchoge's turned into a better marathoner than a track runner. More often than not, the opposite happens.
-Kenenisa Bekele
His last three planned marathons have been DNS, DNF and a fourth place in Chicago. But, before all that he did debut with a 2:05:04 in Paris. Bekele was 31-years-old and far from his best on the track when he decided to run a marathon.
-Mo Farah
As it relates to Rupp you could take Farah's marathon experience a couple of different ways. For someone as fast as Farah over 5000m, 10,000m and the half marathon, 2:08:21 was a disappointment. If that was the best he could do, what does that say about Rupp's chances? But while 2:08 wasn't great for Farah, that should be enough to get Rupp on the team. Also, the crazy fast pace of London make Farah's experience completely different than what Rupp will be involved in at the Olympic Trials.
-Zersenay Tadese
If you want to win an argument about the unpredictability of the marathon, throw Tadese's name out there. He ran 26:37 in the 10,000 and set the world record in the half marathon of 58:23. Shortly after, he tried his hand at the marathon. Guaranteed sub-2:10, right? Nope. 2:12:03. Despite being the best half-marathoner all-time, he's struggled with the full distance and has a lifetime best of 2:10:41.
Let's talk about…… Genzebe Dibaba's workout
Genzebe Dibaba is better in practice than the race. I didn't think that was possible from someone who has run 3:50 for the 1500m. But if you believe her coach, Jama Aden, Dibaba left something on the table in 2015.
According to Aden, Dibaba's last workout before the 2015 World Championships was 4 x 1500m in 4:06, 4:04, 4:03 and 4:02 with rest intervals of four to five minutes.
I'm not sure what that converts to for just one 1500m in a race, but it somehow makes 3:50 seem underwhelming.
It also reveals that Dibaba is more similar to us that we would assume. We've all run an amazing workout that makes us vastly overrate our potential in a race. Then you actually run the race, realize your workout to race extrapolations were optimistic and then search for closest person to tell your story too. "But…if you had just seen my 800m sessions last week…."
Except when Dibaba does this she still sets a world record.
There are other possible explanations for the workout. Maybe the track is short….especially if it's the same one used for Dibaba's other famous workout (6 x 800 in 2:04, 2:03, 2:04, 2:03, 2:02, 1:58). Or could it be that Mr. Aden's watch hasn't been calibrated? Is there a chance that he believes strongly that there are actually 65 seconds in a minute?
Because of the grandiosity of its purpose (run faster than the winning time of the last World Championships) and unrealistic result, 4 x 1500 sounds like a workout that happens in a running movie
Coach: Last workout before the World Championships, how do you feel?
Dibaba: Great! The hay is in the barn, right?
Coach: You are going to run the full distance of your race.
Dibaba: Really?
Coach: Four times.
Dibaba: But, I thought we'd do some strides and maybe—-
Coach: Don't be afraid to be great!
Dibaba: I'm not, I jus—
Coach: Your final rep will be as fast as the winning time from the last World Championship
Dibaba: Ok, I really don't think…….
Coach: It will give you confidence that you can win gold
Dibaba: I'm pretty confident already. I just set the world record.
Coach: It's time you start believing in yourself the way we all believe in you…./starts watch
The distance of the workout seems more common for someone focusing on the 5000m, which makes her loss in that event at the World Championships even more surprising. I thought her bronze medal finish was directly related to being tired after winning the 1500m earlier in meet. More likely, it was about her recovering from the workout that came before she even got to Beijing.
The Medalists
The top three performances of the week….
Gold: Jenn Suhr
Suhr set the world indoor record in the pole vault, getting over 5.03m at a meet in New York.
With Suhr jumping well, the women's pole vault has all sorts of stories to follow in 2016. Fabiana Murer is probably Brazil's best chance for a gold medal in their home Olympics. Yelena Isinbayeva's country may or may not be allowed to compete in Rio. Then there is Suhr who will be trying to defend her gold medal from London and, along the way, perhaps take a shot at Isinbayeva's outdoor record of 5.06m.
Silver: Matt Centrowitz
3:54.02 for the win in the mile at the Camel City Invite in Winston-Salem, North Carolina. And then a dab.
3:54 for the win here at the @JDLFastTrack pic.twitter.com/NLloNV6M5q

— Matthew Centrowitz (@MattCentrowitz) January 30, 2016
Expect a letter from this woman shortly.
Bronze: Brianna Rollins
In what looked like a USA Indoor Championships semifinal preview, Rollins ran 7.95 at the Camel City Invite. She beat Nia Ali, Kristi Castlin and Lolo Jones in the 60m hurdles. The American hurdle crucible has already begun.
Honorable Mentions
-Galen Rupp ran what barely qualifies as a workout for him at the House of Track 3000m in Portland. Rupp ran 7:57.39 to earn a qualifying time for the US Indoor Championships. And a whole bunch of people got to say that they were lapped by Galen Rupp.
-Garrett Heath closed in 27 seconds for the last 200m of his 3000m at the Camel City meet. He won the race in 7:48.48, outkicking Lawi Lalang. In the same race, Drew Hunter set the high school record in the 3000m, running 7:59.33.
-In mile races on opposite sides of the country, Shannon Rowbury ran 4:26.01 in North Carolina. Brenda Martinez posted a 4:32.05 in Portland.