No Comments
5 Questions with Deborah Maier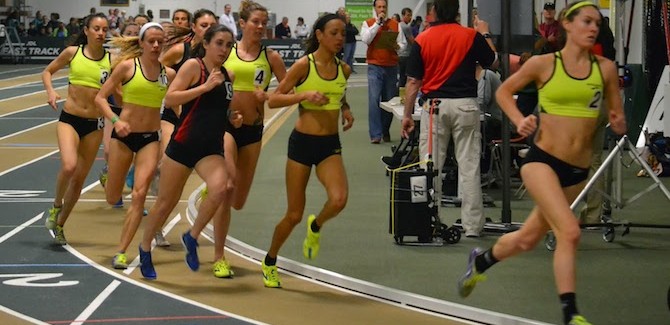 On

February 7, 2014

http://patprice.com
photo: Phil Bond
Welcome back to 5 Questions, where we pick the brains of people from all areas of the running scene. Today, we were lucky enough to catch up with Deborah Maier, as she comes off a win over 3000 meters at the Camel City Classic. Check out her blog, and follow her on Twitter @deb_maier.
5 Questions with Deborah Maier
1. Daily Relay: Congratulations on your win and USATF Indoors qualifier at JDL Fast Track last Saturday. Did the race go according to plan and were you happy with your time on the flat 200 meter track?
Deborah Maier: Unfortunately, the race went just about anything but according to plan. We got to the airport Thursday morning only to find that our flight had been cancelled. To make a long story short, after 24 hours of travel and missing a night of sleep, we finally ended up getting to our hotel at 4pm Friday afternoon. So you can imagine groggy is an understatement for how I was feeling the morning of the race. Fortunately the crowd at JDL was fantastic and the athletes were really able to feed off of their energy and get excited to race. We were aiming to go under 9 minutes and hoping to get the IAAF World Standard, but given our crazy travel, the flat track, and no rabbit, I wasn't too upset with the time (9:02.79). It was a good effort for a season opener.
2. Daily Relay: In the past year, you have gone professional and joined the Brooks Beasts TC out of Seattle. How has the move gone to the new training group thus far?
Deborah Maier: The move has been great! I feel so fortunate to be part of the Brooks Beasts. Brooks as a company is extremely fun and innovative. They've done a great job of putting together a group of runners with dynamic personalities that really understand that delicate balance of hard work and fun. Being a distance runner at the professional level can be pretty wearing at times, but having teammates with me every step of the way (literally) really makes things more enjoyable and keeps me motivated.
3. Daily Relay: You had an excellent career as a California Golden Bear. What were a few of your favorite moments as a collegian and why did you pick Cal in the first place?
Deborah Maier: Out of high school, I didn't know much about running, but I knew I wanted to go somewhere that had strong academics and athletics. Cal had that unique balance and proved to be a good fit for me. I'd say my 2011 cross country season where our team made it to NCAAs for the first time in 23 years was pretty magical. There was just an awesome team synergy where everyone got along really well and we all were just so excited to finally see our hard work pay off. Running the 5k and 10k at the Olympic Trials was also a highlight for me. It was my first time competing with the best runners in the US and made me realize running professionally was something I had a strong desire to pursue. The after party at the Wild Duck wasn't too shabby either.
4. Daily Relay: You have spent some significant time injured over the past few years, but look to be in great form right now. Have you modified your training at all to stay on the track? What has it been like working with Danny Mackey?
Deborah Maier: Unfortunately in college, a combination of funky bio-mechanics and an inadequate amount of recovery in my training program led to a string of injuries, and eventually culminated in some pretty serious endocrine system imbalances (also known as Overtraining Syndrome), which kept me from competing at all my last year at Cal. I ended up taking about 5 months completely off of exercise and am still to some degree in the recovery process. Things are definitely moving in the right direction largely in part to Danny's own experience with similar problems and his extensive knowledge of exercise physiology. His workouts are all very intentional and he makes sure we understand which systems we're targeting. His program also really emphasizes recovery. In college I used to hammer just about everything, but now there is a clear distinction between hard workouts, easy runs, and recovery runs. From a bio-mechanics standpoint, I've been fortunate enough to work with Real Rehab here in Seattle to do video and electrode analysis of my stride to determine what muscles I need to do a better job of recruiting and strengthening. Danny works with that information to develop weightlifting routines aimed at making us more functional runners.
5. Daily Relay: Now that you have a qualifying time under your belt, are you planning on running the 3000 at USA's? Do you have any more indoor races on the schedule?
Deborah Maier: Yes! I will be running the 3k at USA's. I'm hoping to get in the race and be a contender. Before that, we'll be heading to the Iowa State Classic on February 15th where I'll be running my first indoor mile ever. After USA's, we'll be staying in Albuquerque for a 6-week altitude camp in preparation for the outdoor season.
If you enjoy 5 Questions, check out the archive of previous interviews over at Writing About Running