3 Comments
5 Questions with Craig Longhurst of the JDL Fast Track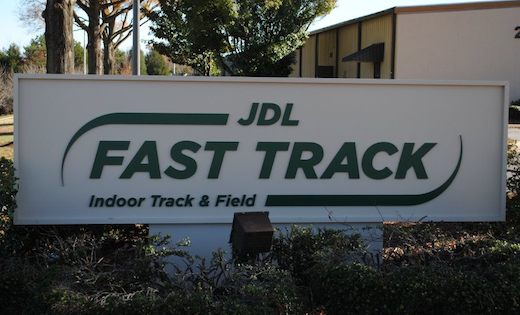 Pat Price | On 07, Jan 2014
Welcome back to 5 Questions, where we pick the brains of people from all areas of the running scene. Today, we were lucky enough to catch up with Craig Longhurst; the man behind the JDL Fast Track in Winston-Salem, NC. He filled a major void in North Carolina with its construction and will hold an impressive elite section this year during the Hilton Garden Invitational. Follow him on Twitter @clonghurst2945 and @JDLFastTrack
5 Questions with Craig Longhurst of the JDL Fast Track
1. Daily Relay: I know you ran at Wake Forest collegiately at some point, but what exactly is your running background?
Craig Longhurst: I was a 4:22/9:41 runner in high school, who was lucky enough to get a partial scholarship to Wake Forest. Ran in college at a time, that I think looking back, will be viewed as a slow era. I ran 29:45 for 10k and my senior year had the 20th fastest time in Division I. Unfortunately, they took 19 that year. Was part of two ACC Championship cross teams and finished 4th in the ACC cross my senior year.
2. Daily Relay: When did you get the idea to build JDL Fast Track? Did you expect it to fill such a void so fast?
Craig Longhurst: The idea came in November of 2010. I work for my father-in-law (David Shannon) in a real estate development company. He is also a runner and hates cold weather; with his definition of cold weather being anything under 60 degrees. He wanted to find an old warehouse where he could do his sprints in the winter. When we were researching it, we learned that the NC high school state indoor meet was being held outdoors that season because the only facility in the state at the time was under renovations. At that same time, the Big South and Southern Conference meets found out that they were no longer going to be allowed to have their conference meets at Clemson. We decided to build something a little nicer than what we originally had planned. In fact, we spent 4 months trying to work with Wake Forest to build a 300 meter track and football field on their land, but they turned us down. After that, we found the building we are currently in. We purchased the building on August 2, 2011, and did our renovations and installed the track and had our first meet approximately 5 ½ months later.
I thought we could have a good number of high school and college invitationals. I thought we had a good chance of getting the three meets we originally identified, but never imagined we would be awarded NCAA national championships and USATF masters nationals meets so soon.
3. Daily Relay: The Camel City Elite Mile last year was the first foray into elite racing, with Cory Leslie taking the win in 3:57.81. This year, in addition to the Men's Mile, you have added an Elite Women's Mile, as well as a Men's and Women's 800 and 3000. You'll be crowdfunding the events, with an opportunity for fans to meet the pros. Can you tell us more about the idea?
Craig Longhurst: It's all about trying to promote the track and debunk this myth that you can't qualify for Division I NCAAs on a flat track. We decided to add the men's 800 meters (more on that in a second) this summer. We were financing both the men's mile and men's 800 and wanted to add prize money for the women's races. A friend of mine whose company does our website suggested I get a bunch of guys we ran with in college to each put up $100 to fund a women's mile. From that idea, we expanded it to incorporate the whole crowdfunding idea with different levels and people getting some sort of benefit for their contribution. We have about 10 more days for people to send us their support, but I think it has been a resounding success, since we have done it without much national or even regional attention.
4. Daily Relay: On the heels of his recent signing with Brooks, Nick Symmonds will be running the 800 at the Hilton Garden Invitational. What made you target someone like Symmonds for your event? I think you both have done a great deal for the sport in creating new opportunity. How have your discussions with Symmonds been and why him over the many other pros out there?
Craig Longhurst: David Shannon and I both read a lot of the stories this past summer about Nick and his views about the sport and the plight of elite athletes. We thought some of his goals aligned well with what we are trying to accomplish here. We reached out to his agent and asked what it would take to get him to compete at our meet. He told us what his requirements were and we said "okay." When we came up with the crowd funding idea, Nick is a natural draw because there are a lot of fans of the sport who know who he is and what his views are, whether they agree with him or not. He is definitely a "personality" that a lot of folks are interested in meeting and having a beer with after the race.
There are a lot of fast runners out there, but many of the athletes in our sport don't promote themselves the way Nick does. As we build this in the future, that may be something we target just as much as how fast they are. A great example of someone like that is Phoebe Wright who has gotten some attention on Lets Run lately for her blog. Folks like she and Nick who have some personality to them definitely add to the sport. With social media, I think that is something that is going to be helpful for athletes getting endorsements.
5. Daily Relay: How did you guys come to host the David Oliver Classic and tell me about that relationship?
Craig Longhurst: David has a trainer named Randy Hadley that I met last winter when he was in Greensboro for a coaching clinic put on by the NCTFCCCA. Randy expressed interest in doing some stuff with us last January, but nothing ever came of it. Then, out of the blue, he called in August and said that David Oliver wanted to give back to the track community and would we be open to hosting a meet in his name where David Oliver would come and make appearances. We obviously couldn't pass up an opportunity like that. When we were negotiating the terms of that meet, we asked if David would come for the Camel City races and make an appearance at the post-race party to add to the crowd fund attraction.
Also, Randy works with former Olympic triple jumper Kenta Bell, who is doing a jumps summit at our facility the week of Camel City. It is great working with the hurdler/field event guys who sort of round things out, since I obviously am more distance oriented. All three were in town this past weekend for the NCTFCCCA clinic again and we discussed what we have coming up and how we can do even more in the future. They are great people and we look forward to working with them more in the future.
6. Daily Relay: JDL Fast Track has come a long way in a short time. What do you envision in the future for the track and facility?
Craig Longhurst: We really have come a long way in a short time, probably way more than I ever could have imagined. My hope is that we can continue to grow the sport locally and across the state. The number of athletes running indoor track in high school in the state of North Carolina is way up right now, and I think we have helped that. I'd like to see us grow the Camel City races and maybe add some sprints or field events next year. There are so many athletes that are hungry to compete. We may not have the budget of a Millrose or New Balance Games, but give an athlete a plane ticket, a hotel room and a chance to win some money, and you have their attention. With the Camel City events this year, the goal is not only success for those elites, but also to get some NCAA qualifiers. We are filling out those fields currently and are on the cusp of something great there. If we could get a sponsor to help out with that, I think we could really do some great things for the sport.
7. Daily Relay: Speaking of sponsors, does JDL Fast Track have any large sponsors?
Craig Longhurst: Currently, we only have local sponsors. We have to beat the local hotels away with a stick. They are all very interested in working with us due to the number of rooms we bring to them, particularly during a slow time for them. We have tried to reach out to almost all the major shoe companies, but have gotten very little response so far. Two have shown a little interest in doing something at the high school level, but nothing in terms of facility naming rights or anything like that, which would be a game changer. If we got something like that, we have talked about being able to do a lot more with youth that we can't do right now because they can't afford to rent the facility, and the facility isn't free to operate.
Running Times is doing an article on the facility in their March edition, so I hope that maybe someone who doesn't even know we exist sees it and reaches out to us. We have about 20,000+ athletes coming through the doors each indoor season, so I think it's a great opportunity for a shoe or apparel company to influence those folks.
If you enjoy 5 Questions, check out the archive of previous interviews over at Writing About Running