No Comments
The Weekend's Best Matchups for September 20-22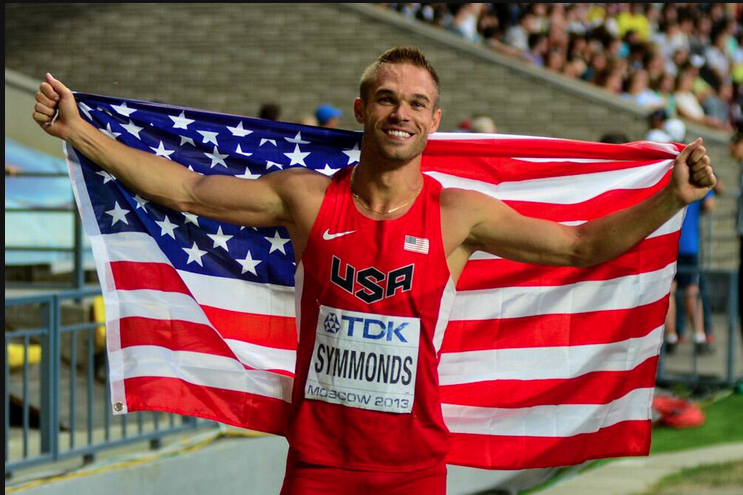 Jesse Squire | On 20, Sep 2013
Nick Symmonds may or may not have a chance at winning the Fifth Avenue Mile, but he'll certainly draw attention.
We're getting to the time of year when good matchups are harder to find. Track is done for the year and cross country and marathoning aren't yet hitting their stride. But there are a few good ones this weekend, including some excellent races in New York.
1. Nick Symmonds vs Bernard Lagat
NYRR Fifth Avenue Mile
New York, NY
Sunday, 1:00pm
The field in this race is so chock full of US stars that it was hard to pick two names to highlight. Whether or not the race comes down to these two, they're certainly the biggest names in the race. Symmonds is talking of a transition to the 1500/mile but just finished off his best-ever season at 800 meters, including a Worlds silver medal. Lagat is an ageless wonder who recently broke 13:00 for 5k. But there are many more: Olympic silver medalist Leo Manzano, US steeplechase record holder Evan Jager, 2008 Olympic silver medalist Nick Willis, and Lopez Lomong, a two-time Olympian and the defending Fifth Avenue Mile champion.
2. Jenny Simpson vs Morgan Uceny
NYRR Fifth Avenue Mile
New York, NY
Sunday, 12:45pm
Simpson won silver at the Worlds last month but Uceny poses a real threat. This is the tail end of the season for Simpson, whereas Uceny has only recently hit her stride. Uceny is known for her two heartbreaking falls in World and Olympic finals in which she was a contender to win (the first of which turned into a surprise victory for Simpson). She won the Great North CityGames mile last weekend over a quality field that included the third- and fourth-place finishers at the Worlds–and if she can beat them, she can beat Simpson, the second-place finisher. Other major contenders include Hannah England, fourth in the Worlds 1500, and Shannon Rowbury, seventh in the Worlds 5000.
3. Matt Tegenkamp vs Chris Solinsky
USATF 5k Championships
Providence, RI
Sunday, 11:15am
This matchup represents 40% of the Americans who have ever run under 13:00 for the 5000 meter distance. Tegenkamp is working towards the Chicago Marathon and is quite fit, but maybe not ready for his best possible 5k. Solinsky is on the comeback trail after some serious injuries. Possible spoilers include Alistair Cragg, the Irish runner who starred at Arkansas many years ago, and Andrew Bumbalough, who has turned in some very good late-season track races.
4. Molly Huddle vs Emily Infeld
USATF 5k Championships
Providence, RI
Sunday, 11:15am
On paper, this should be one-sided. Huddle is the American Record holder at 5000 meters and recently finished sixth at the World Championships. But late-season races can have upsets, and Infeld just turned in the best race she's ever run, 8:41.43 for 3000 meters just under two weeks ago in Italy. I wouldn't be surprised to see Infeld win this one.
5. Leonard Komon vs Peter Kirui
10 miles, Dam tot Damloop
Amsterdam to Zandaam, Holland
Sunday, 11:00am local time (5:00am ET)
Komon is the two-time defending champion at the Dam tot Damloop and holds the world records for the road 10k and 15k, but he's a few years away from those records and hasn't raced since winning New York's Healthy Kidney 10k in May. Kirui is a jack-of-all-trades who races everything from the 5k to the marathon and might be more race-sharp, taking third at Atlanta's Peachtree 10k and second in the Bogota Half Marathon, both in July.
6. Western Ontario Mustangs vs Guelph Gryphons
Women's race, Western International Cross Country Invitational
Thames Valley Golf Course, London ON
Saturday, 10:00am
These are the top two women's teams in the preseason poll for Canadian Interuniversity Sport, and this might be a preview of November's CIS Championship race. That meet will be held at Western Ontario's course (this race is 4k while the championships are 6k). Western is definitely the challenger here, as Guelph has won the last eight CIS women's titles. The teams will face off several more times before the nationals; next week is the other end of a home-and-home series at Guelph's Vic Matthews Open, and then there at the Ontario championships on October 26th. Guelph is absolutely loaded (by CIS standards at least) but Western returns six of their seven runners from last year. The Mustangs hope to send off coach Bob Vigars in style in his 45th and final year of coaching.