No Comments
Daily News Roundup: Teams Matter, part 2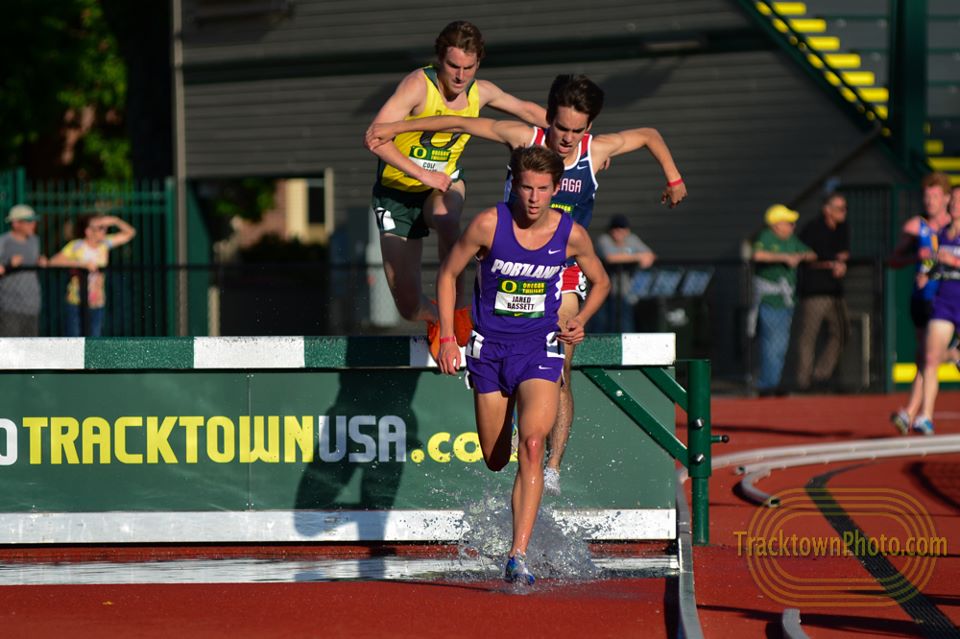 Jesse Squire | On 07, Jan 2014
College track has a ready-made fan base. We just need to figure out how to make it easier for college sports fans to follow what we do. (Photo by TrackTownPhoto)
Yesterday, I posted an excerpt from Brett Larner's Japan Running News that explained why ekiden road relays are so massively popular in Japan. Basically, he thinks it's because of the relay and team aspects. The most popular of them all, the two-day Hakone Ekiden, might be tops because for the same reason U.S. college football and basketball get so much attention: the team aspect.
A team aspect makes it easy to follow sports if you're not completely plugged in. I don't have to know who plays for Ohio State or Michigan or even how they're ranked in order to cheer for or against them. It's easier to identify with a team than an individual, too. Look at soccer, far and away the world's most popular sport, which finds much of its appeal in its teams representing nationalism and tribalism. Track and field may be an individual sport at its heart, but playing up team aspects wherever we can would be to our benefit.
College track and field comes with a team element built right in, but I don't think we're using it as best we can. As I see it, we need to split squads less and score meets more. One track team splitting up to compete in multiple (unscored) meets for the express purpose of chasing marks does not make track easier to follow or understand for the general college sports fan. What does? Dual meets.
Back when college schedules included plenty of dual meets, they served a number of purposes. For a team's stars, who often didn't face top competition in these meets, they were early-season prep work readying them for the more challenging meets to come. For the bulk of the team, it represented most of their competitive opportunities. For the general fan of college sports, it was what they found interesting–"rivalry weekend" in the old Pac-8 of the 1960s and 70s would draw a total attendance of 20,000 to 30,000 across its four meets. And for the spectators who found track compelling enough to want to see more, dual meets served as a way to educate them about the sport so they knew what to look for in the invitationals and championships that came later in the season.
The current excuse for not doing more dual meets is the scholarship limitations that came into place in the late 70s and which were further reduced in the 90s. It's just that, an excuse and not a reason. Yes, an individual coach could have a larger team with broader talents if he had more scholarship money–but if everyone has more scholarship money, it doesn't suddenly make more talent available to everyone. And the reality of the situation in the 1950s and 60s is different than what we think it was. Jim Bush's 1968 UCLA team, the dominant dual-meet squad that year, had just 33 athletes. Bill Bowerman made do with just two scholarships at Oregon in his earlier days.
New emphasis on existing NCAA regulations means that more meets will be scored in the 2014 season. It's a start, but we need more. Dual meets won't "save" college track, but it only makes sense to make it easier for the casual fan to follow what their college's track team does.
Tomorrow, I'll look at how pro track might take advantage of team identity.
Links
Our own Pat Price did five questions this morning with Craig Longhurst, creator of the JDL Fast Track. (Pat cheated and asked a sixth question.)
News
Runner's World's Morning Report has all of yesterday's news.
The US contingent for the Boston Marathon was announced this morning. They've lined up the bulk of the best Americans: Desi (Davila) Linden, Shalane Flanagan, Amy Hastings, Serena Burla , Adriana Nelson, Dathan Ritzenhein, Meb Keflezighi, Brett Gotcher, Jason Hartmann, Nick Arciniaga, Jeffrey Eggleston.
More from the Boston Globe
Mark Coogan's Dartmouth teams have been highly successful but today he left the Big Green for a job at New Balance, in a marketing role rather than a coaching one. This appears rather sudden and out of the blue, given that he's leaving Dartmouth in the lurch on the eve of the college season–and that less than two weeks ago, Ben True talked about expanding his Coogan-coached group.
More from Flotrack
Spikes Mag picks their 10 track and field teens to watch in 2014. All aboard the Cain Train!
More from Spikes Mag
Two financial scandals…
UK Athletics chief executive Niels de Vos got a £90,000 (~$150,000) bonus for 2012 even while athletes' stipends were cut and coaches were let go due to lack of funds. And British athletes and coaches are cheesed.
More from The Telegraph
Canadian taxpayers picked up tab for MP Patrick Brown's New York Marathon trip. Yes, $1416.06 (CDN) is getting him in some hot water. Can we get that kind of scrutiny of public officials here, please?
More from Canada.com
Kenya is sending a full team to the first IAAF World Relays. Note that the news article lists the 4×1500 first and 4×100 last–but the Kenyans are sending sprint relays, and they're better at sprinting than you might think. Will both Kenya and the USA send their A-teams for the 4x800s? Pleaseohpleaseohplease…
More from The Star
A new pro team/training group: Northern Arizona Elite, a rebranding and expansion of Ben Rosario's Team RunFanShop. Nine athletes in all, headlined by Ben Bruce.
More from RunFanShop.com
Video of the day
According to 100 meter PRs, Florida State's Levonte "Kermit" Whitfield is the fastest man in college football this year. Let's take a look at what Whitfield did in last night's national championship game.