One Comment
Daily News Roundup: Teams Matter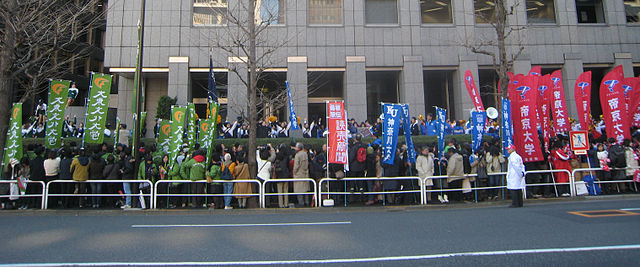 Jesse Squire | On 06, Jan 2014
Banners support participating school teams at a Japanese ekiden.
Last week's Hakone Ekiden, Japan's national men's collegiate road relay championship, was more popular and drew more attention from the Japanese public than any other sporting event in all of 2013. It was more popular than baseball's Japan Series or any of the Grand Sumo tournaments. And it has been this way for many years. How in the heck does this happen?
Over the weekend, Brett Larner did an excellent job of explaining the phenomenon to us at his Japan Running News blog.
People in the industry in other countries frequently talk about how to make elite running more popular with the general public, why is it that it's so popular as a spectator sport here, with tens of millions of people tuning in to watch a fifteen-hour broadcast of a small number of university guys running over the course of two days? The easy answer is just to brush it off on culture; the Japanese value tradition, self-sacrifice for the greater good, perseverance in the face of hardship, and whatever other cliches about the exotic Orient you want to dish out.
But watching Hakone this time I could really feel that a big part of what makes the ekiden great entertainment is that is provides a larger context for the action of running, something multi-dimensional and whole. Watch a regular race and most of the time you will only see a few people going head-to-head or somebody time trialing. It's exciting for serious fans and the average person might watch it once or twice, but there's no overall story there, no larger drama or plot. It seems to me that the situation in track and field and road running now is much the same as if baseball were just a series of home run derbies or soccer an endless series of penalty kicks. The hardcore fans might like it and the average person might be entertained by it once or twice, but build an entire sport on it? Baseball and soccer both have a lot more going on, requiring a range of skills from different people to build something complex and compelling. That's what you have in an ekiden relative to an ordinary track, road or cross-country race. Just like home runs and penalty kicks factor into their sports, pure speed and head-to-head competition factor into an ekiden, but only as elements of something bigger, killer plays in the overall game. There is strategy, not just tactics, room for somebody like Ichiro and other skills that runners who are not the fastest can bring into play to contribute to the evolution of the overall game. Just as baseball and soccer appeal to mass audiences as multi-dimensional team sports, so does the ekiden in Japan.
(emphasis added)
He hit the nail right on the head. The relay and team aspects of the Japanese ekidens are why they draw so much interest, even more than is given to marathons (which are still quite popular in Japan).
Where are the most reliable crowds in US track and field? The big relay meets–Penn, Drake, and Texas. They annually draw a combined attendance of nearly 200,000 and get outsized attention from local and regional sports media. A heavy emphasis on team identity and relay racing really does cut across cultures. Over the next few days I'll take a deeper look at how track and field can and should use this to its advantage.
Links…
Kevin Sully's Monday Morning Run ranks the top meets of 2014.
My own College Weekend Recap recaps the weekend's brief college action.
News
Runner's World's Morning Report has everything from the weekend.
The IAAF's Jon Mulkeen picks his top 60 track and field tweeters. Yours truly made the cut but it looks like House of Run needs to step it up a notch.
Kevin Liao suggests that Nick Symmonds's performance might suffer due to his move away from his long-time coach at the Oregon Track Club. Perhaps, but track careers are short and I think Symmonds peaked in 2013 regardless of his coaching situation.
The always-entertaining Pheobe Wright writes about Fast Food and Cheap Thrills.
The IAAF's Q and A with Sanya Richards-Ross.
Top German discus thrower Nadine Müller recently came out and married her partner, the first prominent German athlete to do so.
Race results
Yesterday in Eldoret, Kenya: the sixth and final meet in the Athletics Kenya/KCB Cross Country series. Winners were Kiprono Kurgat and two-time Berlin Marathon champion Florence Kiplagat, over crazy-deep fields. Who were the series winners? Um, Athletics Kenya hasn't quite figured it out yet.
More from the Daily Nation
Yesterday in Amorebieta, Spain: the Cross Internacional Zornotza was won by Cyprian Kotut (his second win of the European season) and Magdalene Masai (younger sister of former World 10k champ Linet).
More from the IAAF
Today in San Giorgio su Legnano, Italy: the Campaccio cross country races were won by Albert Rop, who beat reigning world cross country champion Japhet Korir, and steeplechase standout Hiwot Ayalew.
More from the IAAF
Video of the day
To underline Brett Larner's point about relays, here is the 2007 Penn Relays High School Boys' 4×400 Championship of America. Relays director Dave Johnson says it's the loudest the stadium has ever been, louder than for Usain Bolt.