No Comments
The Weekend's Best Matchups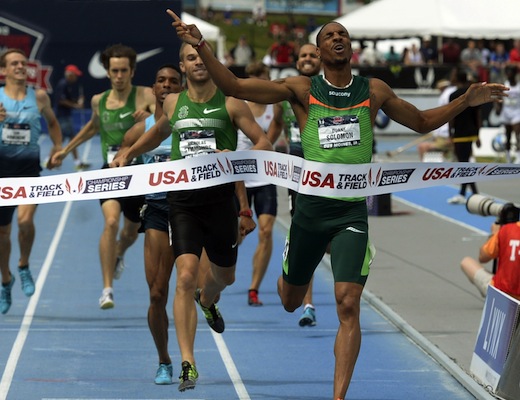 Duane Solomon and Nick Symmonds lead off two evenly matched 4×800 relay teams, and the winner might break the world indoor record.
The first really big domestic meet of the weekend will be on Saturday, the New Balance Indoor Grand Prix, at the Reggie Lewis Track & Athletic Center in Boston, Massachusetts. This week's best matchups are all from this meet. There are plenty of good matchups in college meets and other pro meets too, but I'll keep it simple.
Handy links:
Meet website | IAAF preview
Let's Run previews: men's distance | women's distance
This is the first meet in the USATF Championship Series, and all three meets in the series will get live TV coverage plus supporting webcasts at USATF.tv. Web coverage will go from 3:45 to 4:30pm, then live TV coverage on NBC Sports Network goes from 4:30-6:00pm. At 6:00, USATF.tv will have a live post-meet show.
On to the matchups! I present them in chronological order.
Garrett Heath vs Africans
Men's 3000 meters, 4:18pm
Hagos Gebrhiwet and Dejen Gebremeskel are two of the world's very best runners and have run well here, with Gebrhiwet winning last year's NBIGP 3000 and Gebremeskel winning in 2011 (famously outkicking Mo Farah with just one shoe). Kenyan Isiah Koech has been 4th, 5th and 3rd in the last three World/Olympic 5k finals. This is a titanic matchup in itself, and on paper it's the best in the whole meet. But the really interesting thing to fans cheering specifically for US runners is finding out exactly where Heath is at right now.
The miler from Winona, Minnesota, pulled off the biggest win of his career last month at the Great Edinburgh XC, where he beat Olympic 1500 champ Asbel Kiprop and 5k/10k world record holder Kenenisa Bekele. Was that a truly major accomplishment, or was he merely on that day while catching those two flat-footed? We will find out because Gebrhiwet and Gebremeskel will test him. The race will not be part of the live TV coverage but will be part of the "bonus" webcast at USATF.tv.
Tianna Bartoletta vs Lakeisha Lawson
MBTA women's 60 meters, 4:33pm
Bartoletta (née Madison), who won bronze at the 2012 World Indoor Championships in this event, is undefeated in three low-key college meets so far this year. Lawson was runner-up at last year's USATF Indoor Championship and has run a couple of races in Europe, finishing second and first. Their best times this year are an identical 7.20 seconds. This race looks very closely matched.
Natasha Hastings vs Regina George
Women's 400 meters, 4:48pm
Hastings is making herself the favorite for gold in this event at next month's World Indoor Championships. She has the world's leading time (admittedly very early in the season) and beat most of the major contenders last week in Moscow. Second in that race was George, who now has both of the fastest non-winning times of 2014.
Galen Rupp vs Nick Willis
New Balance men's mile, 4:55pm
With two indoor American Records in as many tries, Rupp is on a tear. The original plan called for another record attempt at the mile, at Boston University instead of in a competitive race. Plans were changed and now he's here, mixing it up with some good racers, including Olympic silver medalist Leo Manzano. But if there is anyone who is ready to knock off Rupp, it's Willis. He is the only other entrant with a high-quality race under his belt, a 3:55.98 run in New Zealand two weeks ago. Middle-distance races are unpredictable affairs, too. Rupp has significantly improved his finishing speed in recent years but he still lacks high-quality acceleration, a necessary skill in the mile and indoors and doubly important in an indoor mile. Willis is no spring chicken–he's the same age as the clearly over-the-hill Alan Webb–but he's still a wily runner.
Mary Cain vs Ajee Wilson
Women's 1000 meters, 5:07pm
The House of Run's Jason Halpin called this the best matchup of the meet and I find it hard to argue with him. Mary Cain draws attention every time she runs, but I have to figure her an underdog in this race. Wilson arguably had a better 2013 season than Cain did, is every bit as race-sharp as Cain, and the distance is closer to her strength (800) than Cain's (1500). It's a crowded field for an indoor race of this length (nine athletes plus a pacemaker) and there are a lot of other good runners here.
Brooks Beasts vs Record Book
Men's 4×800 relay, 5:25pm
The Brooks Beasts are a relatively new club based in Seattle, and they have put together an impressive collection of 800 meter talent. The headliner is Worlds silver medalist Nick Symmonds, but the supporting cast is excellent: Matt Scherer (the world's best pacemaker), Mark Wieczorek (1:45.36 PR), and Cas Loxsom (1:45.28 PR). The world record and the meet record are one and the same, 7:13.94 (set in 2000), and these four will have to average under 1:48.5 to get it. It's easily doable if they're ready, but Wieczorek and Loxsom will have to run significantly better than they did at last week's season openers in North Carolina.
It's possible that this could be more than a mere record attempt and turn out to be a bona fide race. There will be four other teams entered, two representing the New Jersey-New York Track Club, one from the Santa Monica Track Club, and a "pickup" team of US all-stars. The NJNYTC 'A' team will be led off by Robby Andrews (1:44.71 PR) with Michael Rutt (1:45.08 PR) second, but then the depth drops off. The all-star team has US champion Duane Solomon (1:42.82 PR) leading off and follows him up with enough talent to challenge the Brooks Beasts: relative unknown Richard Jones (1:45.56 PR), then defending US indoor champion Erik Sowinski (1:45.21 PR) and anchor leg David Torrence (1:45.14 PR). Sowinski in particular is clearly ready to roll, running 1:46.84 in Germany last week.
Milers vs Distance Runners
women's 2000 meters, 5:35pm
The 2k is a rarely contested distance, which makes this a weird race to begin with. If yuo're going to pick a favorite, it's probably Kim Conley, a long-distance runner who recently set a big mile PR–4:24.54 to be exact, fourth-best in US indoor history. Your next favorite might be Emma Coburn, the new pro steeplechaser who won the mile at last year's NCAA indoor championships. On the other hand you have the milers, like Morgan Uceny and Lucy Van Dalen. Uceny in particular is an unknown quantity; she was the world's best for most of the 2011-12 period but her 2013 season was not so good.
Up-and-comers vs Veterans
New Balance women's two mile, 5:48pm
The veterans are Jenny Simpson, the two-time world championship medalist at 1500 meters, Sally Kipyego, the umpteen-time NCAA champion, and Shannon Rowbury, the 2009 Worlds 1500 bronze medalist. By accomplishments they are the favorites, but not by what they've done recently. Let's Run was unimpressed with Simpson's recent cross country race in Italy, Kipyego missed most of last season with a stress fracture, and Rowbury's season opener three weeks ago wasn't much to look at either.
The up-and-comer to watch is Jordan Hasay, who recently broke a three-year-old mile PR by five seconds. The former Oregon Duck's transition from college to pro running is less than a year old but has been very smooth. Another to watch for is an Ethiopian by the name of Gotytom Gebreslase. She's a late add who is barely 19 years old–and was the 2011 World Youth champion at this distance.