2 Comments
Daily News Roundup: World Record!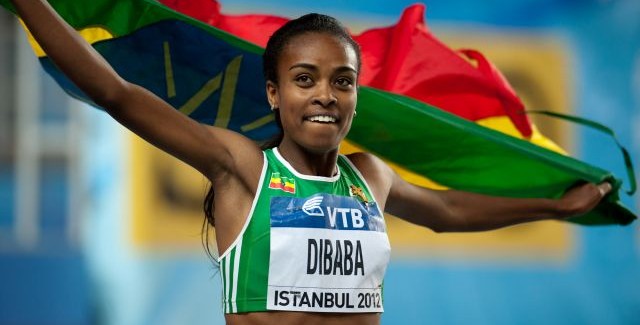 The reigning world indoor champion has just set yet another world indoor record. (Photo by Wikimedia Commons)
Just this afternoon, Ethiopia's Genzebe Dibaba ran 3000 meters in 8:16.60 at the XL Galan in Stockholm. It's a world indoor record, breaking countrywoman Meseret Defar's 2007 record by a staggering 7.12 seconds (the biggest drop in that record in 32 years). It's Dibaba's second world record in less than a week.
Depending on who you ask, it's the fastest legitimate time ever run, indoors or out. The only faster marks (five of them) were run in the September '93 Chinese National Games, a meet with no international observers, with unusually fast times across the board, and an overall air of unbelievability.
What comes next? Who knows. Obviously this race has to be the video of the day.

News
Runner's World's Morning Report has all of yesterday's news: LA asked to give more Olympic Trials prize money; Geoffrey Mutai and Ezekiel Kemboi targeting world records, and more.
Besides hitting all the morning headlines in his daily Oregon track & field rundown, Ken Goe asks what happened to the Pepsi Team Invitational. The quadrangular meet had been an annual Oregon affair since 1987 but is down to a dual this year. When pressed, coach Robert Johnson refused to talk about it, and former coach and now assistant AD Vin Lananna would only say "RJ wanted to have this schedule". A couple of weeks ago I asked Johnson about the same thing via e-mail, and he was similarly evasive: "We just wanted to change things up a little bit this year".
Recall that a previous Oregon track coach, Martin Smith, wasn't terribly friendly with press or fans either, and the Ducks didn't get as much love from either then as they do now. Home attendance numbers were not very good (by Oregon standards) under Smith's tenure. There is no guarantee that college track will remain as popular at Hayward Field as it is now, yet the NCAA is locked into an eight-year agreement for Oregon to host the outdoor national championships.
Britain's Education Secretary, Michael Gove, recently suggested using running as a form of punishment for misbehaving students. '76 Olympic 10k medalist Brendan Foster is none too happy about running being made into a bad thing. All I can say is that under such a regime, I would have had no second thoughts about causing as much trouble as possible.
More from Runner's World
Radio Free Europe interviews Nick Symmonds about being one of the first athletes to speak out on Russia's anti-gay-propaganda law.
More from Radio Free Europe
Usain Bolt news: once again, he'll run at the Paris stop on the Diamond League tour, and a tax break may open the door for him to run in Glasgow.
The Bowerman Award watch lists were updated yesterday and today–men here, women here.
Results