2 Comments
The Monday Morning Run: Indoor Track Preview, Bekele's future, and the biggest 5K blowout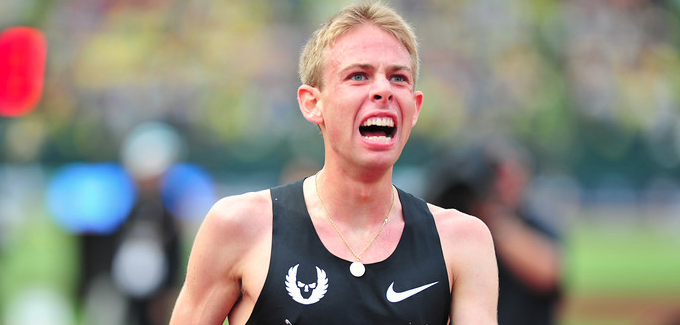 Kevin Sully | On 26, Jan 2015
A quick reminder before we begin this edition of the Monday Morning Run. For a quick recap of the week's action, check out Jesse's Scoreboard  every Sunday. Also, each Tuesday Jesse runs through all the NCAA results, stories and highlights, which is looking like it is just going to turn into one long post about Demi Payne vaulting over the moon.
I wrote about the biggest race of the week, the Dubai Marathon, on Thursday. More on that and look ahead to the indoor season in this week's Run…..
The Medalists
The top three performances of the week….
Gold: Aselefech Mergia
Mergia held off debutante Gladys Cherono and won her third title in Dubai. Her time, 2:20:02, is her second fastest ever and is an impressive return to marathoning just 18 months after giving birth.  In the early part of the race Tigist Tufa  had a huge lead and looked to on her way to an easy victory. Mergia stayed with the pack and eventually overtook Tufa.  From there, it was a three woman race with Cherono and Lucy Kabuu in tow.  In the final mile, Mergia was the aggressor and kept Cherono at bay.
After the race, her daughter clearly had some issues with the race plan.
Silver: Hayle Berhanu Lemi
As Jesse pointed out in the Scoreboard, Lemi wasn't even part of the elite entries list before the race. Two hours and five minutes later (2:05:28 to be exact), he won the whole thing, running away from Lelisa Desisa and beating a field filled with sub 2:06 marathoners.
What's next for Lemi? Will this win vault him into the top tier of global marathoning? Or was his five minute personal best an aberration that he can't possibly repeat?
It's hard to tell with any single marathon victory. He is only 21-years-old and still has room to grow in the event. His only previous result was from the Zurich Marathon in 2013. It will also be interesting to track how he does in the short-term. Desisa rode a hot hand in 2013 and won Dubai and Boston. With a depleted Boston field this year, maybe Lemi can do the same thing.
Bronze: Mo Hrezi
Hrezi ran collegiately for Iowa State University and is currently a member of the Hansons-Brooks Distance Project in Michigan. I have no idea why he showed up at the Light Up the Night 5K in Winter Haven, Florida on Friday, but the results were….decisive.

That is a nine minute and second gap between Hrezi and the next finisher. We've all seen blowout wins when elites decide to show up and run "ordinary" races, but this might be the biggest margin of victory. Assuming even splits, Hrezi finished the race before the runner-up had completed two miles. If this race was on a track, he would have lapped the entire field before the end of his fourth lap.
Congrats to Mr. Hrezi and start training Winter Haven, Florida.
Surging….
-Indoor season has barely started and we already have our first obscure American record of the year. 800-meter man Cas Loxsom dropped down in distance and set an American record of 1:15.58 in the 600 at the Albuquerque Convention Center. Loxsom is usually strong indoors and the 600 takes full advantage of his speed and endurance.
-Speaking of ideal distances, Geoffrey Kamworor won the Kenya Police Service Cross Country Championships over the weekend. Kamworor is touted for his monumental marathon potential, but he has an unfortunate habit of thriving in distances that don't have an Olympic equivalent. He easily won the 12K on Saturday and is the reigning world champion in the half-marathon.
Also making appearance at the Police Championships were a couple of familiar names returning from layoffs in Matthew Kisorio (drug suspension) and Vivian Cheruiyot (maternity). Kisorio placed second to Kamworor and Cheruiyot was fourth in the women's race.
-It's less than a month from race day and the Tokyo Marathon men's field is shaping up to be very strong. Tokyo is the youngest member of the World Marathon Majors so they have understandably lagged behind the others when it came to compiling a roster that could rival Boston or London. This year they are trotting out Geoffrey Mutai, Tsegaye Kebede and six others who personal bests under 2:07. That doesn't include Olympic/World champion Stephen Kiprotich, debutante Tariku Bekele and a deep Japanese contingent.
Slowing….
–Kenenisa Bekele dropped out at 30K in Dubai with an injury. Up to that point he was running comfortably with the large group and when the camera cut back to him he was off the back of the pack. This is the second marathon in a row where he hasn't been able to close with the leaders. Perhaps the decision to run Dubai after Chicago didn't allow Bekele proper time for a full marathon build-up.
His planned appearance in London, just a scant 11 weeks away, is now in question. If he does make it to the starting line, it's hard to see him finishing in the top five with the field that is waiting for him. His run in Dubai once again raises the possibility that he may just not be a great fit for the distance. Plenty of 5,000/10,000 runners haven't been able to crossover to the marathon.
If he continues to struggle will he keep his attention on the roads or move back to the track?
-It's tough to lose a meet by 1 point. It's even more excruciating when that loss comes after being disqualified in the final event. France finished second in the men's 4 x 400, which would have given them a victory in the Sainsbury's Indoor Match against Germany, Scotland and the UK. After the race, the French team was disqualified for a bad exchange.
-Another Russian gold medalist is under scrutiny for doping. Steeplechaser Yuliya Zaripova reportedly violated the biological passport system and could lose her Olympic and World Championship gold medals. Zaripova was the top steeplechaser in 2011 and 2012 before skipping the 2013 World Championships.
Indoor FAQs
The professional indoor season begins in earnest this week. I looked ahead at the meet schedule, the released athlete entries and feel somewhat qualified to answer your questions.
Fire away….
Are any of the meets on live TV?
It's interesting that despite its lower profile (and much shorter season) indoor track gets about as much live television coverage in the United States as the entire outdoor season. This year the Armory Track Invitational, New Balance Indoor Grand Prix, the Millrose Games and the USATF Indoor Championships are all schedule to be broadcast on NBCSN. Most outdoors seasons NBC or NBCSN covers the Penn Relays, the Prefontaine Classic, the New York Diamond League and the US Championships. In recent years they have also begun to televise the elite sections of the Drake Relays.
Four meets…is that the whole season?
That's the whole season in the US (not including the NCAA Indoor Championships or the inevitable one random meet where Galen Rupp shows up and runs and American record with three other people in the race).
There are also four big meets in Europe, including one in Russia on Super Bowl Sunday. Putin is not intimidated by Roger Goodell and his American football.
Is there a championship at the end of all this?
No World Championships for indoors, you will have to wait until 2016 for that. The highest it goes is the USA Championships. But hey, don't complain– a five week season with four of the meets on television in the United States.
What are the best head-to-head match-ups?
So many of the fields have yet to be determined. The Millrose Games always has at least two or three "names" in their field, but their meet is still a few weeks away. Ditto for the New Balance Grand Prix. Bernard Lagat, Matt Centrowitz, Meseret Defar and Jenny Simpson are all competing, but we don't know against whom.
That said, here is a sampling of what we know:
Ajee Wilson vs. Mary Cain vs. Laura Roesler at the Armory Track Invitational
Francena McCorory vs. Sanya Richards-Ross at the Millrose Games
Ryan Whiting vs. Christian Cantwell in Karlsrue (and probably the USA Championships)
Carmelita Jeter vs. Murielle Ahoure in Birmingham
Silas Kiplagat vs. Aman Wote vs. Bethwell Birgen in Moscow
Bohdan Bondarenko vs. Mutaz Essa Barshim (they don't have a scheduled meeting, but we can hope)
Which records are in jeopardy?
Renaud Lavillenie is always a threat to break his own pole vault world record. He has already vaulted this winter and is in good form. He is committed to the Karlsrue (Germany) this Saturday.
Genzebe Dibaba is targeting the 5,000 indoor world record at the XL Galan (the most intimidating sounding meet on the whole schedule) in Sweden. If she gets it there, I wouldn't be surprised to see her try to re-break her record in the 1,500 the next weekend at the Birmingham Indoor Grand Prix on February 21st.
Rupp and Lagat will surely continue to play musical chairs with the 3,000, 2-mile and 5,000 American records because that is what they do every year.
If you like your records in odd distances, how about Nijel Amos attacking the indoor 600 world record at the Russian Winter Meeting on February 1st? The Millrose Games has a 500 and a 1,000 on their schedule, which I'm sure could be had by the right "tweener" runner. At the New Balance Indoor Grand Prix, they are planning an attempt at a world record in the women's distance medley relay.
Who needs a good indoor season?
Nobody really needs a good indoor season, but I will be curious to watch how two hurdlers perform. Aries Merritt dealt with injuries the last two seasons and hasn't looked the same as he did in 2012. To be fair, nobody in history looked like Aries Merritt did in 2012.
Dayron Robles squabbled with his federation in Cuba, which kept him out of some meets last year. His performance has dipped a bit, but he is only 28 so he still has time to compete for medals at major championships.
Any other interesting races to keep an eye on?
At this weekend's Armory Track Invitational they are holding a Distance Medley Relay. Teams from the US, Ireland and Kenya are scheduled to compete. A team of 7th graders plus Asbel Kiprop as the anchor should enter to test the hypothesis that the DMR just boils down to who has the fastest miler.
Mo Farah is committed to run in Birmingham. It's unclear if he will make any other indoor appearances. If that is his only race, expect tons of overreaction and conjecture by fans and media alike.
Always keep an eye on the distance races at the New Balance Indoor Grand Prix. In 2011, Dejen Gebremeskel won the men's 3,000 with one shoe after a competitor stepped on it at the start. Last year, Jenny Simpson miscounted her laps in the two-mile and looked like the last person in the building to notice.