One Comment
The Scoreboard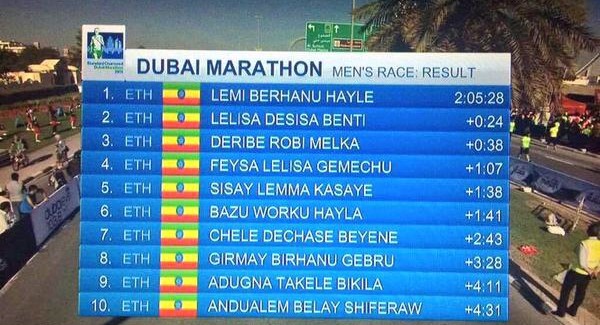 Jesse Squire | On 25, Jan 2015
Leading into every weekend, I identify the most interesting matchups coming up over the next few days. How did they turn out this weekend? Let's take a look.
Bekele vs the field: the field
Kenenisa Bekele (Ethiopia) is possibly the greatest long-distance track and cross country runner of all time, but the marathon is a different beast. At the Standard Chartered Dubai Marathon, he dropped out around the 30km (18.6 mile) mark and Lemi Berhanu (Ethiopia) went on to win. Berhanu was not among the 39 athletes listed as elite entries in pre-race releases; the only result for him in the ARRS database is a 2:10:39 win at the Zürich marathon last April, which means that he broke his PR by 5:11.
More from the IAAF
Mergia vs Kabuu: Mergia
Aselefech Mergia (Ethiopia) won the Standard Chartered Dubai Marathon in 2011 and 2012 and holds the course record, so she was one of the pre-race favorites, but the biggest question was how she would respond after a layoff after bearing her first child. She ran very well and held off World Half Marathon champion Gladys Cherono (Kenya) for the win by a single second.
More from The National
Chebet vs Cherono: neither
The Kenya Police Service cross country championships are one of a number of Kenyan contests leading up to the national championships, most with depth so great that it would cost a fortune to get them all in the same track or road race. Emily Chebet and Mercy Cherono are two of the world's very best runners right now but neither showed up at the top of the women's race. It went to Stacy Ndiwa, the 2008 Youth Olympic Games 1500 meter champion.
More from The Daily Nation
LATE EDIT: neither Chebet nor Cherono were in Nairobi for this race but ran in Spain instead.
UK vs France vs Germany vs Scotland: Germany*
The annual Sainsbury's Indoor Match in Glasgow provided plenty of late drama. France has never won this competition but it looked like they had it in the bag with a runner-up finish in the concluding men's 4×400 relay. Then it was announced that the team had been disqualified, which gave Germany the win. Final scores: Germany 50, France 49, Great Britain 49, Scotland 35.
More from Athletics Weekly
Minnesota vs Wisconsin: Minnesota
The Golden Gophers and Badgers are old and bitter rivals and had met 98 times in dual track meets, but not at all since 1978. That changed this weekend, including the balance of power. Coming into this revival, Wisconsin held a 73-22 series edge in men's competition and 3-0 in women's, but Minnesota swept the men's and women's meets with relative ease. Wisconsin did come away with one bright point: Micheal Lihrman broke the Division I record in the weight throw (Kibwe Johnson of D-II Ashland still holds the overall record).
More from Madison.com
Protsenko vs Fassinoti: Fassinoti
The first stop on the Moravia High Jump Tour was in the Czech town of Hustopece, and Marco Fassinotti (Italy) came away with the win and a world-leading mark of 2.34 meters (7′ 8″), which tied his own national record. Andriy Protsenko (Ukraine), who won silver at last year's World Indoor Championships and became one of the few men to ever jump 2.40 meters (7′ 10½"), was relegated to second.
More from the IAAF
Bromell vs Wright: Bromell
Trayvon Bromell (Baylor) turned back a host of top sprinters to win the 60 meters at Kentucky's Rod McCravy Memorial and did it with a collegiate leading time (6.54 seconds). Florida's Antwan Wright finished fifth in this event at last year's NCAA indoor championships but did not qualify to the finals here.
More from the Waco Tribune
Murer vs Sidorova: Murer, sort of
At the Rouen stop on France's pole vault-only Perche Elite Tour, Fabiana Murer (Brazil) beat Anzhelika Sidorova (Russia) but finished third behind winner Nikoleta Kiriakopoulou (Greece). The men's competition was an easy win for Renaud Lavillenie (France), who cleared 6 meters even (19′ 8¼").
More from the IAAF
Dendy vs Obi: Dendy
The Rod McCravy Memorial saw a rare matchup of defending NCAA champions. The indoor champ is Felix Obi (Baylor) and the outdoor champ is Marquis Dendy (Florida). Obi only took three jumps and finished fourth, and Dendy won the meet by eight inches.
More from the Independent Florida Alligator
Schnulle vs Rono: Schnulle, sort of
Florida's Ryan Schnulle and Arkansas' Patrick Rono are two of the NCAA's top returning 800 meter runners and were facing off in the fast heat at the Rod McCravy Memorial. Rono was dead last in 1:54—I don't know if he fell or was just way out of it—and Schnulle was third. The win went to Kentucky's Keffri Neal, one of the other returning NCAA finalists from last June.