2 Comments
The Weekend's Best Matchups: Dubai Marathon, College Track Heats Up and more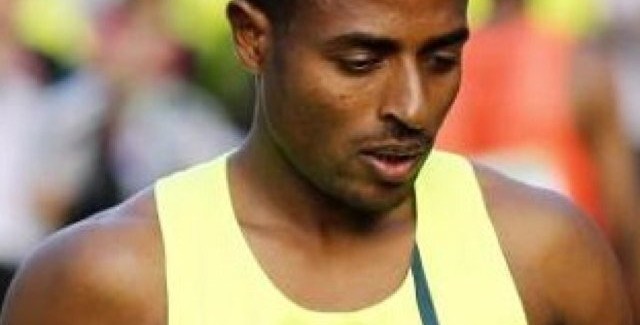 Jesse Squire | On 22, Jan 2015
Kenenisa Bekele is one of the greatest distance runners of all time, but can he hold off a gigantic pacl of marathoners all by himself?
The college indoor track season is heating up and so is the European season. There's some good track to be seen this weekend, but the best of all is the first of all: the Dubai Marathon, which takes place late on Thursday night in the USA.
Here are the ten matchups you should be watching this weekend.
Bekele vs the field
Men's race, Standard Chartered Dubai Marathon
Dubai, UAE
Friday, 7:00am local time (Thursday at 10pm ET)
Meet website and live webcast
Kenenisa Bekele won 17 world championships in track and cross country and still holds the world records for the 5000 and 10,000 meters, but he's committed to the marathon now. He's run just two of them but they were fast: 2:05:04 (a win in Paris) and 2:05:51 (4th in Chicago). He's obviously the headline runner in this race.
Bekele faces a field of astounding depth. Six of them have PRs under 2:06, led by Ethiopian compatriot Lelisa Desisa, nine have run sub-2:07, and sixteen have run sub-2:09. The sheer force of numbers entered in the race suggest that someone we know little to nothing about will run out of his gourd and hit a fantastic time. Certainly at least two dozen runners will go for broke and either get that big break or flame out in the attempt. Still, Bekele is one of the greatest runners of all time and still figuring out the marathon. Let's Run has their typically deep pre-race analysis.
Mergia vs Kabuu
Women's race, Standard Chartered Dubai Marathon
The women's race in Dubai is even deeper than the men's race, as twenty-two entrants have PRs under 2:28. Just two have run under 2:20, Aselefech Mergia (Ethiopia) and Lucy Kabuu (Kenya). I say "just", but two is one-ninth of all the women who have ever run under 2:20.
Honestly, though, this is anyone's race. Let's Run identified ten different women who could win this race. The leading choices include Gladys Cherono (Kenya), the reigning World Half Marathon champion who is running her first full marathon, and Aberu Kebede (Ethiopia), who has a 2:20:30 PR and has won six out of her thirteen career marathons.
Chebet vs Cherono
Women's race, Kenya Police Service Cross Country Championships
Ngong Racecourse, Nairobi KEN
Saturday, 9:00am local time (1:00am ET)
The championship races for the various Kenyan public employment groups are often as good or better than some world championship races. This is a perfect example. Emily Chebet and Mercy Cherono will race head-to-head again after last week's Cross Internacional de Italica, where Cherono came out ahead of Chebet. Currently they are ranked as the #3 and #8 best distance runners in the world by the ARRS—and that's putting all distances into one grouping.
UK vs France vs Germany vs Scotland
Sainsbury's Indoor Match
Emirates Arena, Glasgow SCO
Saturday, 1:15pm local time (8:15am ET)Meet website
Webcast link
The depth of this meet isn't what it has been in past years, especially since the USA no longer fields a team, but it's still likely to be a fun affair. Scored international matches are a rarity these days and the turnout and fan support is good. The single best event on the schedule is the men's pole vault, which includes Luke Cutts (Great Britain), the 2014 Commonwealth silver medalist, Tobias Scherbarth (Germany), who sports a PR of 5.76 meters (18' 10¾"), and Jerome Clavier (France), whose PR is 5.81 meters (19' ¾").
Minnesota vs Wisconsin
The Shell, Madison WI
Saturday, 11:00am local time (noon ET)
Meet website
This is one of the oldest and most intense rivalries in college sports. The football teams first met in 1890, and while today's traveling trophy is Paul Bunyan's Axe, they used to play for the Slab of Bacon before it was lost in an on-field melee in 1943. I don't know what, if any, trophy is up for grabs in this meet but it's just great that they're having it. The first Minnesota-Wisconsin dual meet was held in 1900 and it ran through 1978 before…well, I don't know, it just disappeared. It's back and Wisconsin is promoting the heck out of it.
Protsenko vs Fassinoti
Men's competition, Hustopecske Skakani
Hustopece, CZR
Saturday, 7:00pm local time (1:00pm ET)
Meet website
This is the first stop of the Moravia High Jump Tour, and while it's missing the biggest stars of high jumping there are still plenty left. The headliner is Ukraine's Andriy Protsenko, one of the boatload of jumpers who cleared a big 2.40 meter (7' 10½") bar last year. His top competition is likely to be Marco Fassinotti, the Italian record holder who is already off to a hot start in 2015. Two Americans are in the field, former World Champion Jesse Williams plus Florida State alum James Harris.
Bromell vs Wright
Men's 60 meters, Rod McCravy Memorial
Nutter Field House, Lexington KY
Saturday, 1:00pm
Meet website
Live webcast from noon at WatchESPN
If you paid any attention to college track at all last spring, then you know who Baylor's Trayvon Bromell is. He's the most electric young sprinter to come through the college ranks in a decade. But last year he did not really appear to be an indoor type of sprinter–he's just really, really good at it instead of being a record-breaker. Florida's Antwan Wright was fifth at last year's NCAA Indoor Championships and is one of the contenders for this year's title. Besides those two, the field includes a couple of World Junior Championships gold medalists in Trentavis Friday and Kendal Williams, both running for Florida State.
Murer vs Sidorova
Elite women's competition, Perche Elite Tour Rouen
Stade Sottevillais 76, Rouen FRA
Saturday, 8:00pm local time (2:00pm ET)
Meet website
This stop on the French Perche Elite Tour of pole vaulting includes world record holder Renaud Lavillenie in the men's competition, and anymore that means the real contest is for second. The women's competition is a bit more even, and the two best entrants are Fabiana Murer (Brazil), the world's leading pole vaulter for 2014, and Anzhelika Sidorova (Russia), the 2014 European champion. It's a deep competition, too, with six women who cleared 4.70 meters (15' 5") or better last year.
Dendy vs Obi
Men's triple jump, Rod McCravy Memorial
Saturday, 2:00pm
This is a rare treat, a matchup of the defending indoor and outdoor NCAA champions. Marquis Dendy (Florida) had a crap season indoors last year but got it together outdoors and won an NCAA long/triple jump double. Felix Obi (Baylor) won the indoor title but did not compete outdoors.
Schnulle vs Rono
Men's 800 meters, Rod McCravy Memorial
Saturday, 3:00pm
In their series of pre-season event previews, Flotrack identified three men as favorites for the NCAA indoor title, and two of them are in this race. Ryan Schnulle (Florida) ran the race of his life for second at the NCAA Outdoor Championships and finished fifth at the indoor championships. Patrick Rono (Arkansas) was Mr. Consistent, finishing third at the indoor championships and fourth outdoors.