3 Comments
College Track Issues & Answers: A Record Chase and more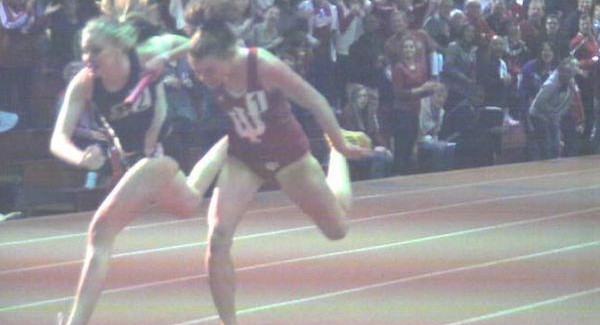 Jesse Squire | On 20, Jan 2015
The USTFCCCA has really ramped up its coverage of college track and field over the last year. They produce a nice recap of the weekend's action and have compiled the best marks of the week as well. Those are the best overall recaps of the weekend's action that you'll find.
As far as topical musings on college track and field, here are some thoughts that came to me.
A Record Chase
Way at the end of Friday night's Arkansas-Texas dual meet, word got out on Twitter that collegiate record was broken.
New college record, yo. http://t.co/I2wKBqfq9r #YearOfTheVault

— USTFCCCA (@USTFCCCA) January 17, 2015

Arkansas' Sandi Morris scored an upset win with a new collegiate record in the women's pole vault over Texas' Kaitlin Pettrilose, who set the collegiate record last year. The height was 4.61 meters (15′ 1½"), which not only broke the indoor record but tied the comprehensive indoor/outdoor record.

(An aside: do you notice how there is NO ONE in the stands for this? It's because the men's pole vault ran long, thus forcing the women's vault to start late, and high clearances made the women's vault run long too. The rest of the meet was long over. It's an unfortunate turn of events that the best part of the meet was seen by the fewest people.)
The reference to the Year of the Vault was about this record plus the multiple men's records set by Akron's Shawn Barber over the last two weeks. The tweet was prophetic, because just 18 hours later and 500 miles away…

The record fell again. This time, Stephen F. Austin's Demi Payne broke it, clearing 4.63 meters (15′ 2¼") at the Texas A&M Aggie Team Invitational. That's the indoor record, the comprehensive indoor/outdoor record, you name it. Payne's father, Billy, was a 19-foot vaulter, her mother played basketball at Baylor, and she's six feet tall. In other words, Payne appears to have all the tools for dominance.
Besides creating headlines, this gives something to college track that track and field of any kind hasn't had for quite a lone time: a record chase. That's the kind of thing track used to have back in the 60s or 50s, the best-known of which involved men on three continents and still inspires films and best-selling books. We don't get so many records in track and field these days; metrification cut half the distances out of the track events, improvements in technology and training and technique have slowed to a crawl, and while PED use might not be stamped out it sure appears to be less than it used to be.
Who knows if either of these women will beat those heights again this season, but we now have a proxy war going on. Arkansas and SFA only have one common invite on their schedules, in New Mexico on February 7, before the NCAA Championships come around. I haven't the foggiest idea how long it's been since two collegiate record breakers went head-to-head in any event at the NCAAs, but it hasn't been recent.
Rivalries Are What Make College Sports
While at a meet last year I chatted for a few moments with some athletes on the team at my alma mater, Bowling Green. I asked about upcoming races and goals, and they expressed some excitement and nervousness about big races on the horizon. Then I asked about the upcoming dual meet with Toledo, their traditional rival, and it was like I flipped a switch. There was no apprehension; their eyes and voices conveyed pure, unadulterated aggression. They were out for blood. It made my day.
In every college sport, there is that one team out there that if you beat them it makes your season, and if you don't it bothers you for the next 12 months and you swear it won't happen again. It's one of the things that makes college sports special to the athletes, the alumni, and the people who follow the teams.
We had a good bit of that last weekend. Wichita State's men beat Kansas and came up one point short of beating Kansas State. Akron and Kent State came right down to the end in both the men's and women's competition, with the women's competition decided on the countback in the pole vault. The ancient and honorable Little Three meet between Amherst, Williams and Wesleyan was held indoors for the first time ever and Williams pulled out the women's win by a single point.
The best single moment of the weekend wasn't either of the pole vault records or the fast sprint times (see below) or any of that. It wasn't a particularly fast race. But it was because a young woman just would not quit, and especially against that team.
The Indiana-Purdue dual meet started over a hundred years ago but eventually went by the wayside until 2010. The first four editions weren't competitive; Indiana swept the meet every year and by large margins. Last year the tables were turned and Purdue swept the meet. This year Indiana clinched the men's meet before the concluding relays–unusually, this meet ends with a 4×400 and a 4×800–but the women's meet came down to the last event. At the last exchange, Indiana's Brittany Neely had a lead on Purdue's Hope Schmelzle and held it going into the last 100 meters.
And then this happened.

Purdue was awarded the win by 0.001 seconds, and with it the meet.
If you don't love a finish like that, then you don't love America.
Webcasts: Quantity good, Quality not so much
My locally-owned cable company finally ponied up the fees to make ESPN3 available to its subscribers, so I got it all set up this weekend so I could see a bit of the SEC webcasts. In case you didn't know, the SEC Digital Network is webcasting every home meet at Texas A&M and Arkansas, which is a hefty amount of coverage.
I set up my access late on Friday afternoon and took a few minutes to check out Texas A&M's Aggie 13-team Invitational, a meet that Texas A&M wasn't actually competing in (more on that later). What I saw was rather basic: video feed of a race followed by the live results (the same that go on the scoreboard at the meet). No announcer besides the ambient sound of the stadium announcer. I thought, well, this isn't the big show. That's the Arkansas-Texas dual that started about an hour later.
I went back down to my man cave a bit after that meet started to see what was going on. What I saw was a webcast that was very good in some ways but very bad in others. At that point none of the track events had started yet and the action was all field events. There were multiple cameras, each showing a single event, and a producer was efficiently cutting back and forth between the various jumps. But the lack of an announcer meant that I had no clue as to what was happening in any of those events, and I didn't end up watching it for very long. There might have been an announcer for the track events but I didn't wait to find out.
This is not good. Maybe I'm being a bit harsh and the rest of the webcast was better, but that any of it was like this isn't what it should be. If I get restless and turn off a track meet after a few minutes, what about someone else? Would these webcasts produce even one more fan? And if not, what's the point? I appreciate that all these meets are being webcast, but what I saw needed a little more.
One Weekend, Two Meets
There is a growing awareness that most track meets are too big and too long for anyone to actually want to watch them. The typical response is to try to make meets better by making them smaller, generally limited-entry meets between anywhere from two to six teams. A whole lot of the college meets in my neck of the woods are going that direction, and it makes for a reasonable sports experience. For example, last Saturday I got up late, got in a good long run, went to a meet at the University of Michigan in the afternoon, and then went out to dinner with friends that night. That's the normal existence that most average sports fans want, but too many track meets don't fit that kind of schedule.
Making that happen isn't always as easy as it sounds during the indoor season, though. Large parts of the country have a very limited number of indoor facilities, and it's just not possible for small meets to be the norm. Think about how many college track teams there are in Texas or the West Coast or the Deep South compared to the number of indoor tracks in those same areas, and the ratio of teams to tracks more or less requires large, sprawling meets. There are a lot of indoor tracks in the Northeast, but the heavy concentration of college track teams there doesn't make for a good ratio either. Only in the Midwest and Great Lakes areas is the ratio of teams to tracks relatively favorable.
But creative thinkers are coming up with solutions. Texas A&M hosted two invitationals last weekend but only competed in one of them. North Carolina hosted the Carolinas Cup quadrangular meet on Friday, then hosted an open meet on Saturday. New Mexico often sets up its invitationals as more or less an open meet on Friday and a quicker, elite-only meet on Saturday. Wichita State competed in a triangular on Saturday, a meet with a 26-athlete limit, so they hosted another meet the day before that matched up their B team against D-II and junior college teams.
I'd say these coaches are "thinking outside the box" if that weren't such a tired cliché. This kind of creativity deserves something better. Can someone think outside the box and come up with a better phrase than thinking outside the box?
Sprinters Heating Up
So far this indoor season, we've had three men run the 60 meters in under 6.60 seconds. Two of them, Jalen Miller (Ole Miss) and Trayvon Bromell (Baylor), were 4×100 relay teammates at last year's World Junior Championships and are well known, but the third is not. John Teeters (Oklahoma State) entered the year with a PR of 6.69 but ran 6.54 in the prelims at Nebraska's Holiday Inn Invitational. That's the fastest time in January by a collegian in at least a decade.
Last year saw six collegiate men run sub-6.60 in January, but four of those were aided by high altitude. There was just one in January in 2013, also at high altitude, and only three in January in 2012, of which one was at high altitude. The trio so far in 2015 ran their times at "sea level" (in Lincoln and College Station, so not exactly but close enough) so 2015 appears to be the deepest year so far, and we've still got another two weeks of January left.
Besides the Teeter shocker, I think it's worth noting that Trayvon Bromell is not really a 60-meter sprinter. Compared to what he did in the 100 meters last year (NCAA title, 9.97 World Junior Record) he didn't do much in the 60 (third at Big 12, didn't make the finals at the NCAAs). This first meet of the season produced a PR by 0.07 seconds. As they always say, past performance is no guarantee of future success, but it's still tempting to throw this kind of improvement curve onto last year's outdoor performances and see sub-9.90 as a distinct possibility. The USA has been in dire need of A New Sprint Star for about ten years. Could he be The One?
This last weekend saw three women go under 7.20, a similar performance to a man under 6.60, led by Jasmine Todd (Oregon). Her 7.15 appears to be the fastest ever run in January by a college woman. Recall that Oregon's bid for a women's NCAA team championship last June took a big hit when Todd came up injured at the Pac-12 Championships, but she scored an important nine points in the 60 and long jump in Oregon's win at last year's NCAA indoor championships.
Random Stat of the Week
Sandi Morris' collegiate pole vault record stood for less than 24 hours, but that's not even close to the record for shortest-lived record. At last year's NCAA Championships, Mississippi State's Eric Bougard broke the collegiate pentathlon record with a score of 4586 points when she crossed the finish line of the conculuding 800 meters. Less than five seconds later, Georgia's Kendell Williams crossed the finish line to score 4635 and break Bougard's record.
They Said It
Breaking the collegiate record has been a dream of mine ever since I started vaulting. I have worked hard every day knowing it's possible and now that I have finally accomplished it I will continue to work hard and set it as high as I can before I graduate. I am so thankful for everything my coach and teammates have done for me and for all of the Razorback fans cheering in the stands. I'd like to thank all of them for everything tonight, their voices got me over that bar.
–Arkansas' Sandi Morris on her ultimately short-lived collegiate record
That was my main goal. I told my coach, "I'm breaking that record. It's going to be a 24-hour record, it's going down." … My confidence was out of the roof today. I came in and I knew what poles I needed to be on, I stuck to the plan and it worked out. Having that sick height over the bars I knew the record was going down today.
Stephen F. Austin's Demi Payne on her collegiate record
I knew that Neeley was going to be hard to outkick. I knew it was going to come down to guts. I'm glad it got to be against her because she was a high school state champion and a great runner. As I was lying on the ground, I was nervous and scared because I knew it was close and I wasn't sure who won. I just kind of laid there and tried to figure out what happened as I replayed the finish in my mind. I didn't see the scoreboard, but I heard the screams and I saw Coach Goodman and Katie Hoevet get excited and I knew we must have done it. All my emotions hit me at the same time, tired, excited, relieved and just overjoyed.
–Purdue's Hope Schmelzle on her amazing kick
A good win against a great program. We're happy those guys came to duke it out with us and have some fun.
–Arkansas men's coach Chris Bucknam on the Razorbacks' win over Texas
The goal, big picture-wise, was to win the meet so we got that done. When I look at everything before the meet started, I felt the women could win by around 15 points and on the men's side that it would be very, very close. Both schools had some athletes last minute that were scratched and we had some self-inflicted mistakes, but in the end both the final scores, in terms of point differential, were just about what I thought. Although we did just squeak it out. But I really felt, overall, that we could have won the meet if we took care of business and we did, so I'm pleased about that.
–Kansas State coach Cliff Rovelto on winning the in-state triangular against Kansas and Wichita State
Every one of our athletes that we're running this season, our top athletes, they're very excited about it. We're going to the coaches are excited about it. We have already started the trash talk on the Internet, it's already starting. And that's good for the sport. I think it's great for our kids. Again, the focus is on the competition and it's not necessarily on the times. And we're running all our top athletes are going to compete. We signed a contract and in the contract that's part of the deal. They'll have all their top athletes. No one gets a bye unless they're injured or we're redshirting them. So it's a huge focus for us. You can't go into a competition like this and not bring your top guns. Just doesn't make any sense.
–Wisconsin coach Mick Byrne (the most quotable coach in college track) on next week's dual against Minnesota, their first one-on-one meet against their rival in more than two decades