No Comments
Moscow Daily for August 12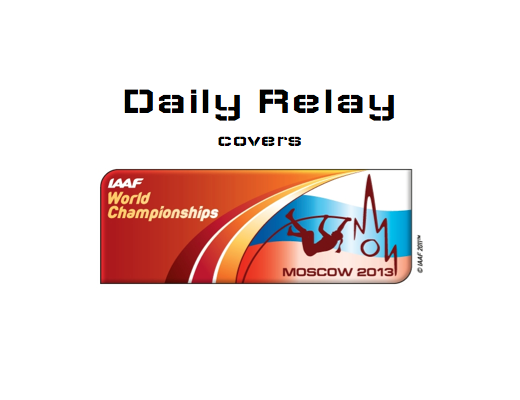 Jesse Squire | On 12, Aug 2013
Our Moscow Daily recaps the day's action at the IAAF World Championships, offers up some analysis, and tells you what (and how) to watch the following day. Come back for all nine days of action from Russia.
Scoreboard
| | | | | |
| --- | --- | --- | --- | --- |
| Nation | Gold | Silver | Bronze | Points* |
| USA | 3 | 2 | 1 | 100 |
| Jamaica | 2 | 0 | 1 | 46 |
| Germany | 1 | 2 | 1 | 43 |
| Russia | 1 | 0 | 2 | 42 |
| Kenya | 1 | 1 | 1 | 36 |
| Ethiopia | 1 | 1 | 1 | 28 |
| Great Britain | 2 | 0 | 0 | 28 |
| France | 0 | 2 | 0 | 25 |
| China | 0 | 1 | 1 | 20 |
| Canada | 0 | 0 | 1 | 7 |
* = scoring in the traditional American 8-place fashion
There were six (and a half) finals today and a lot of action to look at.
Women's 100 meters
As expected, Jamaica's Shelly-Ann Fraser-Pryce won the 100 meters and she did so in dominating fashion, leading nearly from the gun and putting massive amounts of daylight between herself and the rest of the field. Silver went to the Ivory Coast's Murielle Ahoure over American Carmelita Jeter.
Results | NBC report

Men's 110m Hurdles
There wasn't a favorite coming into Moscow, but David Oliver came out the winner and that was the least surprising of all possible results. Journeyman Ryan Wilson came up big for silver and a late stumble by Jason Richardson prevented an American medal sweep as Russia's Sergey Shubenkov passed him for bronze.
Results | NBC report

Women's 400 meters
Britain's Christine Ohuruogu has a reputation for strong finishes in championship meets and today she outdid herself. She ran down favorite Amantle Montsho of Botswana in the closing strides and won by centimeters, maybe less. She broke the UK record in the process. Russian Antonina Krivoshapka won bronze in a late rush.
Results | BBC report

Men's Pole Vault
In possibly the biggest upset of the day, Germany's Raphael Holzdeppe beat Renaud Lavillenie. Holzdeppe had a clean sheet through 5.89 meters (19′ 3¾") while the Frenchman had misses at every height. That made the final height, 5.96m (19′ 6½") a necessity but he could not clear. Germany took bronze with Bjorn Otto over the USA's Brad Walker, a single early miss leaving the veteran out of the medals.
Results | Deutsche Welle report
Heptathlon Day 1
The current rankings have Ukrainian Hanna Melnichenko first and based on her ability in the three remaining events, she could stay there. But it will be very close and probably come down to the 800 meters. The forecasting page says less than fifty points will separate the top four. Those are Melnychenko, American Sharon Day, Frances' Antoinette Nana Djimou Ida, and Canada's Brianne Theisen Eaton.
Women's Shot Put
Val Adams won as expected, lengthening her winning streak to, I think, 100,000 meets. Silver and bronze went to form, going to Germany's Christina Schwanitz and China's Lijiao Gong. American Michelle Carter ended up fourth, one centimeter away from a medal.
Results | New Zealand Herald report
Men's Hammer Throw
The other big upset today happened here, where Poland's Pawel Fajdek hit a PR of 81.97 meters (268′ 11″) in the first round and it held up for the win. Favorite Kristian Pars was the only other thrower over 80 meters, hitting 80.30 (263′ 5″) for silver. Czech Lukas Melich took bronze.
Results | IAAF report

Other notes
Asian record holder Ehsan Hadadi unregistered himself from the Worlds discus qualifying round. Earlier this year he told his Iranian federation to go pound sand and it looks like he means it…
Hurdle favorite Brianna Rollins hurt her knee in training two days ago. It sounds like a bruise rather than anything more serious and shouldn't keep her out of action…
France's Christophe Lemaitre injured himself during the 100 meter final and is out of the 200 and 4×100 relay…
US Team Performance Analysis
Three more medals were added to the pile and there were two ever-so-narrow misses in the pole vault and shot put.
Carmelita Jeter had been struggling with injury all year and did well just to get bronze in the women's 100 meters. The real plus here was getting all four sprinters into the final, double what had been expected. Likewise in the men's hurdles, all four American hurdlers made the final and two came out with medals. The women's 400 meter final was a bit of a disappointment, with Natasha Hastings and Francena McCorory finishing just fifth and sixth.
The field event results were superb. I didn't think Brad Walker still had a medal in him at 32 years of age and he was one miss away from proving me wrong. It was his best effort in years. I also thought Michelle Carter came in as the fourth-best shot putter and I was right, but she was so close. Tia Brooks, just out of Oklahoma, finished eighth. I believe this is the first time the USA has ever had two top-eight finishes in the women's shot at a Worlds or Olympics.
Sharon Day is hanging in there in the heptathlon. She had a bad outing (for her) in the high jump and left points on the table, but other than that she's done well.
Qualifying rounds went about as well as could be expected, with one exception. LaShawn Meritt and Tony McQuay got through to the 400 final and looked very good in doing so. 19-year-old Arman Hall didn't make it, but he's 19 so that's OK. All the 400 hurdlers save one made it out of the heats; that one was Georganne Moline, who tripped over a hurdle and fell. She did that in the semis at the 2012 NCAAs as well before going on to finish fifth at the Olympics, so this is extra-bad both for her and for the team. Evan Jager won his steeplechase heat but DeSean Turner and Dan Huling did not advance (and were not expected to).
Canadian Team Performance Analysis
Brianne Theisen Eaton is in medal contention, and no Canadian has ever finished in the top eight at a Worlds heptathlon, so that's a very big deal. Another big breakthrough was in the steeplechase, where both Matt Hughes and Alex Genest got through to the final (the former in a PR of 8:16.93). If my information is correct, Canada hasn't had any Worlds finalists in this event since 1991, so again this is a very big deal.
Tomorrow
Here's how to watch tomorrow's action. All times are Eastern.
U.S. Television
Universal Sports, 1:30-5:30am (live)
Universal Sports, 12:00-2:00pm (live)
Canadian Television
Daily highlight shows will air on Sportsnet. Visit Athletics.ca for broadcast times in your area.
Webcasts
UniversalSports.com will webcast whenever the TV channel is running a live broadcast, but you can only watch it if you're in the minority of Americans whose cable provider carries Universal Sports.
A better bet is WatchAthletics.com which will have a collection of foreign feeds for the morning session and evening session.
Yet another option is IAAF Radio, which is quite good and will offer live play-by-play from 1:00 to 5:00 AM and 9:00 AM to 2:00 PM.
How to Follow
The main hub of information is the IAAF website. Schedules, results, news, athlete info, whatever you need. You might want their smartphone app, too.
If you're cheering for a particular team–and who isn't?–both USA Track and Field and Athletics Canada have microsites for their Worlds teams. You can follow the exploits of US collegians with the USTFCCA.
What to Watch
All Day: Heptathlon day 2
The way it looks right now, there are four women competing for three medals. Two of those are American Sharon Day and Canadian Brianne Theisen. The javelin (3:10am) might make the difference: leader Hanna Melnychenko is horrible at it, France's Antoinette Nana Djimou Ida is very good, and Day and Theisen are in the middle. That leaves a lot of room for deviation.
11:00am: Men's Discus
Germany's Robert Harting lost his win streak earlier this year to Poland's Piotr Malachowski and looks for revenge. Lurking as a spoiler is Harting's teammate Martin Wierig, who also beat him this year.
11:35am: Women's Pole Vault
Olympic champion Jenn Suhr has her hands full with Cuban Yarisley Silva. World record holder Yelena Isinbayeva is almost an afterthought, but she shouldn't be and will have the sparse crowd behind her.
1:10pm: Men's 800 meters
The USA has two finalists in Duane Solomon and Nick Symmonds and hopes are high. The USA hasn't won an Olympic or World medal in this event since 1997 and hasn't won gold since 1972. One thing is for sure: it will be a nail-biter.
1:25pm: Women's Steeplechase
While Kenyan men have dominated the event for generations, no Kenyan woman has ever won the Worlds steeplechase. That could change here, as Lidya Chepkurui and Milcah Chemos Cheywa are favorites to win. The spoiler could be Ethiopia with Sofia Assefa and Hiwot Alayew.
1:50pm: Men's 400 meters
This is expected to be a fight between Grenada's Kirani James and the USA's LaShawn Merritt. The guys to watch for bronze are American Tony McQuay and Saudi Arabia's Yousef Ahmed Masrahi.
Qualifying rounds
The 24 semifinalists in the women's 1500 will be cut down to 12 finalists. The Cain Train leaves the station at 12:40pm and Canada's Nicole Sifuentes is in her heat as well. The second heat has defending champion Jenny Simpson plus late add Sarah Brown and Canada's Kate Van Buskirk.
The men's and women's 400 hurdles have the tough three-semi setup as well, and there are three Americans going for the final on both the men's and women's side.
The men's 5000 meter semifinals go off at 2:20am. It's expected to be little more than a formality for 10k champ Mo Farah, but Bernard Lagat and Galen Rupp will need to be sharp. It might be a long shot to get to the final for Ryan Hill, the third American, but he's already beaten the odds just to get on the US team. Canada's Cam Levins has withdrawn.
Also early in the morning is the Q-round for the men's high jump and women's triple jump. There are five North Americans in the high jump and all are quite capable of making the final, but none are competing in the triple jump.