No Comments
Monday Morning Run: World Relays Recap

Kevin Sully | On 27, May 2014
Photo via TrackTownPhoto
This Tuesday edition of the Monday Morning Run focuses exclusively on last weekend's World Relays in the Bahamas. Reviews for the event were universally positive as we all learned that the combination of teams and patriotism in a track meet can make us forget about Usain Bolt. At least for one weekend.
Athletes, coaches, fans and commentators were all effusive in their praise for the inaugural competition. Not since the creation of the thrower's relay have track folks be in such complete agreement about something. Most of the races were competitive and the two-day, three-hour per day schedule was lightning quick in track terms. I'll get to my thoughts on the meet as a whole, but first here are some individual performances that stood out in Nassau.
Surging
-Yohan Blake
Blake didn't look extraordinary in his race two weeks ago at the Great CityGames in England. He was beaten out of the blocks by a 400-meter runner, Chris Brown, and was a ways off the world record for the straight 150-meters that he was supposedly chasing. Over the weekend, he resembled the Blake of 2011 and 2012, and anchored the 4 x 100 and the 4 x 200 to big wins. In the 200, he reportedly went under 19 seconds on his leg and led the Jamaican team to a world record.  A Jamaican world record without Usain Bolt's name on it?  Maybe that will motivate him to show up next year.
-Lashawn Merritt
It helps to be faster than everyone, but the patience that Lashawn Merritt displayed in the 4 x 400 was remarkable.  He needed to chase down Trinidad and Tobago and Bahamas and waited until the last 100 meters to finally blow by both of them.  According the official results, his split was 43.75.  The United States also had a solid leg from triple jumper Christian Taylor, who ran his first international 4 x 400.
For the men, the United States vs. Bahamas in the 4 x 400 is developing into more of a rivalry than the United States vs. Jamaica in the 4 x 100.  Bahamas has two high profile wins over the United States, this year in the Penn Relays and, more famously, in the 2012 Olympics.
-Brenda Martinez
Like Blake, Martinez also starred in two events. She split a 4:10 in the 4 x 1,500 on Saturday and came back on Sunday to anchor the American team to gold in the 4 x 800.
I was a bit confused at the decision to use Martinez in the 4 x 1,500. The United States looked destined for second place in that relay, with or without Martinez. It ended up playing out exactly as predicted with Kenya winning comfortably and the United States a ways back, but well clear of the next team.
On the other hand, the pre-race outlook for the American 4 x 800 was optimistic, with most projecting a close race with Kenya. It was curious reasoning to potentially tire Martinez out in a race where her presence didn't matter when she could have been completely rested for a run at the gold in the 4 x 800.
Regardless, the extra race, didn't faze Martinez at all. She received the baton with a slight lead and held off last year's world champion, Eunice Sum of Kenya.
-Yohan Blake's Fingernails
No way he is going to drop a baton with those things.  Is this considering performance enhancing?
-Sanya Richards-Ross
Richards-Ross didn't look fully back from her injury when she ran 51.62 for fifth at the Jamaica Invitational. This weekend she took a big step forward as she now appears past the injury troubles that scuttled her 2013. She ran the prelims on Saturday and the final on Sunday.  In the final she split a 50.3 on the the second leg. Not her best relay performance by a long shot, but much closer to where she was in 2012 when she won two gold medals in the Olympics.
-Obscure World Records
We all bemoan track and field's obsessions with numbers, but nothing gets people excited like a world record, regardless of how historic the performance actually is. Kenya broke the men's and women's 4 x 1,500 world records and Jamaica took down the men's 4 x 200 mark. Pro tip for Kenya: If you want to get another $50,000 world record bonus next year, you shouldn't have broken the record by so much this year.
Slowing
-US Men's Sprint Relays
I'm not sure what the solution, or even the cause of the problem, is for the US baton troubles at this point. There were two more screw-ups this weekend. One in the final of the men's 4 x 200 and the other in the prelim of the men's 4 x 100. Both resulted in disqualifications.
Here is everything you need to know about the American 4 x 100 team: Recently, the most successful performance for the sprint relays was in the 2012 Olympics. The women's team won gold and set a world record and the men's team finished a second and broke the American record. That coach, Jon Drummond, is now suing one of the members of that team, Tyson Gay, over steroid accusations.
-US Men's 4 x 800
In my pre-meet preview, I really thought they would have a shot at the American record.  They ran a solid race, but in retrospect I definitely underestimated how hard it is to get four people to run 1:45.5 or under on the same team.  Even the winning Kenyan team wasn't within five seconds of the American record.  Times and records aside, the men's 4 x 800 was one of the most exciting races of the meet.  Kenya's anchor went backwards in the last 200 meters and almost lost his huge lead.  Poland made a big move and almost stole the win.
-Zoe Bucknam (and Katie Mackey)
What's worse, finish a 1,500 and getting run over before you have a chance to catch your breath? Or, starting off your 1,500 leg by plowing into a runner standing in an outside lane? The United States wasn't going to beat Kenya in the 4 x 1500, but Mackey losing a few seconds in this crash didn't help.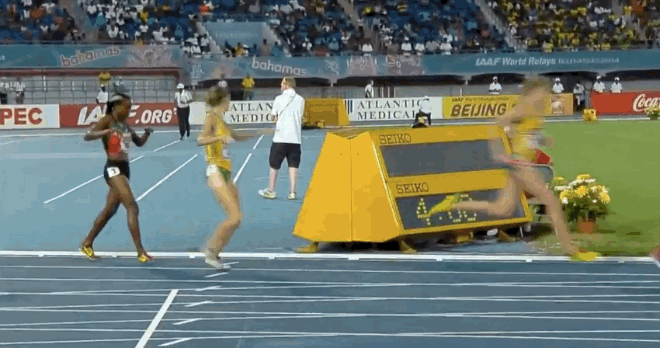 Keepers (five things that should remain in next year's World Relays)
1) Number of events
The program was tight and condensed and left no room for field events, hurdles or distance runners. There were five men's relays and five women's. Of those 10, five were straight finals (4 x 800, 4 x 1500 and men's 4 x 200).
Inclusivity is inherent in track and field (it's why you have wait four hours to see your son or daughter run the 800 at a high school track meet.) But at the professional level, it is good to say no. This meet benefited by focusing on a just a few events. Before the meet, I was one of those who thought they should offer more and at least add the distance and sprint medleys.
After watching this weekend, it was hard to argue with the events the IAAF selected. The 4 x 1500s weren't competitive races, but they allow the Kenyans to showcase their preposterous depth and shattered a couple of very soft world records.
Side note, I've already seen a few rumblings from hurdlers about adding a shuttle hurdles race for next year. If they really want to have to go that route, here's how you do it. Let the top eight nations into the meet. Seed them 1-8 based on combined season bests of the four team members. Then, have them race tournament style. 1 vs. 8, 2 vs. 7, etc. Winners advance to the next round. Times don't matter, just wins. Do the first two rounds on day one and the championship race on day two. Only two shuttle hurdles teams can race at at time anyway so it would be an interesting way to crown a champion.
2) Entrances
Teams were introduced as a group and entered through a curtain at one end of the track. I liked this for two reasons:
-It allowed you to actually see the faces of the people competing in the relay before the race was run. How often do we see late scratches/substitutions in relays that leave the announcers, and as a result the viewers, confused about who has the baton?
-It leaves open the possibility for different introduction songs for each nation.
3) Patriotic Hair
You can't see the green or white in this shot, but Mercy Cherno's tri-colored hair was the best in the meet.
4) Timing
This year's event benefitted from the off-year. It is a safe assumption that athletes wouldn't have been as likely to attend if they were peaking for a race in July or August. It also helped that the meet had the weekend to itself. There were no major competitions to pull away top talent.
Now that there is some credibility built up, it should be easier to land the best athletes, provided they don't schedule next year's meet just one week after the only other professional relay meet of consequence.
Next year's IAAF World Relays will be just one week after @thepennrelays. What effect will this have on USA v The World participation?

— Jesse Squire (@tracksuperfan) May 26, 2014
Oops.
Actually, this might actually help both meets. There is still a big financial incentive to compete at the World Relays and the Bahamas is less than a three hour flight from Philadelphia. Maybe this becomes Relay Week.
5) Location
Before I saw that Nassau was hosting the meet in 2015 I thought it would be an interesting experiment to have the meet rotate between a few sites in the Caribbean. Maybe Jamaica, Trinidad and Tobago, Bahamas and whoever else has an infrastructure and fan base that can support a meet of this size. That said, keeping it in Nassau for the time being is a perfectly acceptable solution. Given their size, Caribbean nations have an extremely large impact on global track and field and it's nice to see meets where the fan enthusiasm is as intense as it is in other sports.
Changes (five modifications for the next year's meet)
1) Names of the races
What in the name of Bill Bowerman is the "1 lap race"?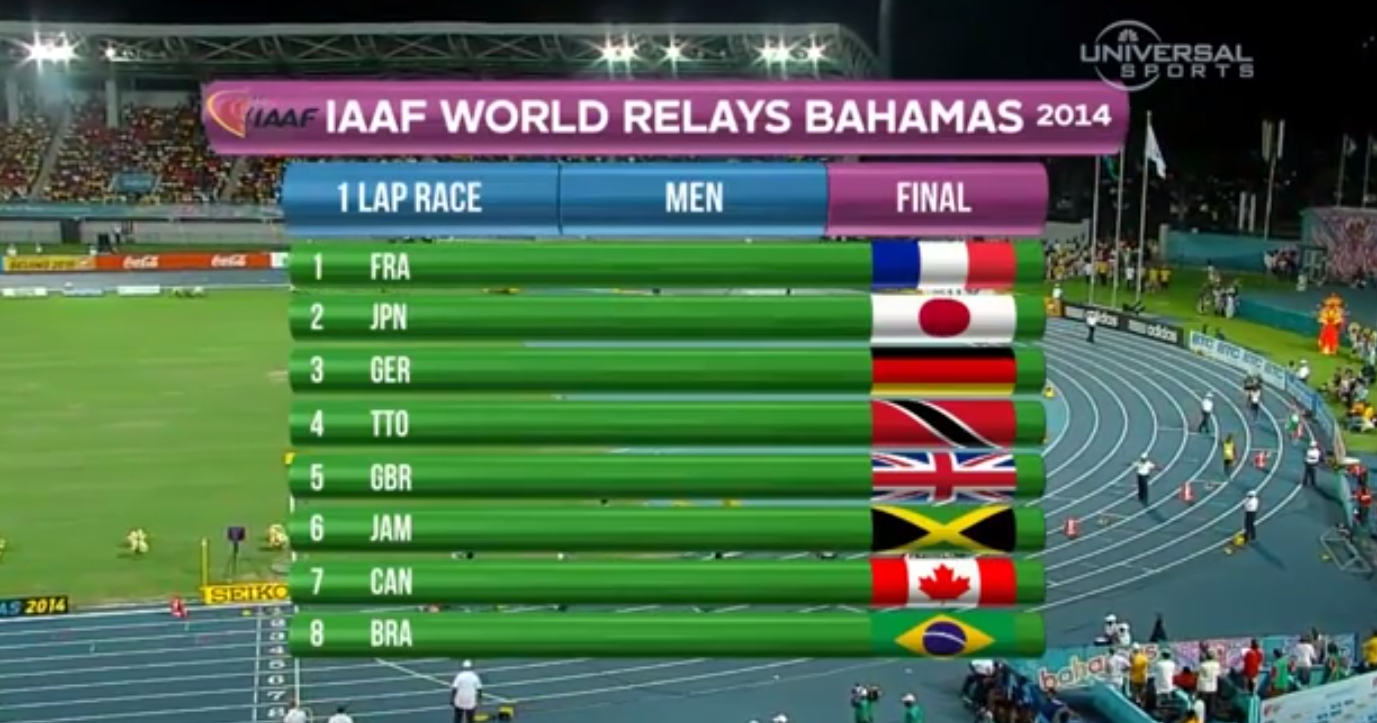 2) "B" Finals
If you really need them as time fillers, fine. But in a meet that stretched to three hours, these should be the first races to go. This ties into my only actual critique of the meet. There was too much downtime between events and with some quicker transitions they could have fit the whole thing into two hours.
3) Flowers for the winners 
At first, it looked like the IAAF was only giving flowers to the top three places. This threw all us track people for a loop who are used to tossing around the word "medaled."
"The US has now flowered in the last three events of the evening," doesn't sound quite right. By the end of the weekend, the IAAF announced that they were, in fact, awarding medals to the top three places. Back to your regularly scheduled verbiage.
4) Earlier team declarations
This one is close to impossible, but it would be nice to know in advance which four runners are competing. I don't mean weeks ahead, more like a day or so just to get an idea of what fans can expect. Jamaica ended up running their strongest possible Bolt-less 4 x 200 team with Warren Weir, Nickel Ashmeade and Yohan Blake. How many people knew those three were going to actually make it to the starting line? The opposite happened in the women's 4 x 100. Everyone expected to see Shelly-Ann Fraser-Pryce, but she did not race for a Jamaican team that lost to the United States.
5) Smaller bibs
If this is a competition between countries, you should have to actually see the name of the nation somewhere on the uniform.
Team IAAF Philip races Team IAAF Fraser-Pryce to the line!