No Comments
The Monday Morning Run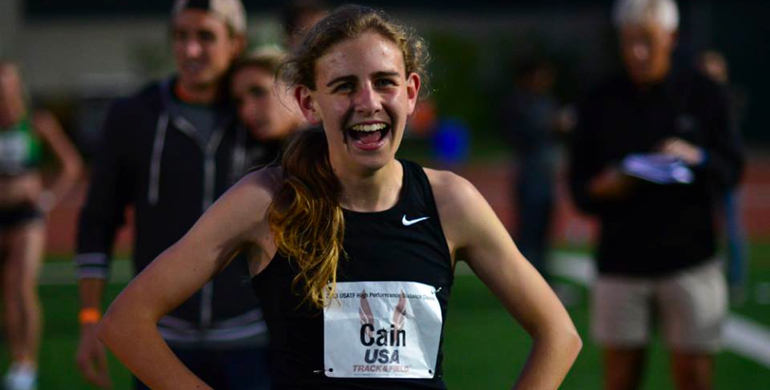 Kevin Sully | On 20, May 2013
What do you get when you mix the carefree attitude of a teenager, the poise of a veteran and a whole bunch of talent? For the last couple months the running world has learned the answer is Mary Cain.
Friday night at the Oxy High Performance meet in Eagle Rock, California was another meet filled with laughs, shoulder shrugs and smiles for the 17-year-old from Bronxville, New York. It also contained another furious finishing kick and a historic time.
Cain surged over the last 200 meters and caught everyone except race winner Katie Mackey to finish in 4:04.62. The time breaks her old U.S. high school record by 6 seconds and establishes a new U.S. junior (19 years old and younger) record. More importantly, Cain also achieved an "A" standard for the World Championships.
Even after her historic races indoors this winter, a trip to Moscow seemed unlikely. But now that she has met expectation after lofty expectation, it seems foolish to bet against her.
Her coach, Alberto Salazar, thinks there is still more.
"I certainly believed that she's capable of running under 4:05. I've told her that I wouldn't be surprised if she ran close to four minutes this year."
The American team is deep in the 1500, but by virtue of Jenny Simpson's wild card, there will be four bids on the line in Des Moines instead of the usual three. The 1500 in championship races is unpredictable and tactical, but Cain has kept her head despite racing against fields of professionals.
"She is a super-smart girl, and very intuitive too," Salazar said. "She is very intelligent as far as learning common sense stuff, and stuff about racing."
After the race, Cain was her typical teenage self. During interviews, her long hair and gangly limbs moved side to side almost as fast as her words. She described herself as an "epic nerd" to the cameras. With each disarming chuckle there isn't the slightest hint that she is aware of the pressure that will now accompany her for the duration of her running career.
The odds of injury, burnout and disillusionment are high among those tabbed as phenoms in women's distance running. Many of the names that made headlines as high schoolers are never heard from after their prep days, exiting as quickly as they ascended.
Then again, after performing a facelift on the record book, Cain is on a different level than even the most talented of prodigies. Her demeanor suggests that she is balanced and will be able to deal with the inevitable setbacks and obstacles that undoubtedly will impact her progress. Everything seems to point to her success, except history.
Five years from now she may wish that wasn't so good so soon, that her success came at a more incremental pace. But for now, she is having too much fun to notice.
Also at Occidental…
Will Leer continued his great string of races. The 28-year-old, who recently moved in with his parents in Los Angeles last year, won the first section of the men's 1500. Leer ran past Galen Rupp and Andrew Wheating off the final curve to win the race in 3:36.67. The race went out slower than anticipated and none of the runners achieved the desired "A" standard.
"I never thought that our race wouldn't go "A" standard. I told myself don't look at a single split, just race the race," Leer said.
Time aside, the strategy worked. Leer defeated two silver medalists and five members of last year's Olympic team and gained valuable confidence.
"We didn't push the physical limits of the 1,500. It was a slow race that finished quickly," he said. "It's fun to be able to say now that 2:57 through 1200 is slow, cause it felt like a jog. I'm excited to see what I can do in a faster race."
That faster race might come in the 1500 the night before the Prefontaine Classic. He plans on competing in both the 1500 at 5,000 at the U.S. Championships.
The relatively slow start in the first heat allowed for Nick Symmonds out of heat two to score the fastest time of the night. The 800-meter specialist ran a personal best of 3:36.07.
"I knew if I could be up front with 200 to go then my kick should prevail as an 800 guy," he said while wearing the crown awarded to the fastest 1,500 time of the night (he also received a check for $2,500).
For now, he is committed to the 800, but he has ambitious plans for the longer distance in the future.
"I'll be 32, but I want to do the double in 2016.  I want to run the "8" and the "15" at the Trials.  Training with Leo (Manzano) and talking to Coach, I think I know what it takes to be a great 1500-meter runner.  And I think by the age of 32, I'll finally have accumulated enough miles in my legs and enough 1500-meter races to know how to be top three in that race as well.  So, if the schedule works out and I'm as strong as I think I'll be, I really would like to make the team in both events."
-The men's 5,000 also didn't go as quickly as planned. Mo Farah closed hard the last two laps to win in 13:15.68. Dathan Ritzenhein finished second in 13:17.38.
According to Alberto Salazar, Farah had stomach problems entering the race, which kept him from his traditional post-meet workout.
Teammate Galen Rupp, who was doubling back from the 1,500 also had some bad luck.  Salazar told Rupp to drop out with 600 meters left in the 5,000 after an insert in Rupp's shoe came undone and caused a blister during the race
Full results from Oxy, including four "A" standards in the women's 5,000 and a big personal best for Brandon Johnson in the men's 800.
Shanghai and Beyond
Kirani James ran the second fastest time of his life and won the Shanghai Diamond League 400 in 44.02. Almost a sub-44 in May? Certainly, the world record talk will really pick up–and it will be justified.  If LaShawn Merritt is James's closest rival this year, as he is expected to be, then there won't be much competition for the 20-year-old from Grenada.
The rest of the meet was overshadowed by injuries.
–Aries Merritt barely started in the men's 110 hurdles.

–Carmelita Jeter barely finished in the women's 100.

-And Wallace Spearmon didn't make it around curve.

-Not to be outdone, Asafa Powell pulled up halfway through his race in Kingston.
-In the Atlanta Grand Prix, Lolo Jones won the 100 hurdles in 12.74 and Ashton Eaton beat his fiancée in the shot put. Seriously, check the results.
Where in the World Is?
Taoufik Makhloufi. The gold medalist has yet to make a Diamond League appearance. In fact, I can't find any results for him in 2013. In his absence, Asbel Kiprop won the 1500 in Shanghai.
Advice of the Week
Don't leave it to a kick if you are racing Genzebe Dibaba. Woosh.