No Comments
From the Stands: Oxy High Performance Meet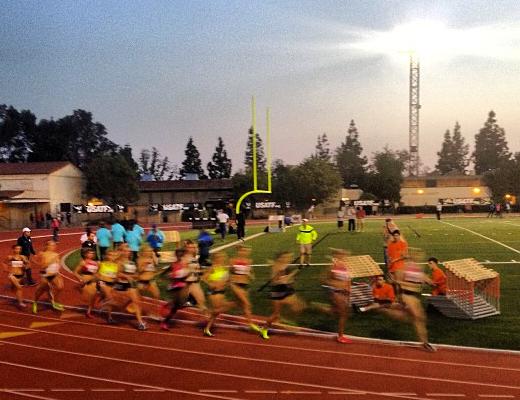 Morgan Gonzalez | On 20, May 2013
By all accounts, the Oxy High Performance Meet was a success. The fields were bigger and better than last year, there were more races and most encouragingly, there were far more fans. You could get a sense of that by watching the Flotrack Pro broadcast (with the Daily Relay's own Kevin Sully doing the announcing with Flo's Ryan Fenton), but it's great to have someone in the stands, giving a first hand account. Once again, we have Morgan Gonzalez bringing her thoughts to your computer/iPhone/iPad/Blackberry screen. If you missed her first piece on Re:RUN San Diego, here it is. If you want to submit a "From the Stands," feel free to send questions/thoughts to editors@dailyrelay.com
From the Stands: Oxy High Performance Meet
Outside of the Track and Field stadium at Occidental College, nestled in the quirky burb of Eagle Rock, CA (a stone's throw from LA), a parked bus swings wide its doors to unload the passengers. As the elite athletes for the Oxy High Performance meet step out, I am not taken aback to see Olympic and World Championships medalists Leo Manzano, Galen Rupp, Mo Farah, Jenny Simpson and Matthew Centrowitz all in one place, rather my ear is quickly turned to the paparazzi of young high school and college, fans screaming their names, begging for pictures and autographs. At one point I see two very young children step out of a taxi in matching track sweats, cameras around their necks urging each other to, "Hurry! We're going to miss the 1500!" I don't know whether to ask where their parents are or applaud them?
Am I dreaming? Is this a track meet? Are we even in America right now?
The line that wraps around the stadium filled with fans who are eager to pay to watch this meet, geared at nurturing fast middle distance times on U.S. soil, puts a smile on my face before I even see a single race. There is a typical American sports concession stand (pizza, pretzels, sodas) well timed to encourage everyone to sit down and enjoy the entire event (lasting from 6 pm to 10 pm on a Friday night). Under the lights, the cement grand stands are packed completely full with spectators commentating on athletes, times, predictions, who's hot and shouting at Mo to do the Mo-bot every time he passes by on his warm up.
For those not familiar with the Oxy track its shape is far more round than oval (earning comparisons to the famed and fast track in Oslo, Norway), and lends to some very fast distance races. The warm up area takes place on the Astroturf infield allowing spectators an intimate and unique view of the athletes as they prepare themselves to compete, chat with teammates and reunite with old friends. Every high school runner in attendance undoubtedly will no longer question the drills their coaches make them do after watching Jenny Simpson and Charles jock perform their meticulous warm up rituals.
The Oxy High Performance meet is catered to middle distance athletes looking to hit qualifying marks for the world championships and U.S. Nationals. The field sizes are limited to standard numbers of entrants, and athletes are hand selected to contribute to quality races with no fillers. Everyone here is fast and means business. It is also easy to sense that the athletes, like the fans, truly want to be here and are making the most of such a valuable opportunity.
While every single race was rabbited, a testament to the quality and depth of the fields, each still played out like a true race. The night brought close finishes (Katie Mackey, Mary Cain and Nicole Sifuentes nearly tied in the 1500), upsets (Nick Symmonds' 1500 time from the B heat beat Will Leer's, taking the $2,500 check and crown straight off Leer's back), records (Mary Cain's Junior National Record) and the mass assault on the World Championships A standard in the women's 5K (led by American Record Molly Huddle in a nearly solo effort). There were certainly the favorites, and the cheers grew increasingly louder for Mo Farah, Galen Rupp and Mary Cain. Although not to be overlooked is Evan Jager who had his own fan boy club of teens who idolize his wheels, his hair and his sweatband.
If a Diamond League meet is like a glamorous night at the Opera, the Oxy High Performance Meet played out like scoring $8 tickets to see your favorite band at the perfect intimate venue. Fast races aside, it is extremely encouraging to see a young and knowledgeable fan base in this sport, along with (some) parents willing to accompany them. Many kids were wearing their letterman jackets and taking general pride in their identity as a Track and Field athlete – what you would expect from an athlete and fan in any other sport (baseball, football, basketball). This is the single most encouraging sign I have seen for the future of Track and Field in a while, slightly out leaning having three Olympic Medalists and two world championships medalists competing at the meet.
With teenagers you can trust one thing – if they are willing to spend their movie money on a Friday night to go do something, they honestly must really want to be there. The most lasting fans of Track and Field will continue to be the athletes who connect with it at an early age (Outdoor Track and Field has the highest participation numbers of any sport for High School Girls and ranks second to Football for boys). Clearly the numbers are there, and with more events like the Oxy High Performance Meet catered to both the athletes and fans one can only hope that a more accessible sport of Track and Field will keep these fans from resorting to watching another sport on a Friday night under the lights somewhere.