One Comment
The Monday Morning Run: Brits rule Euros, Bolt on the beach and Mekhissi the pioneer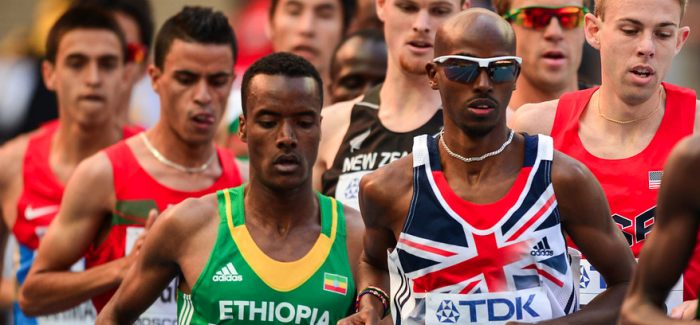 Kevin Sully | On 18, Aug 2014
Photo via TrackTownPhoto
Where did the season go? After the Diamond League break for the Commonwealth Games and the European Championships, there are less than three weeks, and four major meets, left in the 2014 season. There are always the endless summer meets that drag on through September, but athletes this year seem particularly eager to wind down their season as early as possible.
Let's savor it while it is still here and recap last week's action.
The Medalists
The top three performances of the week…..
Gold: Adam Gemili
The European Championships are a perfect meet for someone like Gemili. Young, talented, yet still unproven, it gives him a chance to win gold when the stakes aren't as high as they are for a World Championships or Olympics. The fields are challenging, but not insurmountable.
For Gemili, winning the 200 meant getting past Christophe Lemaitre, a more accomplished runner than Gemili, but still someone in Gemili's stratosphere. He beat Lemaitre on Friday to win the 200 in 19.98, tying his personal best despite the 1.6 meters per second wind in his face.
Gemili got more practice winning in the 4 x 100 relay where he anchored the British team to victory over Germany.
There is talk in Britain that this young crop of sprinters, lead by Gemili, might be capable of challenging the Jamaicans and Americans in the future. It already looks like they have a solid claim for the third slot in the sprint pecking order ahead of France and Trinidad and Tobago. If they continue this rise, Gemili is the perfect person to lead them. With only three years of serious training behind him he looks destined to improved and thus far he's looked poised in pressure moments despite the high expectations.
Silver: Mo Farah
A Farah championship double ordinarily earns top billing, but he's had workouts that were harder than his two races at the European Championships. He won the 10,000 on Wednesday and followed it up with a gold in Sunday's 5,000.
There were oohs and aahs at his 52.3-second last lap of the 5,000, but the pace was so slow it is hard to tell what that finishing speed really means. He hit the bell around 13:13 meaning he was essentially kicking off of tempo run pace. In the 10,000 he was pressed until 150 meters remaining and he opened up some room on his countryman Andy Vernon.
Bronze: Floria Guei
Behold the power of the baton–where an aluminum stick transforms a runner who didn't even make the final of an individual event into one of the stars of the meet. France's Guei was a distant fourth when she received the baton in the 4 x 400 relay at the European Championships. There was no reason to think she could grab bronze, let alone challenge for the win.
She was knocked out in the semifinals of the 400 earlier in the meet. Her personal best in the event was only 51.42. And she had a whole bunch of track between her and the teams from Ukraine, Russia and Great Britain as the final meters ticked away. Guei doesn't even appear on the broadcast screen until the leaders are entering the homestretch.
Then, because of national pride or team spirit or maybe just because she had nothing to lose, she found an extra couple gears. In the final 50 meters she caught all three teams in front of her and edged Ukraine by .05 seconds for the gold. Her split of 49.71 was the fastest of the competition in what was the most exciting race of the entire championships.
Surging….
-Chicago Marathon
Berlin and New York City have gobbled up much of the elite marathon talent for the fall, but the Chicago Marathon responded this week by grabbing one of the biggest names in running, Kenenisa Bekele.
This will be Bekele's second marathon after his debut of 2:05:04 in Paris. With cool weather, the course in Chicago is fast so the world record is not crazy talk for Bekele. Dennis Kimetto and Emmanuel Mutai proved that last year when they threatened the world record until the final miles. Kimetto ran 2:03:45, only 22 seconds off Wilson Kipsang's mark from Berlin. Kimetto of course had Mutai to push him once the pacemakers went off. We don't know yet if Bekele will face the same level of competition.
Kimetto, Tsegaye Kebede and Emmanuel Mutai have already committed to Berlin. Geoffrey Mutai and Wilson Kipsang will race in New York. Those are the biggest names, but there are still plenty of runners capable of 2:04 or 2:05s that can push Bekele to a course record in October.
-Dafne Schippers
How many 100 and 200 races does the heptathlete need to win before she decides to focus on sprints full-time? Schippers won the sprint double in Zurich at the European Championships, running 11.12 in the 100 and 22.03 in the 200. The 200 time was a personal best and a national record.
-Caleb Ndiku
At the African Championships in Morocco, Ndiku continued his stellar 2014 with a nice win the in the 5,000. The time, 13:34.27, isn't anywhere near Ndiku's fastest of the year, however, he did beat a strong field including his fellow Kenyan, Isiah Koech.
Slowing….
-Mahiedine Mekhissi-Benabbad
To paraphrase the ending scene from The Social Network, I'm not sure if Mekhissi-Benabbad is actually an asshole, or if he is just trying really hard to be one. The tussles with mascots, the fight with Mehdi Baala all indicate someone desperate to be the heel, or a person who is without all of his faculties.
In both its audacity and stupidity, his shirtless last 100 meters in the European Championships steeplechase was monumental. Try to find a comparable situation in another sport where a competitor disrobed during competition. Soccer players take their jerseys off after they score a goal. Usain Bolt took his shirt off after his false start in Daegu, but that was on his way off of the track.
Clothing aside, this was akin to Terrell Owens pulling the sharpie out his sock at the 45-yard line and signing a football as he ran toward the end zone. I hate to say it, but Mekhissi-Benabbad is a pioneer.
Strangely, it took a protest to get him disqualified. It turns out removing off your competition jersey and placing it in your mouth isn't specifically enumerated in the IAAF rule book. Keeping your jersey and shorts on while the race is taking place seems like a pretty reasonable expectation.
Explain to me, why Mekhissi-Benabbad was celebrating so vociferously?  He's won four major championship medals, and last two European Championships and he is going off the wall celebrating a race where he was the overwhelming favorite to win?
On Sunday, he returned to the track and won the 1,500. He gestured to the crowd a few times, got booed, but kept all his cloths on.
-Asbel Kiprop
Kiprop began the season as the undisputed king of the 1,500. The competition was supposed to be between Kiprop and the world record, not Kiprop and the rest of the field. Thus far, it hasn't gone to plan. Silas Kiplagat spoiled his world record attempt in Monaco and Ayanleh Souleiman beat him at last week's African Championships. Kiprop hasn't won a major 1,500 or mile race since Doha at the beginning of May. He did run 1:43.34 in the 800 in July, but the depth in the 1,500 has been tough for Kiprop to crack.
-Pierre-Ambroise Bosse
After his 1:42.53 in Monaco, Bosse became the de facto favorite in any race this season that doesn't feature Nijel Amos, David Rudisha or Mohammad Aman. The European Championships was his first competition in that role and he faltered, finishing last in 1:46.55.
This Week in Bolt
He's the most popular athlete in the world, yet he had to hold his own bucket when he did the ALS ice bucket challenge? The tenacity of the dump, and the quantity of ice, make this Bolt's best performance of the week.
On Saturday, he also ran his first 100 of the season, a 10.06 win on track laid down at Copacabana Beach in Brazil. The race was set up for a Bolt victory and nobody came close to challenging him despite the modest time.
Only two races stand between Bolt and the most misleading undefeated season in track and field history. Saturday's race in Warsaw and the Diamond League final in Zurich. The field in Zurich has yet to be released, but the meet is typically very strong. The last time a 100 meter race was won in Zurich with a time slower than 10 seconds was 2007. However, without Justin Gatlin in the field (he is most likely going to run the 200) this will be a slower year.
On the topic of ice bucket challenges, of course Ashton Eaton used an entire cooler to douse himself.

The Week Ahead
Stockholm on Thursday (don't forget to set your fantasy line-ups), Bolt on Saturday and the Birmingham Diamond League on Sunday (again, don't forget to set your fantasy line-ups). A few highlights:
Diamond League debut:
The two mile in Birmingham will be Mo Farah's fourth track race of the season, but his first in the Diamond League. With most of the top distance runners competing a few days earlier in Stockholm this should be a manageable effort for Farah.
Best head-to-head:
Torie Bowie faces off against Allyson Felix in the Stockholm 200. Felix has yet to leave her mark on this season. Running under 22 seconds is certainly within her capabilities, even in an off year. Bowie is two meets away from capping a phenomenal 2014 that raised her from an unknown to a good bet to make the World Championships team next season.
Overlooked head-to-head:
Brittney Reese vs. Tianna Bartoletta. I keep trying to make this rivalry happen and I get nothing. Maybe this will be the week. Bartoletta has the best four marks in the world this year and is the only woman to jump seven meters this season.
Interesting tactics:
Emma Coburn can push from the front and attempt to better her American record in the women's 3,000 steeplechase in Stockholm. Or, with the pressure off she can change tactics and sit in the pack and have a legitimate shot at winning the race. She has the third fastest season's best of the women in the field.
Most sub-plots:
Women's 1,500, Stockholm. There is the European Championships rematch (and unofficial battle for best 1,500 meter runner in the world) between Sifan Hassan and Abeba Aregawi. Jenny Simpson will no doubt take a shot at the American record of 3:57.12 which is .1 off her personal best. Behind her, there are two other Americans who are capable of contending for the win, Shannon Rowbury and Brenda Martinez and perhaps a late entering Mary Cain.
Deepest field:
Men's 800, Stockholm. Bosse is looking for redemption, Amos is trying to extend his win streak and Kiprop and Souleiman will go under-distance to shake things up. Also, keep a look-out for Duane Solomon. I'm interested to see what type of form he is in after a promising opening to the season went south quickly.
and
Women's 400. Sanya Richards-Ross, Novelene Williams-Mills, Francena McCorory and Natasha Hastings are all entered.
Unexpected American record:
Men's 5,000. Maybe? I'm reaching here. The fastest time in the world this year is only 12:59 so expecting Galen Rupp to drop a 12:53 is a tad unrealistic. Eventually everything will come together and there will be a lightning fast 5,000 this season. I don't see the season ending with 12:59 at the top of the yearly list. If Stockholm is that race, then the field is deep enough to tow Rupp to a quick time.