No Comments
The Weekend's Best Matchups: The Diamond League Returns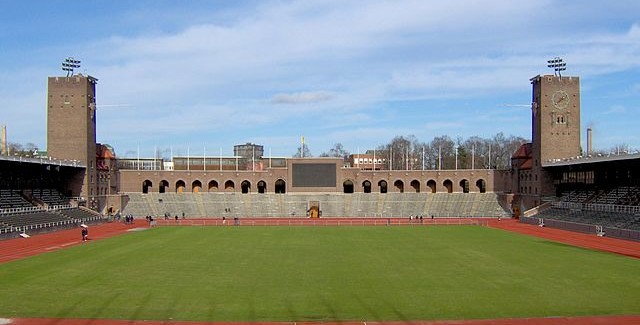 Jesse Squire | On 20, Aug 2014
The Diamond League picks back up on Thursday in Stockholm's historic Olympiastadion. (Photo credit: Johannes Scherman, Creative Commons)
The Diamond League makes its return after a layoff of more than a month. There are just four meets left in the series, two of them this weekend. We're getting down to the crunch time for determining the Diamond Race winners in each event, and three American Records are in reach.
The DN Galan is on Thursday in Stockholm's Olympiastadion, with TV and web coverage beginning at 2:00pm ET. The Sainsbury's Birmigham Grand Prix is on Sunday in Alexander Stadium, with TV and web coverage beginning at 10:00am ET. Below are a "sweet sixteen" matchups for the weekend!
DN Galan (Thursday)
Schedule and start lists
Live TV coverage on Universal Sports (2:00pm to 4:00pm ET)
Webcasts (from 2:00pm ET): Universal Sports | WatchAthletics.com | Trackie.ca
1:15pm ET: Women's long jump – Tianna Bartoletta vs Brittney Reese
Bartoletta is the year's leading long jumper, the only one past 7 meters, and would likely lead the Diamond Race were she not splitting time with sprinting (she won the USATF 100 meters in June). Reese, aka "The Beast", is the reigning Olympic champion, a five-time World champion, and the reigning US champion—over Bartoletta in a memorable duel.
1:45pm ET: Men's shot put – David Storl vs Reese Hoffa
Hoffa is the Diamond Race leader over Storl, 11 points to 8, but Storl is in top form and is coming off a European Championships win.
2:03pm ET: Men's 400 hurdles – Javier Culson vs Michael Tinsley
Every single one of the five Diamond League races in this event so far this year has been won by either Culson or Tinsley, and twice they finished first and second. They are tied atop the leader board at 13 points each.
2:15pm ET: Men's 5000 meters – Edward Cheruyiot Soi vs Caleb Ndiku
The points leader, Yenew Alamirew, is not entered, and these two are tied for second. Only the winner of this race will have much chance of overtaking Alamirew in the Diamond Race. A more interesting subtext is the race between the three fastest Americans of the year, who are Galen Rupp, Ben True, and Hassan Mead. Commonwealth Games bronze medalist Cam Levins is also entered and could challenge the sixteen-year-old Canadian record (13:13.96).
2:32pm ET: Women's 200 meters – Tori Bowie vs Allyson Felix
Felix is one of the all-time greats of women's sprinting but Bowie has suddenly appeared as her equal. USA Track & Field is running a pick 'em contest between these two.
2:35pm ET: Men's javelin throw – Antti Ruuskanen vs Ihab Abdelrahman
Ruuskanen won the European Championships last week, which is usually a de facto World Championship. But over the last few years a number of top javelin throwers have suddenly appeared in nations with no throwing tradition at all. Abdelrahman is the latest; the Egyptian is this year's world leader and Diamond Race points leader.
2:45pm ET: Women's 100 hurdles – Queen Harrison vs Dawn Harper-Nelson
In most of the last few seasons, a single woman has dominated the hurdles but no one has done it for more than a year or two. Harper-Nelson has not been one of them but she still has Olympic gold and silver medals and has been remarkably consistent. Harrison leads her by three points in the Diamond Race.
3:05pm ET: Women's steeplechase – Emma Coburn vs the Ethiopians
Until this year, no American woman had ever scored a single point in a Diamond League women's steeplechase race. Not only did Coburn break into the scoring, but she's in a dogfight to be the season champion. She's just two points behind Ethiopians Sofia Assefa and Hiwot Ayalew. A second place by Coburn would stave off elimination and a win would tie her for the lead.
3:35pm ET: Women's 400 meters – Sanya Richards-Ross vs Francena McCorory
This appears to be a friendly rivalry but it is also a fierce one. McCorory denied "RichRoss" a win at the USATF Championships after her long and difficult return from a toe injury. While Jamaica's Novlene Williams-Mills leads the Diamond Race, the two Americans traded wins over her in the last two Diamond League meets.
3:50pm ET: Women's 1500 meters – Sifan Hassan vs Abebe Aregawi vs Jenny Simpson
Hassan has a two-meet Diamond League win streak going and easily disposed of Aregawi at the European Championships, but Aregawi still leads the points race due to having run more races. Simpson beat Hassan way back in May and the former World champion is a threat to win too, and is also chasing Mary Slaney's three-decade-old American record.
Sainsbury's Birmigham Grand Prix (Sunday)
Schedule and start lists
Live TV coverage on Universal Sports (10:00am to 12:00am ET)
Webcasts (from 10:00am ET): Universal Sports | WatchAthletics.com | Trackie.ca
9:38am ET: Men's 600 meters – David Rudisha vs World Record
A special 600 meter race has been arranged and David Rudisha is by far the best runner in the field. We would expect the Rudisha of 2011 or 2012 to break Johnny Gray's world record (1:12.81) by a massive amount, but he's clearly not the same guy this year. Still, the record is definitely in reach if everything goes right.
10:04am ET: Men's high jump – Bohdan Bondarenko vs Mutaz Essa Barshim
Other Diamond League meets this summer brought together the entire 2.40 meter gang, the two above plus Ivan Ukhov, Derek Drouin, Andriy Protsenko and Aleksey Dmitrik. Of those others, only Drouin is present. All of these clashes of titans have been won by either Bondarenko or Barshim, though. Could this be the day that one of them breaks the World Record?
10:14am ET: Women's 400 hurdles – Kaliese Spencer vs Elidh Child
This will probably elicit the biggest response from the home crowd. It's a rematch of the Commonwealth Games final, where Spencer took gold and Child took silver. The Scot then showed it was no fluke by winning the European gold medal the following week.
10:57am ET: Women's 2 mile – Genzebe Dibaba vs Mercy Cherono
Cherono and Dibaba are tied atop the points standings and both have had tremendous seasons. Cherono went to #2 on the all-time list in this rarely-run event at the Prefontaine Classic back in May, and Dibaba broke the world indoor record over the distance in February.
11:19am ET: Women's 800 meters – Eunice Sum vs Ajee Wilson
Sum was on a roll earlier in the season and reeled off four straight Diamond League wins before Wilson finally dealt her a loss in Monaco with the year's best time. Sum has all but clinched the Diamond Race, but the battle for subjective title of the world's best half-miler is still very much up in the air.
11:38am ET: Emsley Carr Mile – Ayanleh Souleiman vs Silas Kiplagat vs Asbel Kiprop
There have been six major invitational races over 1500 meters or one mile so far this year, five official Diamond League events plus the Bowerman Mile. Souleiman won two of them, Kiplagat won two, and Kiprop won one. The 3:47s recorded by Souleiman and Kiplagat are the fastest in seven years. This is a great matchup.