No Comments
The Weekend's Best Matchups: Euro throws, Falmouth running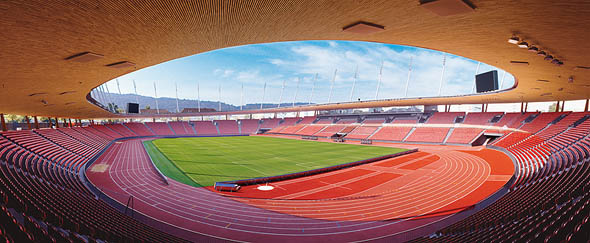 Jesse Squire | On 15, Aug 2014
The European Championships are in Zurich's historic Letzigrund Stadium.
We've had a three-week break in the Diamond League in order to make way for the Commonwealth Games and African and European Championships. The last of those three finish up this weekend, plus a New England running tradition continues. Here are the ten matchups to watch this weekend, presented in chronological order.
Sifan Hassan vs Abebe Aregawi
Women's 1500 meters, European Championships
Letzigrund Stadium, Zurich SUI
Friday, 7:25pm local time (1:25pm ET)
Schedule and live results
Webcast link
Few running events at the Euros have the kind of matchup you'd see in a Diamond League meet but this one does. Sweden's Aregawi was undefeated in the 1500 last year and won this year's World Indoor title, but has come back to the pack a bit. The favorite is Holland's Hassan, a young athlete who has risen quickly and won two Diamond League races this year, one in the world-leading time of 3:57.00.
Bohdan Bondarenko vs Ivan Ukhov
Men's high jump, European Championships
Friday, 7:46pm local time (1:46pm ET)
The men's high jump is easily the event of the year in 2014 and this could be the best event of the European Championships. Bondarenko seems to threaten the World Record every time he jumps, yet Ukhov threatened the indoor world mark back in February. Lurking in the background is Andrey Protsenko, just the third best here based on best height cleared but still one of the best of all time.
Anita Wlodarczyk vs Betty Heidler
Women's hammer throw, European Championships
Friday, 8:40pm local time (2:40pm ET)
This event lines up the world's #1 and #2 to go at each other. I'll defer to HMMR Media's Martin Bingisser in his event preview:
The former world record holder [Wlodarczyk] was ranked first in the world last year and she is by far the most consistent of the world's elite hammer throwers. This year she has competed only four times, but won three and is just under her personal best.
…
As the current world record holder, Heidler is clearly capable of winning. At her best she is nearly unbeatable. But the person most likely to stand in the way, however, will be herself. To call the last two years a roller coaster for Heidler would be an understatement.
Heidler has truly bombed at multiple major championships, and it's entirely possible that she's not a factor. If her qualifying round earlier this week is any indication, though, she'll be in the thick of the battle.
Krisztian Pars vs Pawel Fajdek
Men's hammer throw, European Championships
Saturday, 3:00pm local time (9:00am ET)
Again, the European Championships brings together the world's #1 and #2 in this event, and again I'll defer to Bingisser:
Unlike the top sprinters, Pars and Fajdek are not afraid to face each other. They have already faced each other seven times this year and so far Pars has the upper hand with four wins and a better season's best. However when you look closer you see it is a toss up. The average margin of victory was just 70 centimeters. In their last matchup two weeks ago Fajdek won by just 10 centimeters. And their season's bests are just 12 centimeters apart. You couldn't ask for a better storyline and rivalry.
Morgan Uceny vs Gabriele Grunewald
Women's race, Falmouth Mile
Falmouth High School, Falmouth MA
Saturday, 6:30pm ET
The mile races held the night before the Falmouth Road Race have become some pretty competitive affairs, and this year's race falls right at the end of the break in the Diamond League schedule so even more top talent is available. The women's race brings together Grunewald, who ran 4:01 for 1500 meters last year, and Uceny, who was a contender for gold at the 2011 Worlds and 2012 Olympics but fell in both races. Uceny hasn't been at that same level since the Olympics but appears to be getting it back together; she ran well over 800 meters in Michigan on Sunday. Grunewald has also been targeting a late-summer peak, with her best race of 2014 coming in July.
Ben True vs Will Leer
Men's race, Falmouth Mile
Saturday, 6:45pm ET
The men's mile at Falmouth brings together two athletes with radically different racing styles. True is a long-distance type, a 5k/10k guy who even went up to 15k on the roads in March, and he is having his best year ever. Leer is a middle-distance type, a miler with great finishing speed and tactical acumen. He is having his best year ever too, setting 1500 and mile PRs both indoors and out. Others to watch include Garret Heath (runner-up at Sunday's Michigan Track Classic) and David Torrance.
Micah Kogo vs Stephen Sambu
Men's race, Falmouth Road Race
Woods Hole to Falmouth Heights, MA
Sunday, 9:00am ET
Race website
Kogo is the two-time defending champion of this traditional Cape Cod seven mile race, one started by an offhand comment in a bar, and if he can win it again then he'll be one of just four men to turn the trick. But I think he's running into a buzzsaw in Sambu, the former Arizona star who is on a roll in 2014: he won big-time 10k road races in New York and Boston and ran sub-27:00 on the track at the Prefontaine Classic.
Molly Huddle vs Mary Wacera
Women's race, Falmouth Road Race
Sunday, 9:00am ET
I think this could be the best matchup of the weekend. Huddle is quietly putting together one of the best seasons in the history of US women's distance running. She broke her own American record for 5000 meters and became the first American winner the New York Mini 10k in a decade, plus PRs at seven different distances from the mile to the half-marathon. She tied the "American record" for seven miles earlier this year, a distance rarely run anywhere but Falmouth. Wacera is also having a banner year with a silver medal at the World Half Marathon Championships plus wins at three major US road races.
Blanka Vlasic vs Maria Kuchina
Women's high jump, European Championships
Sunday, 3:16pm local time (9:16am ET)
Vlasic has made a tremendous comeback after achilles surgery and post-op took her out of the top levels of jumping for two years. She leads the Diamond League and is tied with Kuchina atop the world list. The Russian should not be taken lightly, as she's a fast-rising 21 year old and won gold at the World Indoor Championships.
Tero Pitkamaki vs Vitezslav Vesely
Men's javelin, European Championships
Sunday, 4:11pm local time (10:11am ET)
The javelin is an event known for inconsistency, but on the whole the world's two best in 2014 are Pitkamaki and Vesely. Veseley is the reigning World and European champion, and Pitkamaki won silver at the Worlds behind him.