One Comment
Who's ready for Kenyan marathon selection drama? Track's Justice League and early world leads: Monday Morning Run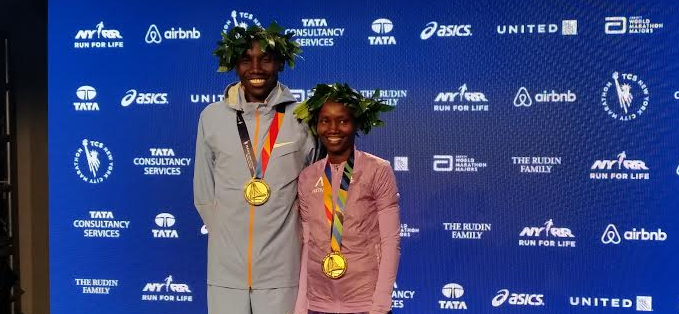 Kevin Sully | On 04, Apr 2016
A few questions to begin…..
-Did anyone take a break after indoors?
Many athletes who competed two weeks ago at the World Indoor Championships are already competing outdoors. Shawn Barber cleared 5.91 in the pole vault at the Texas Relays, higher than he went in Portland. Meseret Defar won the Carlsbad 5000 in 15:00. Ashley Spencer and Michelle Lee Ahye both ran at the Texas Relays. Cory McGee finished second in an 800m at the Florida Relays and Paul Chelimo won the Stanford Invitational 5000m.
Either we are headed for a mid-April peak the likes of which we've never seen, or people didn't exact make World Indoors the focus of their season.
-Why does everyone keep falling in road races?
Geoffrey Kamworor did it last week at the World Half Marathon Championships. This time it was Daniel Wanjiru who fell part way through the Prague Half Marathon. Like Kamworor, he recovered and won the race. http://www.iaaf.org/news/report/prague-half-marathon-athletics-2016-prague
-Do world leads this early in the season matter?
No, but they are fun to say. Noted 200m sprinter Lashawn Merritt was the world leader for about a day, Wesley Vazquez is tops in the 800m and Ella Nelson of Australia has the season's best time in the women's 200m. These won't hold through the month, so let's cherish them while we can. Australian sprinting is back!
The Medalists
The top three performances of the week
Gold: Violah Jepchumba
Nothing like a 3.5 minute personal best to boost your confidence. Jepchumba went from 1:09:20 in the half marathon to 1:05:51 in one race, becoming fourth fastest women in history over the distance. She went out in 15:05 for the first 5km. You only go out that fast if you want to people to know that you really just want to be left alone for the next 13 miles.
Jepchumba slowed (obviously, otherwise she would have run 1:03:44), but not enough to let anyone else back into the race or lose her grip on a top five all-time performance.
Silver: Andre De Grasse
De Grasse ran a windy 9.99 100m at the Florida Relays to open his season. He also was a part of Canada's victorious 4 x 100m and 4 x 200m teams. The 4 x 100m squad ran 38.11, which is really fast outside of the championships. The Canadian team from last year's World Championships that crossed the line fourth (and ultimately finished third when the US was DQ'd) ran 38.13. Bottle that up and keep it for Rio, Canada.
Bronze: Shawn Barber
Early world lead is better than no world lead. 5.91m is a great mark and he looks like he is back on track after missing the podium in Portland.
Twitter Questions
A few questions from readers. Send your questions/comments to @HouseofRun to be included in next week's post.
Who are the favorites to make the men's Kenyan Olympic marathon team?
-@scichon25
That's right, it's time to restart that quadrennial tradition of guessing who will make the Kenyan marathon team.
With no definitive trials race, or reliable selection date, the Kenya marathon team for the Olympics is a moving target. And this isn't a new phenomenon. Before 2012, there was extensive analysis in the attempt to figure out just how Athletics Kenya would dole out the three invitations amongst a very deep pool of marathoners. The criteria for selection was loose and undefined then and it hasn't changed for these Olympics.
Are you picking who runs best in a championship-style race? Do you want the three best from the previous year? Are you willing to pick someone who runs well this spring, even if they don't have a long track record of success?
The variables are enormous and since there isn't a selection race, Athletics Kenya is left open for a wide variety of critiques. In the men's field, the easiest, most controversy-free selections come about if Eliud Kipchoge, Stanley Biwott and Wilson Kipsang all run well in the London Marathon at the end of the month. That group contains the current best in the world (Kipchoge), the previous best marathoner in the world (Kipsang) and the ascendent talent who just won his first major (Biwott). If Dennis Kimetto breaks out of his funk and runs well in London and puts significant time between himself and Kipsang, I don't think people would have much of a problem with the current world record getting a spot as well.
But, how likely is such a tidy outcome from London? Considering those four are still vulnerable to be beaten by numbers 5-10 on Kenyans depth chart, a more logical prediction is choosing chaos rather than order.
Heading into the spring marathons, I don't think anyone is assured a spot–not even Kipchoge. His 2015 season looks a lot like Geoffrey Mutai's 2011. Both men dominated the majors in the year leading up to the Olympics. What happened to Mutai? He struggled in Boston in April of 2012 and wasn't named to the team. Harsh. That kind of short-term memory I think hurts the team overall, especially when nobody has any idea what sort of metric they need to meet to make the team.
It does, however, give us insight into what the selectors prefer. So if Bedan Karoki runs 2:04 and wins London in his debut, he might bump off someone like Kipsang despite the vast difference in experience.
There is one exception to the idea that nobody is safe rule, but it comes in the women's field. Other than an injury, I don't see any way Mary Keitany is left off the team (I probably said the same thing about Mutai in 2012, but I swear it's different this time…….).
She, and most of the other contenders for the Kenyan Olympic team, are running in London. If she runs a horrible race, I still don't think there are three women who will run well enough to surpass her. The men's process is a bit more fickle because they are chock full of 2:04 and 2:05 runners and the men's times right now are faster relative to the world record. There is always a chance of someone like Karoki running 2:04 in his first time out and tempting the selectors to choose him. There doesn't seem to be a woman who could put up a 2:17 and create the same sort of dilemma.
As for the predictions, I'll go with Eliud Kipchoge, Stanley Biwott and Wilson Kipsang for the men and Mary Keitany, Florence Kiplagat and Edna Kiplagat (just because she makes every Kenyan team) for the women. For the men, the predictions really are just a reflection of who I think will run well in London/Boston. I'd like to factor in career achievements, but I'm not sure how much it really matters to the people making the decisions.
One thing is for certain, the presence of the Olympics hasn't hampered the quality of the spring marathon fields. Maybe it's because the depth in Kenya or Ethiopia forces you continue to better your previous performance or risk getting forgotten completely. Or possibly, the money is too good to turn down.
Regardless, there is no one sitting in the clubhouse in April and hoping their name gets called for Rio. If the process had any semblance of logic or order perhaps it would behoove Kipchoge or Keitany to sit out this spring and not risk a bad race. But they are racing, just as they would if they were sixth or seventh best in the country hoping to lay down a fast time and impress the selectors. Consider that a side benefit of an Olympic selection process that really has no process at all.
-Which track & field stars would make up The Justice League?
@chrisnickinson
My comic book knowledge is non-existant so I consulted friend and co-host Jason. All of the intelligent points below are his and all the incorrect garbage signifies when I thought I knew more than I did and injected my thoughts. Here we go……
The Justice League has seven original members, Aquaman, Batman, Superman, Wonder Woman, Green Lantern, the Flash and the Martian Manhunter.
The Flash: Usain Bolt
Superman: Ashton Eaton
Aquaman: Justin Gatlin
Apparently Aquaman isn't the most popular of the group so Gatlin is a natural fit. Especially if this version of The Justice League takes place in a fictitious planet that resembles Great Britain.
Wonder Woman: Allyson Felix or Dafne Schippers depending who wins the 200m in Rio
Batman: Batman has replaced Bershawn Jackson's first name so much that I wanted to give it to him to honor the fact that it is one of the few track and field nicknames that actually stuck. Justin Gatlin referred to himself as Batman last year, but that never caught on. Jason chose neither and instead went with Genzebe Dibaba. They are both unassuming before being called into duty, but they quickly turn into something terrifying.
The Martian Manhunter: According to Wikipedia, the Martian Manhunter's powers include, "superhuman strength, durability, flight, regeneration,shape-shifting, intangibility, invisibility, telepathy, telekinesis, extrasensory input, and optic blasts."
Did someone say durability and regeneration? Lashawn Merritt, and your 35 races per year, come on down!!
Green Lantern: Jason tells me that the distinguishing feature of Green Lantern is fearlessness leading me to choose a pole vaulter because things like this happen to them……
tx relays 2k16 #tooswole @DemiPayne08 pic.twitter.com/SuTh2taxwQ

— blake (@MacFarlaneBlake) April 3, 2016
But let's go back to Wikipedia and learn more about the Green Lantern's skill set, …. "he was able to manipulate and reconfigure time-space to his will, manipulate reality at a large scale."
Yep, sounds like Meb to me.
-With all around him knowing of, or complicit, in IAAF corruption, do you think Seb Coe is the right man for the job?
@BigTimeTrackFan
Always good to end on a light topic.
Ideally, you don't want your current president to be involved at all in a previous administration that oversaw rampant corruption and undermined the entire purpose of the organization. Dick Pound, after a lengthy investigation, took all that information and concluded that yes, Coe was the best man for the job. That never made sense to me. I think the criticism that Coe either had to know, or should have known, is valid for someone who was the Vice President. But without even getting into the specific details of who knew what and when, there is perception problem that goes along with keeping someone from the prior leadership group. It's hard to make an argument that you are cleaning house, when you are really only trimming off a few pieces here or there.
In 2016, the bar for heads of sports leagues is actually quite low. Don't be flagrantly corrupt, present your sport as best as possible and get out of the way and let your athletes do the rest. I was surprised at the response that Coe was somehow the only person in the position to run the IAAF.
If something non-controversial happened and suddenly Max Siegel (just using a hypothetical head of a national federation here) was in charge of the IAAF for the next four years what would be drastically different? What is Coe able to do that Siegel (or another successful and non-controversial person) couldn't? In other words, is the baggage that comes with keeping someone from the Diack regime worth the benefits that they bring? From the outside that's hard to tell. It does seem that the most damaging thing to track and field right now is doping stories and by keeping Coe you've linked yourself to the one of the biggest scandal's sports history.
Regardless, there isn't going to be a leadership change at this point. I'm not sure what can be done to rebuild trust with athletes and fans. I don't think it can get much worse than it was. Even a run of positive tests, as long as they don't involve cover-ups, won't rival what happened last year.