3 Comments
National Championships preview - Steeplechase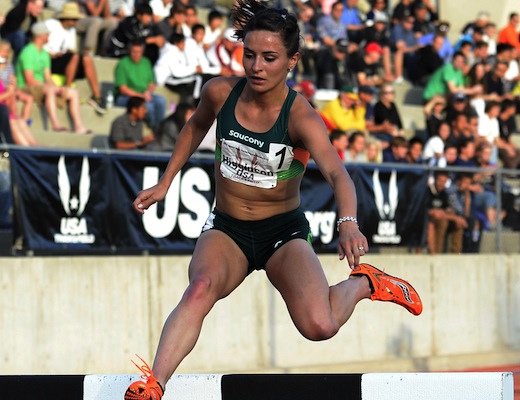 Pat Price | On 17, Jun 2013
Ashley Higginson photo courtesy: Track and Field Photo
Our 2013 National Championships coverage continues here with the Steeplechase and all week with previews and more. If you missed it, Jesse Squire previewed the Women's Throws, Men's Throws and Women's Jumps thus far. Make sure and bookmark the Daily Relay Coverage of the 2013 USA Outdoor Track and Field Championships and follow @DailyRelay for updates!
Women's 3000m Steeplechase
Qualifying Round: Thursday, 3pm Central
Final: Saturday, 4:20pm
Standards: 'A' – 9:43.00, 'B' – 9:48.00
With the recent withdrawal of defending national champion, Emma Coburn, the 2013 Women's Steeplechase field is wide open. Newcomer Jamie Cheever leads the field in regards to qualifying time, with her strong 9:28.26 performance at Payton Jordan. She should be a threat to make the team, but the only true shoe-in here is 2010 NCAA Champ, Bridget Franek. Franek made the Olympic team last year and the World team in 2011. 2013 should be no difference.
Beyond Franek, those next two spots are fairly open. Along with Cheever and Franek, the only others with the 'A' are Florida State's Colleen Quigley and Furman Elite's Nicole Bush. Quigley just finished off a strong NCAA season as runner-up to the injured Coburn, and Bush has bounced back from her broken foot in 2009, that was suffered when meet officials set the steeple pit barrier too high. Glad to see her come back around with a true shot at a trip to Moscow.
(Editor's note: As of 8pm, Monday, Quigley has scratched)
The 'B' (standard) group is a little bigger, but has some notables that could make the team. That group is led by 2012 Olympian, Shalaya Kipp. Kipp has had a somewhat lackluster 2013 thus far, while redshirting, but could be planning her peak for this weekend. Stephanie Garcia was a part of the 2011 World team, after Delilah Dicrescenzo was injured, but she's had an admitted tough go of late, as well. One big wild card here is Sara Vaughn. Vaughn has only run a few steeples and looked particularly good at Oxy, where she obtained the 'B.'
Lastly, a few more to keep your eye on are Ashley Higginson, who ran phenomenally at the trials last year and could be planning a similar attack in 2013 and Alexi Pappas, who ran very strong at the first Stanford meet.
Men's 3000m Steeplechase
Qualifying Round: Friday, 4:10pm Central
Final: Sunday, 3:55pm
Standards: 'A' – 8:26.00, 'B' – 8:32.00
The clear-cut favorite here is, of course, Evan Jager. I expect him to use as little energy as possible to make it through the qualifying round and onto the team. Behind Jager, his training partner, Dan Huling has the 'A' and should key off of Mr. Jager, instead of rabbitting the rest of the field, as he did last year at the trials.
After Schumacher's guys, Cory Leslie is the other competitor with the 'A." Leslie has had an incredible season that started indoors and has not slowed yet. I fully expect him to make the team behind Jager, but likely ahead of Huling.
After these three, there's a pack of guys with the 'B' (and one without) that certainly could vie for that last spot. The guy without a standard is 2012 Olympian, Donn Cabral. Cabral has had a tough outdoor season thus far, but certainly could find his way onto the team. If the race goes tactical, racers like Cabral won't have to make any big moves by themselves, as the top four finishers will have until July 20 to chase the standard.
Following Cabral is 2008 Olympian Billy Nelson, fourth place finisher at the 2012 Trials, Donnie Cowart, and the fast-improving De'Sean Turner. Turner trains nearby in Indiana, something that could prove to his advantage in the hot Des Moines weather.
Note: Events will be broadcast on television and the internet via the new USATF.tv. For complete coverage, here's USATF's television schedule.