2 Comments
Evan Jager stumbles, but delivers second fastest American steeple ever in opener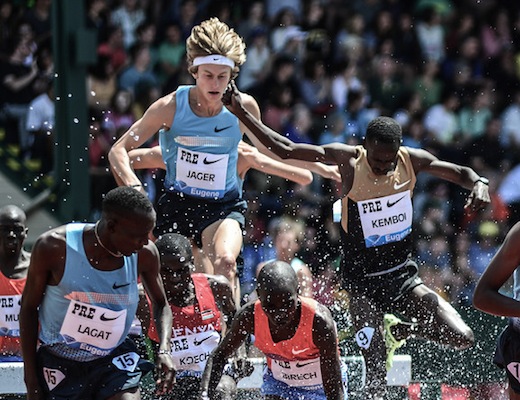 Pat Price | On 02, Jun 2013
photo courtesy Track Town Photo
With all the incredible performances Saturday at the 2013 Prefontaine Classic, one that stood out was Evan Jager's excellent 2013 steeplechase debut. Sure, Jager didn't win, but he came in fourth in a very strong field. The biggest fireworks of the race were in front of him, as Olympic Champion, Ezekiel Kemboi, was none too happy about countryman Conseslus Kipruto passing him down the final homestretch. The shove from Kemboi, that eventually got him disqualified, took eyes away from a struggling Jager, as he soldiered to the finish after what he called "a perfect six and a half laps" and then one that "fell a bit short."
Once Jager did cross the line, his time read 8:08.60; the second fastest ever for an American (only to his American Record of 8:06.81). And he has good reason to feel positive about the outcome today, as last year, he started the season at 8:26, and didn't get below 8:17 until Monaco. With such a strong opener, it was not hard to ask how fast he could go.
"I finished last year feeling I had another second in the tank. I definitely want to break 8. I'm really fit right now, so I don't know how much more I'll be able to improve this year. That will be a goal for, if not this year, next year. Getting really close to 8 flat would be a huge goal for me this year."
But time isn't his main concern this season. The hope is to compete in the biggest races and, of course, at the 2013 World Track and Field Championships in Moscow this August.
"Since I do have that (American) record, (Coach) Jerry (Schumacher) doesn't care how fast I run. We are working on staying composed in really tough races, and trying to beat people on the world stage."
This year, he has some help beyond his coaching staff, with new teammate and 8:13 steepler, Dan Huling, on board to lend a hand in practice.
"It's been awesome (having Huling). Just being able to share the load in workouts. Getting used to hurdling behind someone also helps. It's been very beneficial so far."
With the World 'A' Standard now in hand, Jager will prepare for the USA Championships later this month in Des Moines, IL. Huling also hit the World 'A,' running 8:22.38 Saturday.
"I'm definitely happy with an 8:08 opener. I'm really confident going into USA's. I just hope to have a good race there, make the team and continue working towards Moscow."
To do that, he'll need to find a kick that he didn't have today. He would run the last lap in 63 seconds, where the leaders were closer to 58.
"I was trying to fight really hard over the last lap to stay with those guys. Jerry's been drilling that in my head; finishing really hard over the last 200 and 400 meters of the race. I had a tough last water jump and a really tough last barrier."
Goal for the season?
"Be able to run whatever type of race is being run and then close in 57. That's what it's going to take to medal. The goal is top three in Moscow."