One Comment
5 Questions with Cory Leslie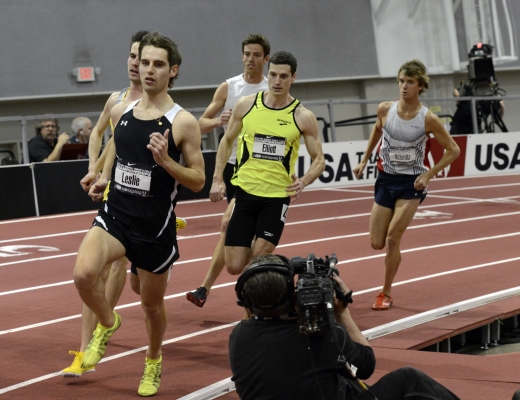 Pat Price | On 08, May 2013
photo courtesy TrackAndFieldPhoto.com
Welcome back to 5 Questions, where we will pick the brains of people from all areas of the running scene. Today, we were lucky enough to catch up with Cory Leslie. Follow Cory on Twitter @Cory_Leslie and check out his training group, Furman Elite at RunFurman.com.

5 Questions with Cory Leslie
1. Daily Relay: First off, congrats on hitting the World A-Standard in Tokyo with an excellent 8:20.08, an 11 second PR by my calculations. How did this race come together?
Cory Leslie: Training has been going really well and I knew I was fit enough to make a run at the A-standard. With it being the first steeple of the season, the only really worry was how I would be able to handle the normal hurdle fatigue you get that first one out. I was fortunate that I was able to establish a good rhythm early and have enough legs at the end to finish it off.
2. Daily Relay: You put together a strong indoor season and backed it up with a solid 5000 at the Raleigh Relays. With all this in mind, was the goal all along to take a big swing in Japan? What was the highlight, in your mind, of your winter?
Cory Leslie: The biggest highlight of this winter was definitely US indoors. Being able to come away from that meet with a 3rd place finish was really rewarding. With training geared towards the US outdoor championships in June, we really trained through the winter and didn't back off much going into the meet. The plan going into Tokyo was definitely to make a good run at the world A-Standard. We knew it would be a fast race and would give me a chance to really see where I was at.
3. Daily Relay: You are training with a strong group in Greenville, SC. Who all is involved?
Cory Leslie: We have started to form a great group down here (Furman Elite). I do all my training with Jeff See (3:35 1500), Jack Bolas (3:36 1500), and Lee Gilmer. I have been training with Jeff since I got to college. He was one of the few Americans with the 1500 A-Standard last year. We also have Nicole Bush, who was 4th at the 2008 trials in the steeple, as well as Australian, Heidi Gregson, who was just on the 4×800 team at Penn Relays that set a new Aussie record.
4. Daily Relay: What are some of the biggest differences in Ohio and South Carolina? Where are you guys getting your runs in down there?
Cory Leslie: I have only been down here for about 8 months, so I can't complain about the South Carolina summers yet. So far, the biggest difference came this winter. Being able to get outside for workouts and stay off indoor tracks and treadmills really helped to spur training along. I admit, when I went home for Christmas and saw snow I acted like a bit of a baby.
5. Daily Relay: With the World A-Standard in hand, what are your plans between now and USA's?
Cory Leslie: I'm really looking forward to the 1500 at the Oxy High Performance meet in a couple weeks. From what I've heard, and looking at last year's results I think it's going to provide a great opportunity to run fast.
If you enjoy 5 Questions, check out the archive of previous interviews over at Writing About Running