4 Comments
Year-end College Awards
Jesse Squire | On 10, Jun 2013
The college season is over, the stadiums are empty. Let's take a look back.
Every Monday during the college season, I recap the weekend's action and hand out weekly awards. Now that the season is over, I'm going to hand out year-end awards in a bunch of categories.
Agree? Disagree? Want to suggest something I missed? Post 'em in the comments.
Best athlete (men)
In other words, this is who I think should get the Bowerman Award. It will be a little while before the finalists are announced, so it's possible that my choice for "best athlete" won't even be one of those three.
One athlete who should be a finalist, and probably will be, is Lawi Lalang. The Arizona distance runner won NCAA doubles both indoors and out, and at a fairly remarkable range of distances: mile, 3000, 5000 and 10,000. But I don't think he's the best athlete of the year.
Another no-brainer for finalist should be Julian Wruck, UCLA's discus thrower. He broke about every record there is to break. Athletes who only compete outdoors and in a single event tend not to get as much attention as they should, but his was the only collegiate record of the year. So I think he'll be a finalist. But he's not my choice for athlete of the year, either.
My choice is Derek Drouin, the Indiana high jumper. Unlike Wruck, he didn't break any records (besides the Canadian record), and he only won two national titles whereas Lalang won four. What makes him different is that in order to win he had to beat one of the very best in the world, Kansas State's Erik Kynard. He beat the Olympic silver medalist three out of the four times they met, including both NCAA Championships. Lalang and Wruck were essentially unchallenged but Drouin could not have any kind of letdown.
Best athlete (women)
I get a vote for the Bowerman Award–apparently "self-appointed loudmouth with a blog" is a media category that qualifies–but I am not involved in the selection committee that produces the list of three finalists. I'm quite happy about that, because they are faced with a very tough situation. One very deserving candidate is going to be left out.
Arizona high jumper Brigetta Barrett did not win the Bowerman last year, and there was a bit of squawking about it because she was an Olympic silver medalist whereas the winner, LSU's Kimberlyn Duncan, didn't even make the Olympic team. The voters couldn't have taken that into consideration, though, for two reasons: (1) the criteria states that only the collegiate season is to be considered, and (2) the voting closed before the Olympics began. It's a disadvantage of an award given out in December, five months after the season ends. But there's no other time that everyone could be gathered together. Even doing it at the USATF Championships isn't possible–note that all three of my men's picks are foreigners and won't be at the USATF meet. Anyway, Barrett dominated the season and broke the long-standing collegiate record. She should be a finalist and will be.
Another sure-fire finalist is Clemson hurdler Brianna Rollins. She broke two collegiate records, the indoor 60 hurdles and outdoor 100 hurdles. Actually she set three because she broke the 100 hurdle record twice. She leads the world list by 0.21 seconds over Dawn Harper, the current Diamond League points leader and Olympic silver medalist. The amount of daylight between her and other collegiate hurdlers was staggering.
A third athlete who I think should be a finalist is Kori Carter, the Stanford hurdler. She went undefeated in the 400 hurdles, which is no mean feat considering that five times she raced against Arizona's Georganne Moline, who was fifth in the Olympics. She broke the collegiate record and ranks #1 in the world, and took an NCAA runner-up in the 100 hurdles as well.
If these are the three finalists–and I cannot imagine how any of them could be excluded–then it would leave LSU's Kimberlyn Duncan, last year's Bowerman winner, out in the cold. All she did was win (and hasn't lost an outdoor 200 meter final since she was a freshman) and her times were very good. But the three above were dominant and, as of right now, would have to be considered medal favorites at the World Championships. You can't say that about Duncan.
Late edit: I really should have mentioned Dartmouth distance runner Abbey D'Agostino and Oklahoma shot putter Tia Brooks, both of whom had remarkable years. But they have no chance at being finalists this year, the strongest year in college women's track and field in quite a while.
Which of the three should win it? I'd go with Rollins. Unless Sally Pearson gets healthy in a hurry, Rollins looks like a world champion right now.
Best race (relay)
The women's 4×800 Championship of America at the Penn Relays was an amazing race, a back-and-forth thriller that ended with two teams under the collegiate record. Skip to 1:05 to watch the highlight reel:

Best rivalry
Not only was Derek Drouin versus Erik Kynard the best individual rivalry of the year, it's one the greatest in collegiate history. The last time two Olympic medalists met at an NCAA final was in 1969, when quarter-milers Lee Evans and Larry James faced off. That was the only time they faced each other (and they both lost to Texas A&M's Curtis Mills), whereas Drouin and Kynard met four times this year. Each time they were at the top of their game. Too bad the production staff hired by ESPNU payed no attention to this in their coverage of both the NCAA indoor and outdoor championships and all but ignored some of the best contests of the year.
Best race (individual)
The NCAA women's cross country championships were a battle all the way to the finish, with Betsy Saina, Abbey D'Agostino and Jordan Hasay all within a step of each other. Watch.

Apologies, readers, as the Flotrack video refuses to work and there appears to be no other embeddable video of this race available.
Best trend
Collegians competing against pros happened at every major US professional invitational (what few there are left). Back when large swaths of the public actually cared about track, all of the dozens of indoor invitationals and the handful of outdoor ones prominently featured collegians against "post-collegians" (as they weren't openly professional in those days). It rarely happened in the last decade but is a rising trend, led by the Millrose Games.
This is one of the things that makes track special in the world of sports, that college athletes can go head-to-head against professionals. It just wouldn't work in team sports and the collegians would get clobbered in golf or tennis. But here, it's practical to do and the best can hold their own and then some.
It's good for track fans because we get to see a wider range of athletes in televised meets. It's good for the athletes because they get experience at a higher level of competition. It's good for the meets because they get athletes who are barred from accepting appearance fees or prize money. It's good for the college track programs because they get national exposure. The only losers are the pros squeezed out of the meets by these college runners…but if some kid who's not old enough to drink is stealing your paycheck, maybe you need to get into some other line of work.
Best tradition
The Meyo Mile is an electrifying four minutes of action every February at Notre Dame. It has become a fan favorite, getting the Loftus Center packed and loud. Meet management allows fans onto the track so that the athletes run through a tunnel of sound. Watch this year's race:

Best technological innovation
It's not exactly sharks with frickin' laser beams attached to their heads but it's a start. Leading marks in field events at the NCAA Championships were shown on the field with lasers.
A three-man crew — one on the field with radio, one on the roof of Hayward Field's west grandstand, and one on press row working with a laptop — operate a state-of-the art laser system that displays the current leading mark in field events on the field.
…
For now, the laser is showing just the leading mark, but Litchy says that's just a baby step. In the future, the lasers could show world records and personal bests in addition to leading marks.
Showing the leader on the field is not a new idea. Back in the 70s, the ITA did this in the shot put with balloons. Now, however, we have Dr. Evil levels of technology instead of Bozo the Clown levels. But still no sharks.
Best crowd
The Penn Relays brought in more than 100,000 raucous fans over three days and provided possibly the best atmosphere for a track meet outside of Jamaica's "Champs". While meet director Dave Johnson and his support crew work extremely hard to make this happen, it's an annual occurrence and therefore hardly surprising. Ditto for the Drake Relays, which sold out for the 48th straight year, and the home meets at Hayward Field, which rarely fail to bring in at least 5,000 fans. And when you break down the attendance at the big relay carnivals relative to the number of teams competing, they're not as far off the charts as you'd think.
In terms of big attendance for a small meet and where the fan following is traditionally just average, the Washington State at Washington dual meet stood out. An estimated crowd of 3,000 came to see the old and bitter rivals inaugurate Washington's new purple track. Pro-rate this attendance total from two teams to the number of teams at the Penn or Drake Relays, and even the old Maracanã Stadium (record attendance: 199,854) wouldn't be big enough to hold them all.
Best team player
I first pondered the idea of a "team player" in college track at the 2011 NCAA Championships. That year I had both the time and the money to attend the Penn Relays and NCAAs. At Penn it looked like Texas A&M's Tabarie Henry was everywhere, filling in whatever relay hole needed to be filled. At the NCAAs, he was instrumental in the Aggies' victory as the anchor of their 4×400 relay. He is the model for the award.
For 2013 that award goes to LSU distance runner Laura Carleton. She ran everything from 800 meters to 10,000 meters. She scored key points at the SEC indoor and outdoor championships to help the Tigers win runner-up trophies, she ran on winning squads at the Texas Relays, and she twice did double duty to help the Tigers stay undefeated in dual meets and win the Track and Field News dual meet national championship. Whatever needed to be done, she did it.
Best jawdropper
Going into the Alex Wilson Invitational, Texas' distance medley relay team had the fastest time in the NCAA and felt secure enough that they would remain in the nation's top 12 that they skipped the "last chance" weekend and sat on their time.
The Alex Wilson meet always produces fast times and the announcing crew tossed around an "over/under" for the number of qualifiers coming out of the three heats. Alex Lohr said eight, and I took the over. I was right, but I didn't expect all twelve qualifiers to come from this one meet. Texas was left out in the cold. Watch the three heats in succession:
Note: there is rumor that "last chance" meets will no longer be allowed, and the last opportunity for qualifying will be conference championships. If this is true, the above occurrence played a large part.
Best dual meet
Dual meets are becoming more and more common, a trend that I like. The best one this year was Arkansas at Oregon. A tightly scripted affair over 90 minutes in the middle of the mostly-high school Oregon Relays, it was a back-and-forth meet that came down to the closing steps of the 4×400 relay. It had stars, upsets, goats, ordinary athletes who were heroes for a day. It was everything you always wanted in a track meet and less–less marks chasing, less dead time, less saving effort for another day. This was all about winning.
Best picture worth 1,000 words
One of these coaches can't believe he's sharing this championship trophy. The other coach can't believe he's sharing this championship trophy. Make sure you read one of those with an exasperated inflection and the other with an exuberant one.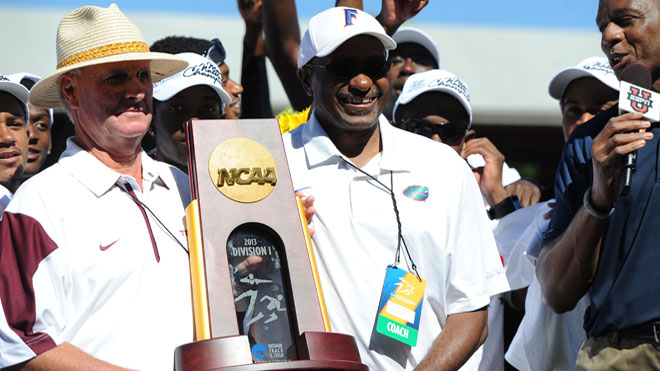 Florida coach Mouse Holloway had the best line of the day: "There's the old saying (about ties), it's like kissing your sister. I love my sisters."
Best example of what Division III athletics is all about
D-I sports, even track and field, can be a bit restricting. Athletes and coaches have to do things according to the needs of the university and the team and the schedule and, if they want to survive, the fans and the alumni and the donors. In Division III, the needs of the athletes as students and individuals come first.
There was no better example of this in 2013 than UW-Oshkosh's Christy Cazzola. The former Wisconsin state high school champion had little interest in competing in Division I ("running might become forced"), and after graduating from high school in the small town of Kaukana in 2003, she moved to Appleton and waited tables. She took her time before enrolling in college in 2008, and a baby came first. She was convinced to come out for the team at UW-Oshkosh but had to take another break for another baby. At the age of 27, she won six D-III titles between indoor and outdoor track while being cheered on by her fiance and two children. True to form, she'll give up her final season of eligibility to enter the workforce.
Best Cinderella story
Minnesota junior John Simons came to March's Alex Wilson Invitational as just another miler looking for a late-season race and accordingly seeded into the B-heat. He didn't even run the mile for the Golden Gophers at the Big Ten indoor championships, scoring down-the-line points in the 3000 and 5000. He had a modest PR of 4:08.74.
He raced smart and won his heat. In complete shock, he broke 4:00 with a 3:59.32 clocking.

Enough athletes ahead of him on the national list chose other events or scratched that he got into the NCAA indoor championships, where he qualified to the final and finished fifth. In the space of seven days, he wen from just another college runner to an All-American. His success continued during the outdoor season, where he qualified to the finals at the NCAA outdoor championships and finished tenth. Before this season there was absolutely no indication that he was capable of this and now he's a legit star miler.
Biggest disappointment
Mississippi State freshman Brandon McBride is the fastest high school half-miler in North American history. Running for the Windsor Legion track club and Herman High School in the Ontario border city, he was among the greatest high school runners in Canadian history. At a late-May open meet in his hometown he beat Nick Willis and then ran 1:46.07 to finish sixth at the World Junior Championships. Sporting cross country toughness and 46.25 speed, he looked to be the complete package.
The beginning of his freshman year went well–he ran 1:47.74 and 46.57 indoors–but it went progressively downhill from there. He didn't make the final of the NCAA indoor championships, he didn't score at the SEC Championships, and failed to advance out of the first round of the NCAA East preliminaries. He could have been injured or ill but I can find no reports of such. Had he simply repeated his high school PR he would have been the fastest collegiate 800 runner of the 2013 season. Let's hope he regains his form next year.
Best teams in 2014
It's never too early to look to next year. I went through the NCAA results, eliminated seniors and those turning pro early (only Oregon sprinter English Gardner so far as I'm aware), did a few calculations for relays, and rescored things. Here are the scores I have.
MEN
Arkansas 48
Texas A&M 47
Oregon 44
Florida 42
Alabama 39.5
WOMEN
Central Florida 50
Texas A&M 47
Clemson 33
Georgia 33
Stanford 32
For the men it's mostly more of the same. For the women, it's a new threat to win in Central Florida, whose points come from just five events. Realize that these are very crude measurements which do not take into account new recruits, JC transfers, and/or athletes coming back from redshirt seasons, injury, or just plain bad outings at the NCAAs.