No Comments
5 Questions with Leo Manzano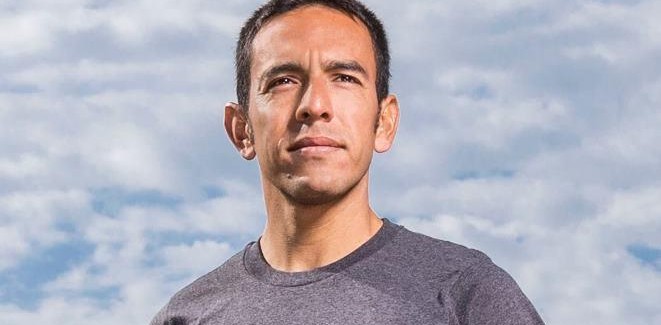 Pat Price | On 01, May 2014
Welcome back to 5 Questions, where we pick the brains of people from all areas of the running scene. Today, we were lucky enough to catch up with 2012 Olympic Silver Medalist in the 1500 meters, Leo Manzano. Check out his Facebook fan page, and follow him on Instagram and Twitter @Leomanzano
5 Questions with Leo Manzano
1. Daily Relay: Congratulations on your anchoring of Team USA to the win Saturday at Penn Relays. You had a lead, then sat, then really let loose. Was that the plan going in?
Leo Manzano: Like in every race, there is always an initial strategy. Of course, the scenarios don't always work out as planned, but nonetheless, during the past few weeks, I have had very good training and Coach Hayes has helped me stay focused. This time, the race played out the way I had thought it would. Of course, this race was a team effort. Big props to my teammates, David Torrence, Quentin Summers and Brandon Johnson.
2. Daily Relay: The IAAF World Relays start this year. Are you hoping to be part of that DMR team? Or potentially the 4×1500?
Leo Manzano: Yes, If all goes well, I will be in the 4x1500m, proudly representing the USA.
3. Daily Relay: You recently signed with Hoka One One after a long stint from being unsponsored. Things seemed to move very quick once you signed with Hawi Keflezighi. Can you explain all of this came about?
Leo Manzano: I met Hawi about year ago, but never really had an opportunity to get to know him until this year. In February, I was invited as a speaker to the Running USA Conference in San Diego and both Hawi and I participated in a diversity panel. After my previous agent and I mutually agreed to part ways, I researched agents and started brainstorming on what steps to take next. I knew I would need the help of an agent, not only to help me look for a sponsor, but also to sign me up for races during the upcoming season. I did my research, contacted a few people, and ultimately became convinced that Hawi was a good fit. Hawi and I started working together in late March and that's around the same time that we began our conversation with Hoka One One. I feel like this company was the perfect match, as we share similar values, and they ultimately believed in my potential.
4. Daily Relay: Hoka is a rapidly growing brand. You mentioned that you'll help with the design of the first Hoka spikes. Meb (Keflezighi) did something similar with Skechers. How excited are you to be able to essentially create racing shoes to your exact liking? How involved with you be?
Leo Manzano: I will be providing my feedback to the development team in the design of the first Hoka spikes. Hoka One One has a great development team and I have great confidence that they will introduce an exceptional product.
5. Daily Relay: You recently began working with ex-Texas coach John Hayes. How did that come about and how has the switch gone in your eyes?
Leo Manzano: I had been without a coach for a good while. I was training as best as I could. Even though I consider myself to be very disciplined, there were times that I really needed help. One day, I was working out and Coach Hayes happened to be on the track coaching someone else. I asked him if he could help me with the timing and he kindly accepted. A couple of weeks later, we had a good conversation and shortly after, I became convinced that I needed him on my team. The coaching change has gone quite smooth. I have a lot of respect for Coach Hayes and I am very grateful to have his help and expertise.
6. Daily Relay: With a Silver medal in hand and a deal that will carry you through the 2016 Olympics, what are a few of your goals for 2014 and beyond?
Leo Manzano: So, even before I secured a sponsor, my long term goal was and continues to be to make it to the 2016 Olympics. I decided that I was not going to let anything stop me from pursuing that goal. Now that I have the support of Hoka One One, I am not only grateful but even more motivated to put in the work required to take advantages of the opportunities this sponsorship creates. For the rest of 2014, I want to do everything necessary to ensure that today is better than yesterday, and tomorrow better than today. I want to fully enjoy my running, and train hard to achieve those goals.
If you enjoy 5 Questions, check out the archive of previous interviews over at Writing About Running