No Comments
The Monday Morning Run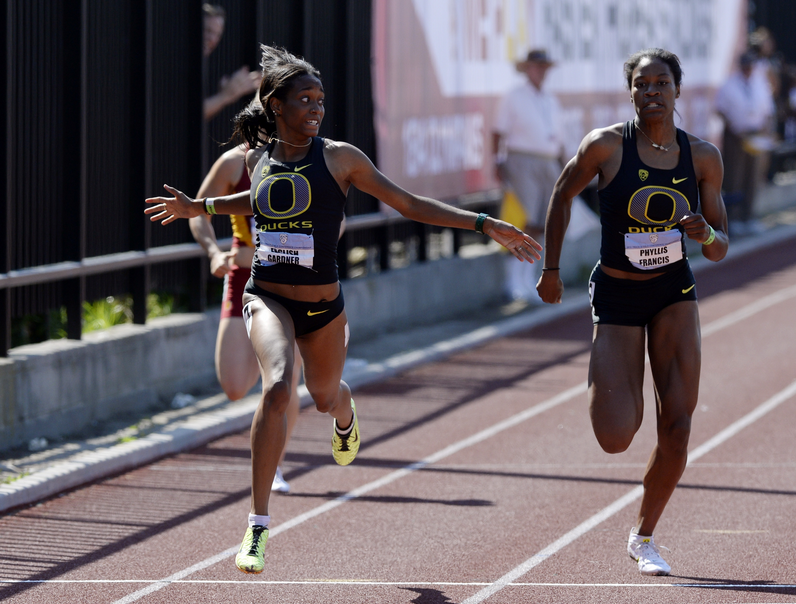 Kevin Sully | On 10, Jun 2013
With the US Championships beginning in just ten days, this past weekend was the last serious racing opportunity for Americans. Aside from the Diamond League, big marks were put up at the NCAA Championships in Eugene. For the full recap of all the collegiate action, see Jesse Squire's post from this morning.
Enduring questions
-Is Usain Bolt in trouble?
Not yet. The quick reaction will be to say that his loss to Justin Gatlin in Rome either means the fastest man now has a new rival, or that this is Bolt doing his "much ado about nothing" routine ahead of his inevitable win in Moscow.  In reality, Bolt just came up against a sharp Gatlin who, more than anyone else on the circuit, seems relatively unintimidated by Bolt.

Bolt's surprisingly good start was a welcomed sign but his top end speed was flat.  With the loss, it was a step forward from the 10.09 he ran in the Cayman Islands in May.  And what about Gatlin being a threat to Bolt throughout the summer?  By the end of the weekend reality set in as Gatlin himself was upset by Christophe Lemaitre of France.

Even if Bolt has his characteristic late season improvement, he will be pushed this year.  Tyson Gay has looked better than Gatlin at this point in the season and although Yohan Blake can't be ignored even though he looked shaky in his first race since suffering a hamstring injury.
-What does English Gardner's future look like?
In the words of Blake Griffin, "bright….very bright." Oregon's sprint sensation announced in the mixed zone at the NCAA Championships that she is turning professional.
On Friday, Gardner set a personal best of 10.96 in winning the 100. That mark, the third fastest in the world this year, removed any doubts about her readiness. Away from the track she also seems more than capable of making the transition. Ken Goe of the Oregonian, who has interacted with her more than pretty much anyone the last three years, called her a "reporter's dream."
Gardner has the type of charisma rarely seen in professional track and field. She is outspoken and authentic–confident, but not affected. She also enters the professional ranks with something most track athletes don't have, a built-in fan base from her time in Eugene. From a competition standpoint, she has a great shot at qualifying for the World Championships this summer. Even if she falls short, recent results indicate she will continue to improve. If I'm Phil Knight, and I want to keep her in Oregon, maybe I get rolling on that indoor facility.
Sadly, her departure probably means the end of one of the greatest Twitter handles (@UgHLyDuCkLiN ) track and field has ever seen.
-Have we reached the apex of terrible rabbiting?
It would be hard to top the opening lap of 58 seconds in the women's 1,500 from Rome. The pacemaker, Nelly Jepkosgei of Kenya, shot to the front and showed all the poise and restraint of a freshman in their first cross country race. All was not ruined by the insane early pace. After Kepkosgei departed, a great race developed between Abeba Aregawi, Genzebe Dibaba and Jenny Simpson.
Other Upsets
-Ahoure over Felix
The biggest surprise in Rome wasn't Gatlin over Bolt, it was Murielle Ahoure of the Ivory Coast defeating Allyson Felix in the 200. Felix looked to be running on tired legs and she came off the curve behind and only fell farther back from there. I'm sure not too much worry in the Felix camp as this was only her second 200 of the season after dabbling in the 100 and 400 at earlier meets.
-Alamirew beats Gebrhiwet
Also in Rome, Yenew Alamirew ran 12:54.95 in the 5,000 to beat the season's best distance runner, Hagos Gebrhiwet.
Should Mo Farah be concerned by the fast time, or encouraged by the fact that Gebrhiwet is vulnerable? The latter. As we saw last year, the times will be ebb and flow depending on the nature of the race. Farah can take comfort in the fact that he had an "off-race" in Eugene but managed to finish ahead of Alamirew.
Then again, Edwin Soi beat Farah in Eugene, but only finished 5th in Rome. Maybe Farah shouldn't take anything from this race except that the last lap in Moscow will be fast. I don't get you 5,000.
-Mary Cain only breaks a high school record by 3 seconds
I kid, I kid. In a somewhat controlled effort, Cain finished sixth in the 5,000 at the Portland Track Festival with a time of 15:45.46. According to her coach Alberto Salazar, the stated goal entering the race was just to achieve the US "A" standard of 15:46.00. Mission accomplished, barely. She snuck under the mark standard with a 65-second last lap.
After the race, she and teammate Treniere Moser (who also ran the 5,000) ran a few sub-60 second 400s in spikes.