2 Comments
The Monday Morning Run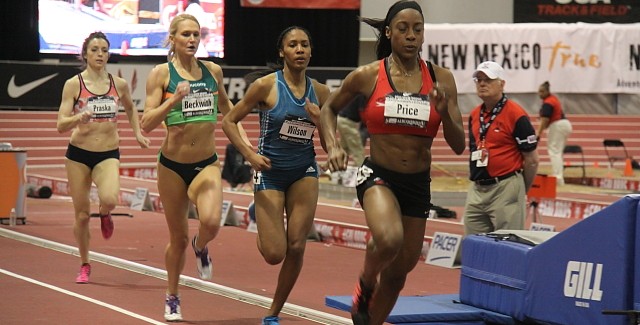 Typically, we begin the Monday Morning Run by awarding gold, silver and bronze to three best performances of the week. In a weekend where they handed out actual medals, that exercise didn't seem as useful. Instead, we recap the World Indoor Championships using 16 different nouns.
Expectation
Ashton Eaton won gold in the heptathlon, but by the impossibly high standard that he has set for himself, the story was more about his narrow miss of the world record. Before the meet Eaton downplayed his focus on the record, saying that his priority was on defending his title. After the first day, it was clear he would have no trouble doing that. In a normal event, one that is contested in one day and is over in a matter of minutes, if not seconds, it's a much simpler task to focus on the competitors around you. But strung out over multiple events, and two days, it's natural that he and everyone else starts to pay more attention to Eaton vs. the record than Eaton vs. the competition. Even before this weekend, he had every accolade and record in his discipline. World record holder indoors, world record outdoors and reigning gold medalist at the three major championships. It's unfair, but re-breaking world records is the only place he has left to go. No wonder he is taking a break from the multi events and competing in the 400 hurdles this summer.
There was one record in these championships, and it came in a completely unexpected place. The men's 4 x 400 relay team of Kyle Clemons, David Verburg, Kind Butler III and Calvin Smith combined to run 3:02.13 in their run for gold. A surprising result considering how unheralded all four men are.
This is track though, so there needs to some confusion. Some stats sites
list the world record as 3:01.96 from a 2006 team of Kerron Clement, Wallace Spearmon, Darold Williamson and Jeremy Wariner. The broadcasters on BBC mentioned that mark was not accepted by the IAAF because of questions about proper drug testing at the meet. The USATF recognizes the mark, so there may be another split decision like we saw in the 4 x 800 this winter where one group holds the American record and another holds the world record.
Domination
The 1,500 needed Mary Cain this weekend. Not that she could have run with Abeba Aregawi, but maybe it would have given us something to watch after Aregawi put the race away with five laps still remaining. Her winning margin was a staggering 6.5 seconds–a gap that had as much to do with her own brilliance as it did with the weak field behind her. Cain was sidelined with an injury. Kenya didn't have single runner compete. Genzebe Dibaba focused on the 3,000 (which she would have won even if she did five events on Saturday). Of the top five on the yearly list, Aregawi was the only one to compete in Sopot.
With a field that depleted she could have waited until two laps remaining to secure the victory. Instead, Aregawi seemed intent on doing the whole "to give anything less than your best is to sacrifice the gift," routine. 4:00.61 was her time. With nobody else in the picture.
Equally dominant, though against a much tougher set of athletes, was Shelly-Ann Fraser-Pryce. She blitzed the field and went under seven seconds for the first time in her career. Her finishing time of 6.98 is the fastest since Laverne Jones-Ferrette ran 6.97 in 2010. If you exclude Jones-Ferrette's performance, (and you might want to because she failed a drug test days after her 6.97) Fraser-Pryce's time is the fastest since 1999.
Obliteration
Valerie Adams's worst throw in the woman's shot put would have won the competition by four inches. She was the only woman to throw past 20 meters (65-7 ½), doing it on five of her six throws. If an event isn't going to be competitive the best it can hope for is someone like Adams, whose consistency and power were fun to watch as she kept chucking the shot over the 20-meter line.
A Genzebe Dibaba victory was a foregone conclusion in the women's 3,000. Like Aregawi she put more out than she needed to, beating Hellen Obiri by over 2.5 seconds. Of all the head-to-heads that were missing from this weekend, Dibaba-Aregawi had the most potential.
Indignation
Like Aregawi, Ayanleh Souleiman ran with a bit of reckless abandon that we are more accustomed to seeing at the high school level. There, the fastest person usually tries to win from the beginning. It's simple really. Negative splits are a rarity and there is little to no gamesmanship. The result is a compelling viewing experience.
Because positioning is at such a premium indoors, this type of aggressive racing appeared frequently in Sopot.
Souleiman was challenged repeatedly throughout the race, but he refused to cede control of the lead. He sped up, moved to the outside and did virtually everything else he could think of to make sure he remained in front.
Frustration
World record holder Jen Suhr didn't enter the pole vault competition until 15-3. She easily cleared the height on her first attempt and then passed at 15-5. That decision proved costly when she missed three times at 15-7 and dropped all the way into a tie for fifth. It turns out 15-5 was the winning height, something well within Suhr's range, even on Sunday.
Ivan Ukhov has been so consistent this winter that it was easy to look past his erratic championship performances of year's past. After Eaton, he looked like he had the best shot at a world record, only needing to improve a centimeter from his most recent competition. Ukhov was clear up until 7-9 ¾ where he needed three chances to get over the bar and keep pace with Mutaz Essa Barshim. Despite clearing the next height (7-10 ½) four times this year, Ukhov failed on all three attempts on Sunday. Barshim also couldn't clear it, but had fewer misses at 7-9 ¾ and took the gold. Ukhov slid from a possible world record setter to a silver medalist in a matter of hours.
Consternation
There were no disqualifications for false starts during these championships. Instead, the issue involving the officials had to do with the mid-distance races, in particular rule 163.3(b). Four athletes in three different races were disqualified for violating that rule which prohibits athletes from stepping on, or inside, the curb. Rababe Arafi in the women's 1,500 and Marcin Lewandowski in the men's 800 both thought they had medals before learning that they were disqualified.
Here's an unobstructed view of Lewandowski's foot inside the line in the @iaaforg 800m Final. #Sopot2014 pic.twitter.com/lLstZ5k9uV

— Jim McDannald (@jmcdannald) March 9, 2014
Disqualifications for incidental contact or trivial violations are a problem for track and field. The original ruling in the Gabe Grunewald fiasco underscored that specifically. However, in the case of 163.3(b) it's hard to mount an argument why an athlete shouldn't be disqualified for running outside of the field of play (unless they were forced out).
Revelation
Richard Kilty's gold medal run in the men's 60 was the surprise of the weekend. The 24-year-old from Great Britain ran a lifetime best of 6.49 to defeat Marvin Bracy by .02 seconds. Why have we never heard of Kilty before? Mostly because he hasn't been able to get on national teams.
Snubbed by former head coach Charles van Commenee and his fellow London 2012 selectors despite having the 'A' qualifying standard for the 200m, Kilty denounced the decision in a Twitter tirade before descending into such a dark post-Olympic gloom that he seriously considered walking away from the sport. He later admitted that he was so depressed that it was as much as he could do to venture outdoors. 
Resuscitation
Prior to this season, Chanelle Price was in our consciousness solely for what she did as a teenager. As a senior in 2012, Price ran the second fastest high school time ever in the 800 at the Prefontaine Classic, 2:01.61. She qualified for the Olympic Trials and looked to be on course for a career of championships and national teams. That never happened. She ran well collegiately, finishing third in the NCAA meet twice, but she appeared to be turning into another high school phenom that faded away. On Sunday, she ran the best race of her life, going wire-to-wire to win the gold medal. Her time, 2:00.09, was also a personal best.
#PhotoOfTheDay – Surprise 800m winner Chanelle Price pic.twitter.com/NalY94S7Er

— Jon Mulkeen (@Statman_Jon) March 9, 2014
Translation
With a truncated season and limited depth in some events, success indoors doesn't always correlate to future gold medals outdoors. Kilty and Price, are perfect examples. No doubt both will get a mental boost from winning this weekend, but what will happen when the rest of the marquee athletes in their event start competing again. Will Price now be able to contend with Alysia Montano and Brenda Martinez? Can Kilty top James Dasaolu and Adam Gemili when those two return?  Similar questions can be raised for the gold medal hurdlers for the United States, Omo Osaghae and Nia Ali.
In some of these events, we won't truly know who has staying power until next year, when there is an outdoor championship.
Evaporation
There was much optimism around the American medal chances in the mid-distance and distance events.
Mary Cain's withdrawal took away one big opportunity, but there were still nine solid medal chances in the 800-3,000. Lopez Lomong, Ajee Wilson, Nick Symmonds and Erik Sowinski were all eliminated on the first day taking away the entire men's 800 and the world-leader in the women's 800. Treniere Moser, Heather Kampf and Will Leer made the finals of the 1,500, but none saw the podium. Ultimately, the Americans won only two medals, Chanelle Price's gold in the 800 and Bernard Lagat's silver in the 3,000.
For much of the men's 3,000, it looked as if the United States might have two finishers in the top three. The race was very slow in the early stages, with the first moment of separation in the pack occurring with five laps remaining. Galen Rupp bounced around the top five over the last 1,000 meters, but found himself out of the medals in fourth place.
Of all the fields in the meet, this was the one that most resembled an outdoor World Championship or Olympics. That won't be any consolation to Rupp, who has finished fourth in his last two major championships. He looked much better than he did in Albuquerque, but still wasn't in the same form as the beginning of the season when he set two American indoor records.
Maybe he could have benefited from a shorter distance race in the lead-up to fine tune his speed? Or possibly, he needed better tactics so he wouldn't find himself floating out to lane three when the pace began to quicken? Or perhaps, he ran against an incredibly deep field in a distance that is 7,000 meters shorter than his specialty? I'm going with the latter.
The field events didn't yield much for the United States either. Ryan Whiting won gold in the shot put on day one, but no other jumper, thrower or vaulter medaled.
Tabulation
The United States ended up with eight gold medals, two silver and two bronze. Their total of 12 was  twice the next closest nation (Great Britain had six), but much lower than Jason's hypothetical line of 15.5.
Deflation
Poland's Adam Kszczot and Marcin Lewandowski were on the verge of pulling off a shocking 1-2 sweep in front of their home crowd in the men's 800. Then, Mohammad Aman finally got rolling on the last lap and went by both to finish in 1:46.40. Kszczot and Lewandowski were the next two across the line, but Lewandowski was later disqualified for running out of his lane. What good is hosting a meet if you can't get all the calls?
Obfuscation
Can we get some clarity on the tie-breaker rule in the high jump? The commentators sounded as confused as I was when the competition between Maria Kuchina and Kamila Licwinko suddenly ended in a draw.
"I was a bit upset because of this result and because of my third attempt at 2.02m, which was a good one. I wanted to tear my hair out, but then the Polish girl came to me and we agreed we do not jump anymore," commented a relieved and delighted Kuchina…
I guess the rule boils down to whatever the athletes decide.
Elaboration
Nia Ali's win over Sally Pearson in the women's 60-meter hurdles shouldn't be labeled an upset. Yes, Pearson has a gold medal to her name and dominated hurdling in 2011 and 2012, but coming into the meet her best on the season was 7.79. Ali's was 7.80. Ali doesn't have the name recognition of Dawn Harper, Kellie Wells, Lolo Jones, Queen Harrison or Brianna Rollins. She did make the world championship team last year, which in the United States means you are probably one of the top five hurdlers in the world. Ali missed the final in Moscow, but with all the big names listed above missing, she put together a great indoor season.
Should Pearson be worried? Probably not. Her semifinal time, another 7.79, would have won the gold medal. There is a strong possibility that Pearson may not have prioritized this meet. She ran an abbreviated set of tune-up races prior to the competition in Poland. What could be of concern is the manner in which she lost. Despite getting off to a great start, Ali was able to overtake Pearson in the middle of the race and build upon her lead. This is same formula Rollins used last year to win the World Championship.
Aberration
I thought Kimberly Williams becoming the first Jamaican woman to medal in an indoor field event would be the most obscure factoid to come out of the meet. But then, this happened:
The last U.S. sprinter with a last name that does not start with "G" to win a global 60/100/200 championship was Leonard Scott in 2006 60m.

— Nick Zaccardi (@nzaccardi) March 8, 2014
Decoration
Accessorizing was on full display inside Ergo Arena. Shaunae Miller made Bill Nye and Dr. Who proud with the bow tie headband she wore during her bronze medal run in the women's 400.
Eventual gold medal winner Caleb Ndiku, donned a beanie for his preliminary heat in the men's 3,000—the first recorded wearing of one at an indoor track meet. In the final, he ditched the cap and displayed his red hair.
On the body art side, nobody topped Pavel Maslak whose enormous dragon tattoo on his back looks much cooler now that he has a gold medal around his neck.
Also, I think everyone is still trying to figure out why Marvin Bracy switched into a bodysuit between the semifinals and the finals of the men's 60.