One Comment
Daily News Roundup: Analyzing Team USA Performance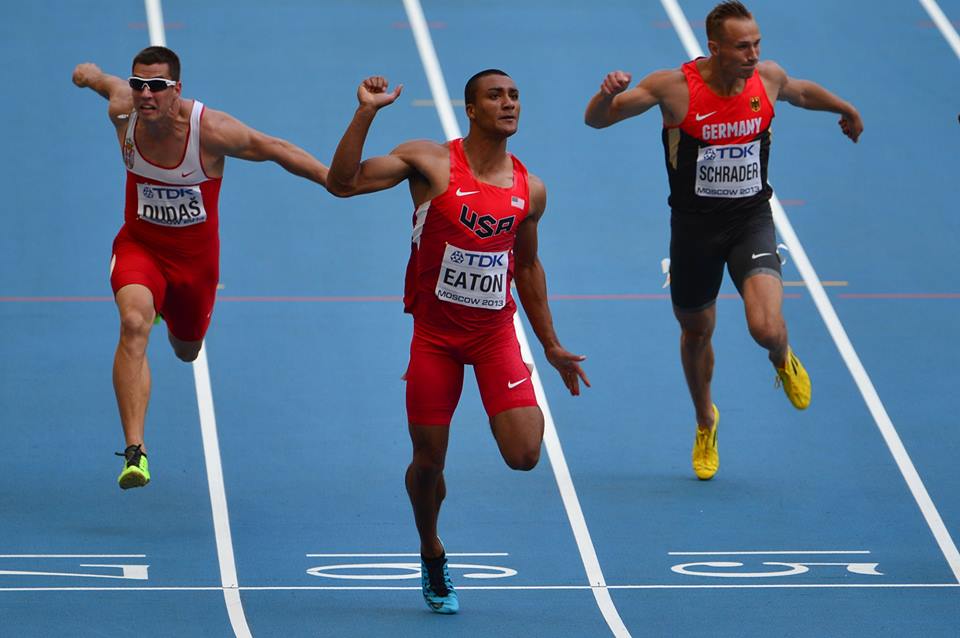 How did the US team do at the World Championships? And how do we figure that out?
How do you analyze a "team" performance in a sport that is essentially a collection of individuals? There's no teamwork to look at and no single final score. Some athletes overachieved, some underachieved. The only realistic way to look at it is to summarize the individual accomplishments.
There are a number of ways to do that. USA Track and Field tends to look at total medals won, like the ambitiuous the 30-medal goal for the 2012 Olympics that was very nearly achieved. Another way is to simply look at gold medals. A third way is to look at the "points table", which summarizes top 8 places.
This year's totals were 8 gold medals, 12 medals overall, and 142 points. How does that measure up to past performance?
8 golds: Average. Over the last ten editions of the World Indoor Championships, six times the US team has come home with 8 or more gold medals. Only twice has the team won more (ten in 2012, nine in 2003). Eight is the most common result.
12 medals: The worst. Not ever, but the worst in a long time. It's the lowest total by a US team at an indoor Worlds since 1991.
142 points: Average. The average US point total over the last ten years is 138.7 (I discarded 200 meter results prior to 2004, since that event is no longer on the program). Totals range from a high of 172 in 2012 to a low of 108 in 2004.
I'd have to call this an average to poor showing for the team. But does that mean anything, and is it important anyway?
World Indoor Championship results do appear to have some meaning, at least in Olympic years. The US's best showing was in 2012, five months before its best Olympic team performance in a generation (or more). Its worst was in 2008, again five months before its stinker of a performance in Beijing. But in off years like this one it has less meaning.
US team performances at international championships do have a great deal of importance. Good ones generate domestic headlines and attention and that translates to more track and field coverage for fans and more sponsorship money for athletes. Bad ones do the opposite, but their effects are harder to undo. I think the 2008 Olympics did serious damage to track and field in the USA and I'm not sure if anyone in USATF understands that.
Honestly, the biggest factor in national team performance in a minor championship like this one is who's on the team. The Americans brought 'A' talent in only a few events. Think about this: in events that have an indoor equivalent, 30 different US men and women won individual Olympic or Worlds medals in 2012 or 2013, but only seven of them were at the World Indoor Championships–and only two won medals (Ashton Eaton and Ryan Whiting). Most of the other 23 either skipped the indoor season entirely or didn't take it seriously.
What about the next World Indoor Championships? Those will be in Portland, Oregon in 2016. It will be the first senior IAAF world championship meet held in the US in 24 years, it will be leading off an Olympic year, and I have a sneaking suspicion that Nike-sponsored athletes will have some incentive to compete. The USA will bring a whole lot more 'A' level talent to that meet.
Links
Today's Monday Morning Run, a recap of the World Indoor Championships, is some of Kevin Sully's best work yet. (It's also his best impression of Cajun Man.)
The new House of Run podcast is up! Kevin travels to Las Vegas and joins Jason in person to recap the World Indoor Championships. The guys discuss Ashton Eaton's near world record, Chanelle Price's surprise gold, Nia Ali's defeat of Sally Pearson, the dominant wins by Genzebe Dibaba and Abeba Aregawi and all the other highlights from Sopot.
Results
Lots of results from the weekend…
Full results of the IAAF World Indoor Championships
Complete Los Angeles Marathon results
Highlight: the USA's Lauren Kleppin (a 5 Questions veteran) finished 3rd in 2:28:48, which puts her 20th on the all-time US list.
Full results of the National Junior College Championships
The highlight was Iowa Central's Tahir Chakisso, who won a distance quadruple.
Complete NAIA Championships results
Oklahoma Baptist's Akela Jones scored 58 points for her winning team.
Complete CIS Championships results
The highlight was York's men winning their first championship in 30 years.
Lannie Marchant added the Canadian half marathon record to the marathon record she set last fall. She ran 1:10:45 in an off-the-radar Nashville race. She beat the runner-up woman by more than 8 minutes.
News
Runner's World's Morning Report has all of the weekend's news: Chanelle Price's world indoor gold, Nick Symmonds is done with indoor racing, and more.
Ken Goe's daily Oregon track and field rundown looks back at the World Indoors and forwards to the NCAA Indoors.
Alan Abrahamson asks if the indoor Worlds were championships, gala–or what? He notes how track and field isn't as fan-friendly as other similar "Olympic" sports (which are kicking track's ass in terms of gaining the public's interest) and that a track meet in 2014 isn't much different from one in 1994 or 1974.
More from 3 Wire Sports
Scott Bush picks his ten best Team USA performances from the World Indoors.
More from RunnerSpace
Athletics Weekly has some all-inclusive statistical roundups from the World Indoors.
Men | Women
An interesting subsection of the Wikipedia article on the indoor worlds: "The IAAF again chose not to get wide coverage in the large United States market…"
More from Wikipedia
The meeting between the USATF and TFAA regarding a discussion of protests and appeals at national meets, planned for today, has been postponed due to travel delays on the way home from the World Indoor Championships.
More from Runner's World
New USTFCCCA computer rankings are out. These are based purely on national championship meet qualifiers. Florida is predicted for an NCAA sweep but not by much.
More from the USTFCCCA
Video of the day
From the IAAF: Goodbye, Sopot.