One Comment
Athletech: Chris Nickinson, Editor-in-Chief of RunnerSpace.com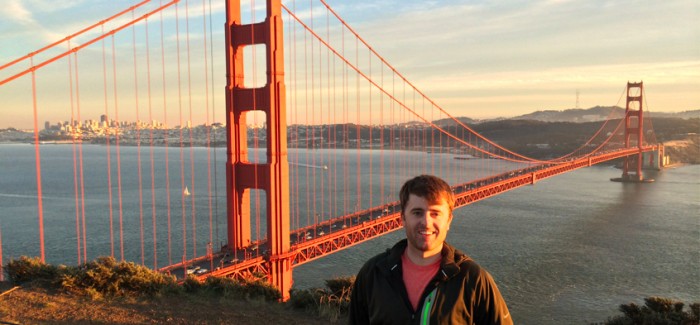 Welcome to Athletech, where we discover the gear and technology the running and track & field community uses to get stuff done. If there is someone who you'd like us to feature, tweet their name to us @DailyRelay with the tag #Athletech.
1) Who are you and what do you do?
I am Chris Nickinson (@chrisnickinson), the Editor-in-Chief of RunnerSpace.com. I work with our site hub (HS, College, Pro) and network site editors to keep fresh content flowing to our homepage & social media channels. I also dabble in Instagram snobbery, backwards motorcycle riding at USARC events & DyeStat message board tomfoolery.
2) What hardware do you use?
My main weapon of choice is a late-2011 vintage MacBook Pro with all the bells & whistles. When I'm not on the road I keep it hooked up up a 23-inch ASUS monitor for extra screen real estate. I don't have a huge desk so the MBP sits perched on a Rain Design mStand so I can store things like Moleskine notebooks under it while keeping them nearby. I live a digital life but you can't replace pen & paper for note taking.
When I hit the road the MBP comes along but I also keep iPad 2 with a Logitech Ultra-thin Keyboard Cover in the backpack. Between the iPad and my 64 gig iPhone 5s (#TeamGoldPhone), I can do 90% of my work without opening up my computer. I can't have dead mobile devices so I keep them powered up with a Mophie's Juice Pack Plus phone case and a Powerstation Duo. For the times I need hands-free phone use or can't have an echo during a conference call I use Bose MIE2i headphones.
I'm quite picky about my travel gear since I'm on the road several times a month. Cheap luggage won't last long nor protect your gear. I generally use a North Face Recon backpack for my backpack needs. I like pockets for compartmentalized storage and it has the right amount for me. For larger items I have a pair of sturdy Nike Departure roller bags in two sizes – carry-on and oversized. I can't stress enough the need to get something reinforced if your travel requires checking bags. The bags will take a beating & need replacement over time but the stuff inside is a lot more likely to arrive intact.
If you see me behind a camera at an event it's likely a Cannon XA10 or my iPhone. The XA10 is awesome because it records to regular SD cards which we have an abundance of due to our fleet of old Sanyo Xacti cameras which I do carry around as backup should. I mention the iPhone because the 5s camera is highly versatile from high speed video to rapid fire stills. It's the go-to Instagram camera for me.
3) What software do you use?
My software use isn't quite as exciting as the hardware. Obviously, I use this rad website call RunnerSpace.com which has all the tools to allow anyone to create their own custom website. I don't do super heavy video editing for software like iMovie and MPEG Streamclip usually do it for me. I do use Photoshop CS6 for most of my photo editing. As a site, we utilize Google Drive to share projects we're working on.
I get funny looks when people see my phone. I use a ton of apps and keep them neatly organized in folders. I use most of the basics like Instagram, Facebook Pages, & Google+. My favorite social media apps are Tweetbot (I avoid Twitter's native app like the plague) and Buffer because they work utilize cross-platform synergy to keep notifications on all of my devices down to a minimum which is a must. Google's Snapseed photo editor is my most used photo editing app. I loathe filtered photos on Instagram but I will take the time to do things like color correction. Since I travel a lot, I also use TripIt and the Delta app like they're going out of style.
4) What would be your dream setup?
If I had my way the newest toys would arrive at my door without me having to pay. The new MacPro is probably overkill for my needs but maybe a MacBook Air that could handle processing 4k video would be cool. On the mobile end of things, whatever Apple stuffs into the next iPhone will do.