13 Comments
Des Moines 2013: A 50-point retrospective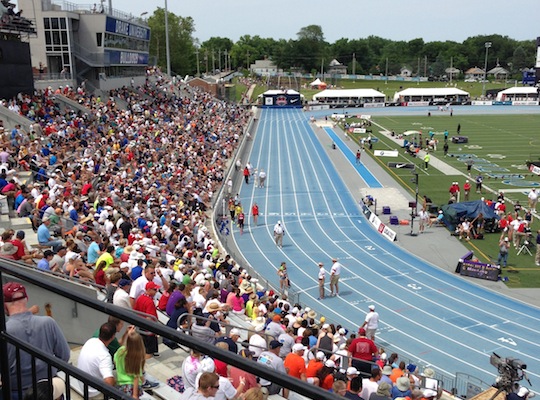 Pat Price | On 27, Jun 2013
My view all weekend (when I wasn't running back and forth to the Mixed Zone)
Now that we are almost a week past what were the 2013 USA Outdoor Track & Field Championships, I had a few thoughts from the long weekend in Des Moines. Some are meet related, and some aren't. Here's my brain dump, warts and all!
Upon landing, I peeled off my pullover and immediately put on shorts. It was hot and humid all weekend in Iowa.
I witnessed former Texas Longhorn, Patrick McGregor, moved to tears, immediately after interviewing Matt Elliott, in a video that has now gone viral.
I watched a disappointed Shannon Rowbury come in fourth in the 1500, and then bounce back 24 hours later and claim a spot on the podium, and to Moscow, in the 5000.
I watched a very upset Johnny Dutch melt down, collect himself, meet the press, and then walk away with a more positive perpective, after the major dissapointment of coming in fourth.
I watched a very excited Brandon Johnson complete his transformation from hurdler to 800 meter runner, making the world team in the process, running a PR of 1:43.97 for third in stacked final (5QW with him here).
I saw Riley Dolezal win the Javelin, with a 30-foot PR. What?
I watched the Oregon-based Track press, Ken Goe and Curtis Anderson, show why they have been in the sport so long. They are a model of consistency.
I ate waffle fry, pulled pork nachos at Jethro's and they were as good as they sound.
I ran in the heat and humidity that was Des Moines 2013. 7 miles at 7:40 pace damn near killed me.
I sat with the FloTrack guys in the uncovered press area of the stands, and saw the five headed attack do their thing, without the seemingly irreplaceable Ryan Fenton, as he recovered from surgery, after crashing his bike while filming a Nick Symmonds workout.
I watched the RunnerSpace guys go from Des Moines to Duluth, MN (for the US Half Championships), and back to Des Moines, fighting through thunderstorms and heavy fog to cover the event and keep the new USATF.tv up and running.
I saw the two-headed attacks of Let's Run (Weldon and Steve) and Race Results Weekly (David and Chris) hustle all weekend to bring stories and interviews to the distance hungry fans.
I watched SI's Tim Layden navigate through the press to get an excellent Mary Cain story.
I once again witnessed why Nick Symmonds is the best interview in the sport. Always comes through the mixed zone ready, always has a story, and apparently, hopes to be Tiger Woods "without the affairs."
I watched the continued growth of the Women's clothing brand, Oiselle. For the second year in a row, they've had the best post-meet party and their presence is a huge addition to the sport. They were once again, all over the place, and very noticeable cheerleaders for their star, the emerging Kate Grace, right by the finish line.
I met outspoken Hammer thrower, Britney Henry, who was very entertaining and hilarious. It reminded me of the many great stories outside of the track, and on the field.
I also met Brigetta Barrett the day before her win and personal record in the High Jump. I never would have known how good she was, as she was as engaging and pleasant as she could be, as she walked with Flotrack's Mitch Kastoff and me to the press lunch (they had churros).
I shared the Moscow excitement with Kim Conley and her coach, Drew Wartenburg, as I was able to grab a post-meet dinner with them at Court Avenue Brewing; before Conley jetted off to St. Moritz, Switzerland, to prepare for her 2013 European campaign.
I had a blast recording a post-day one discussion with Spiked Up, Psyched Up's Kevin Liao with Google Hangouts.
I tried three beers from Confluence Brewing, my favorite being the Farmer John's Multi-Grain Ale.
I watched a confident Duane Solomon say "the goal is to take Nick (Symmonds) down," and then do it.
I saw collegian Cory McGee blast down the homestretch to finish third in the Women's 1500, and then hours later reply to me via Twitter by stating, "I can do it!" in regards to getting the 'B' standard she'll need to go to Moscow.
I listened to a very happy Miles Batty state that he was happy to pass Andy Bayer down the stretch in the 1500 semi, after Bayer bested him in the 2012 NCAA 1500 final.
I saw Bryshon Nellum, Jeremy Wariner and Robby Andrews have tough days in the prelims, ending their weekends.
I saw the preview for the Sandra Richards-Ross reality show, "Glam & Gold," on the jumbotron multiple times. When asked why I should watch, she said "because it's going to be entertaining as hell!"
I witnessed Jordan Hasay and Tara Erdmann do the unthinkable and unseat Kara Goucher, then Amy Hastings, for the last two positions on the 10k podium. I then directed a very supportive Adam Goucher to the press area, where he was able to meet his reeling wife, after a tough day.
I watched Ben True lay the hammer down in the 5000, leading the group through a sub-4 last mile, only to finish fourth. Steve Prefontaine would have been proud.
On the flipside of that, I watched NC State's Ryan Hill dig deep over the last 150 meters to earn a spot on that podium, just behind Bernard Lagat 

and

 Galen Rupp.
I watched Leo Manzano fight back, after a disappointing season, to claim a spot on yet another 1500 team.
I listened to Lopez Lomong tell me he wasn't going to run the 5000, and then he was, and then he wasn't, over the course of four days.
I watched USATF reverse the direction of the sprints, due to heavy winds. I had to run to the other end of the stadium and sit on the stairs to watch Tyson Gay win the 100, in a very fast 9.75 seconds.
I got the news that Jackie Areson will now compete for Australia.
I watched many competitors in distance races succumb to the Iowa heat.
I was surprised once again by Mary Cain. She's pretty good, right?
I saw Lolo Jones run an incredible prelim and semi, only to be left off the podium in a very fast final, that gave us a new American hurdling star, Brianna Rollins.
I watched Latavia Thomas run 2:00.61 in the 800 semi and NOT make the final.
I watched a Men's 800 final, where all competitors had the 'A' standard.
I met many folks in the "running business," and enjoyed talking to each of them. It's a fascinating thing that I'd one day like to make my living in as well.
I watched Shot Put champ, Ryan Whiting, pick up Molly Huddle, Shannon Rowbury and Jenny Simpson after the 5000.
I watched Jeneba Tarmoh come in fourth in the 100, only to recover and get third in the 200, gaining her an individual spot on the Moscow team. She'll likely run the 4×100 relay as well, with her teammate, Allyson Felix.
In that same 200, I saw Kimberlyn Duncan storm the gates, and beat Felix. Per Tim Layden, this was the first time Felix has lost in a US Championship in the 200 since 2003!
I watched the return of Tyson Gay in the 200. He's back, y'all.
I, once again, roomed with my friend, Saucony's Jeff Caron, one of the most thoughtful and supportive people in this sport.
I met a multitude of collegiate coaches one night at "El Bait Shop." Some of the best, and most fun people in the sport.
I overheard a woman ask a bunch of girls if they needed to do a preventative, and was kinda grossed out. But I guess I learned something new!
I watched Nicole Bush truly comeback from her broken foot suffered four years ago in the 2009 USA Championships, to win the Steeplechase and claim a spot on her first World Championship team.
I'm pretty sure I saw Will Leer running down the street with his shirt off late night. It's a little dicey.
I saw Adam Nelson awarded his rightful Gold medal from the 2004 Athens Olympics. Glad to see it's now with its rightful owner.
I contributed pieces to this website, and watched Kevin Sully and Jesse Squire do the same from afar. We hope you guys like the Daily Relay!
Finally, I saw the return of Bershawn "Batman" Jackson to the World team, and afterwards, he told the cameras "You know what? I'm a warrior. The sky's the limit for a warrior." Yes, Bat, it is my man.
Hope you enjoyed my coverage all weekend on Twitter @WritingAboutRun See you next year in TBA!