No Comments
The Weekend's Best Matchups - June 27 to July 1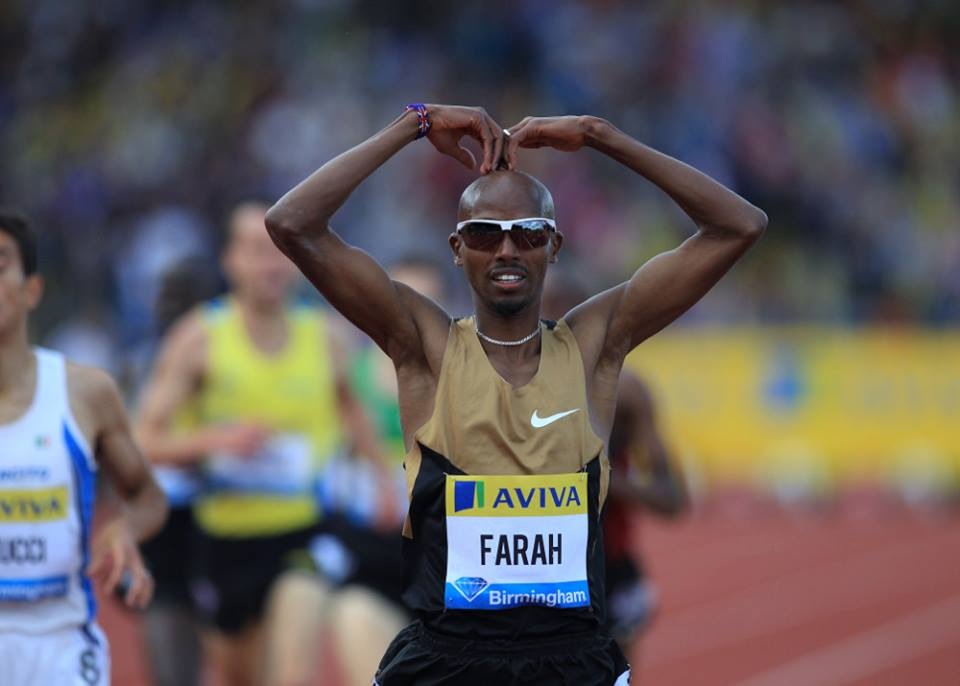 Jesse Squire | On 27, Jun 2013
Mo is going to to have to earn this one. Photo courtesy IAAF Facebook page.
We're getting to the part of the season when "weekend" is a broad term. This time around we're starting on Thursday and going through Monday. Here are your top competitions of the next five days and how to watch them.
1. Mo Farah vs Hago Gebrhiwet
5,000 meters, Sainsbury's Grand Prix
Sunday, 4:38pm local time (11:38am ET)
Alexander Stadium, Birmingham ENG
Athletics Weekly's Jason Henderson on this matchup:
It promises to be the head-to-head of the summer. The Ethiopian prodigy with the unspellable name, Sammy Davis Jr-style moustache and a finish so powerful he has left a strong fields reeling in his wake so far this year, versus the 30-year-old Briton with two Olympic titles on his mantelpiece and the kind of speed and stamina that has seen him invincible at 3000m up to half-marathon in the last couple of years.
The Alexander Stadium will be full of loud partisan British fans and this will be the race they most want to see. There is no guarantee of victory for their man, the double Olympic champion.
Past domestic British meets seemed set up for Farah and other home favorites to win against inferior competition, but that is no longer the case after a change in meet management. Farah will not only face Gebrhiwet but also Yenew Alamirew (second fastest in the world this year after Gebrhiwet) and Ibrahim Jeilan (who outkicked Farah for the 2011 Worlds 10k gold). The only better 5k race you'll see this year is at the World Championships in August.
Meet homepage
Live webcast at UniversalSports.com from 10:00am ET (go here or here for dodgier pirate feeds)
Athletics Weekly: Pretender to the crown
2. Jenn Suhr vs Yarisley Silva
Pole vault, Sainsbury's Grand Prix
Sunday, 4:38pm local time (8:30am ET)
Alexander Stadium, Birmingham ENG
Suhr has been vaulting at the best level of her entire life. She won Olympic gold last year, broke the world indoor record back in March, and has taken some good attempts at the outdoor record, too. The problem is that she's not alone.
Only three women have ever gone over 4.90 meters (16′ ¾"): world record holder Yelena Isinbayeva, Suhr, and Cuba's Yarisley Silva. Silva, the Olympic silver medalist, made it over that barrier four weeks ago at the Fanny Blankers-Koen Games in Holland, and Silva and Suhr have split their two meetings this year.
If the conditions are good, Suhr could break the world record. It's also possible that that she might have to just to win.
3. Yarisley Silva vs Yelena Isinbayeva
Pole Vault, Ostrava Golden Spike
Thursday, 5:50pm local time (11:50am ET)
Vitkovice City Stadium, Ostrava CZE
The real pole vault matchup we want to see is Isinbayeva vs Suhr, but it might not happen until the World Championships. But if we see how both Isinbayeva and Suhr separately compete against Silva, then we'll get an idea of how they compare.
Part of the second-tier World Challenge circuit, the Ostrava Golden Spike is a good meet with many stars, but few events have two stars going at each other. On the track, the most intriguing matchup is between milers Maryam Yusuf Jamal and Gelete Burka. Jamal is a two-time world champion and won bronze at last year's Olympics, while Burka is a jack-of-all-trades runner who hasn't done much at championship meets bus is dangerous at the one-day invitationals like this.
Meet website
Live webcast at Flotrack Pro from 12:30 ET (go here or here for dodgier pirate feeds)
IAAF: James, Bekele and Pearson among the stars in Ostrava
4. Sally Pearson vs the comeback trail
100 meter hurdles, Ostrava Golden Spike and Sainsbury's Grand Prix
Thursday and Sunday
Pearson was the dominant hurdler of the 2011 and 2012 seasons, winning everything of importance and running the fastest times in over a decade. She was the IAAF's pick for 2011 athlete of the year. This year, things have come back to earth after a couple of hamstring tears. She's just now getting back into the swing of things with a pair of races over the weekend.
Adding to the difficulty of her task is the sudden emergence of Brianna Rollins, who has been getting faster and faster with every passing meet. At the USATF Championships last week, Rollins ran faster than anyone has since the fall of the Berlin Wall. Pearson has about six weeks to get herself ready for the task of racing Rollins.
Athletics Weekly: Pearson ready for return
5. Natasha Hastings vs Amantle Montsho
400 meters, Sainsbury's Grand Prix
Sunday, 3:23pm local time (10:23am ET)
Alexander Stadium, Birmingham ENG
Montsho is undefeated this year and hasn't hid from anyone. She's gone under 50 seconds three times plus another 50.01. She's the best in the world right now. Hastings finally made a breakthrough with a win at the USATF Championships, her first-ever outdoor title and in the fastest time she's run since 2007. These two are the only athletes under 50 seconds this year.
6. Christian Taylor vs Teddy Tamgho
Triple jump, Sainsbury's Grand Prix
Sunday, 1:35pm local time (8:35am ET)
Alexander Stadium, Birmingham ENG
It was only two short years ago that Tamgho was supposed to be the next great thing in jumping. He broke the world indoor record in both 2010 and 2011, sandwiched around an outdoor season where he went to #3 all-time. But injuries kept him out of the 2011 Worlds, and surgery wiped out his entire 2012 season. His comeback has been gradual and careful but with consistent improvement.
In his absence, Taylor became the man to beat. He won gold at the '11 Worlds and '12 Olympics and his best distances are basically the same as Tamgho's were before injury. No one has jumped as far as these two have since the retirement of the great Jonathan Edwards, the world record holder.
European Athletics blog: Teddy shows how well he is bearing up on the comeback trail
7. US Championships Rematches
Various events, Edmonton International Track Classic
Saturday, 10:30am local time (12:30pm ET)
Foote Field, Edmonton AB
It's a relatively short flight from Des Moines to Edmonton, and a lot of US athletes who aren't ready for the Diamond League circuit quite yet are heading up to Edmonton for a meet being considered for next year's IAAF World Challenge circuit.
The top rematch is Duane Solomon versus Nick Symmonds over 800 meters but there are plenty more. In the men's 110 hurdles, Ryan Wilson (champion) takes on Jason Richardson (4th), and in the women's 100 hurdles, Nia Ali (3rd) takes on Lolo Jones (5th). The deepest rematch of them all is in the women's hammer throw, in which the top three at the US championships take on Sultana Frizell, the Canadian champion and record holder.
Meet website
Live webcast at Flotrack (free) from 12:30pm ET
Edmonton Examiner: Edmonton International Track Classic hopes to impress IAAF with 2013 event
8. Duane Solomon vs the record book
600 meters, Vancouver Sun Harry Jerome International Track Classic
Monday, time TBA
Swangard Stadium, Burnaby BC
A special attempt at the 600 meter world record has been organized for Solomon, the newly minted US 800 meter champion. His coach, Johnny Gray, set the target mark of 1:12.81 way back in 1986. The 600 was a popular distance this indoor season, as Solomon broke the US indoor record in January, and then Eric Sowinski broke it again three weeks later.
With the exception of Ashton Eaton, who will be putting the shot, the meet generally lacks international star power. Star power is not the point of Canada's NTL. The idea behind the five-meet tour is to allow for talent a cut below the Diamond League level to have good competitive opportunities at home, and it's doing that admirably. The names of those entered aren't well known unless you follow track and field in Canada and/or the Pacific Northwest, but every event should be hard-fought and competitive.
Of particular interest is the men's shot put, which has six of the world's top 40 putters, and the men's javelin throw, where surprise US champion Riley Dolezal goes up against the best in the US and Canada.
Meet website
Live webcast at Flotrack (free) from 5pm ET
Press release: World Record attempt by Duane Solomon at Jerome Classic 600m on Canada Day
9. Erik Kynard vs Mutaz Essa Barshim
High jump, Sainsbury's Grand Prix
Sunday, 3:08pm local time (10:08am ET)
Alexander Stadium, Birmingham ENG
When last we saw these two go head-to-head, Barshim went berserk after clearing 2.40 meters (7′ 10½"), the highest anyone has jumped outdoors in thirteen years, with Kynard finishing second. Their last meeting before that was in the Olympics, where Kynard won silver to Barshim's bronze. These two, along with Kynard's college rival Derek Drouin, will be going at each other for a very long time: the oldest of the trio is just 23.
10. Lidya Chepkurui vs Milcah Chemos
Steeplechase, Sainsbury's Grand Prix
Sunday, 3:42pm local time (10:42am ET)
Alexander Stadium, Birmingham ENG
Chepkurui is the Diamond League leader with two firsts and a second in three meets, and has run the world's fastest time to boot. Chemos was responsible for Chepkurui's lone loss. The rest of the field is tough too, bringing every Diamond League point scorer and all of the top six on the world list.