No Comments
The Monday Morning Run: Rowbury sweeps, Centro again, Montano returns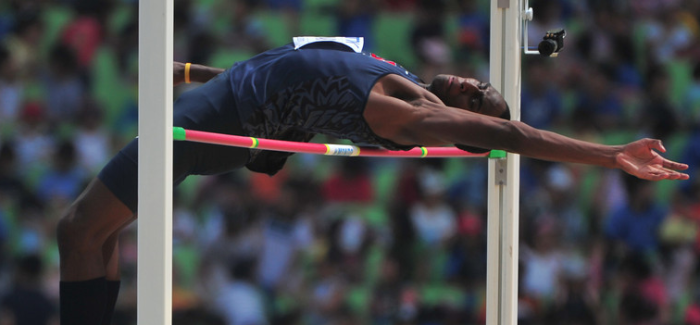 Kevin Sully | On 02, Mar 2015
If the main purpose of indoor track is to serve as a teaser for what is to come in the spring and summer, then this truncated professional season fulfilled its obligations. The American pro circuit came to end on Sunday with the USA Indoor Championships in Boston. Over in Europe there is one more major meet, the European Indoor Championships, before the focus shifts completely to the outdoor season.
In the past six weeks there has been enough records, close finishes and obscure races to pique our interest from week to week. Now, the fun is figuring out whose performances this winter are indicative of a big outdoor season and whose will turn out to be fool's gold.
More on that in the weeks to come. Without further ado, we turn our attention to Boston for those US Championships and recap the week.
The Medalists
The top three performances of the week
Gold: Shannon Rowbury
Rowbury doubled up with wins in the mile and two-mile to cap her indoor season. Neither race was particularly competitive with Rowbury making decisive moves that no other runner could cover. She now focuses outdoors where she will be part of an American group that looks like it will be the top middle distance group in the world.
The roll that the US middle distance is currently on really started with Robury's bronze in the 2009 World Championships. Since then, the title of queen of American middle distance has rotated between her, Morgan Uceny and Jenny Simpson. Rowbury finished the highest of the group at the 2012 Olympics, but never had a medal or Diamond League championship since 2009.
Meanwhile, Simpson has won silver and gold, as well as taking a Diamond League championship. One of the most interesting stories to watch outdoors, is whether Rowbury can unseat her. And if Rowbury can, does that mean she will get back on the medal stand this year, six years after her surprise third place finish in Berlin? Unfortunately, we didn't get to see Rowbury vs. Jenny Simpson this winter. What we saw of each individually was excellent. Surely there will be Ethiopians, Kenyans and others in the mix when the Diamond League season rolls around. But it just may work out that Rowbury vs. Simpson will play a large role in deciding the medals in Beijing.
Silver: Jasmine Stowers
As Ato Boldon mentioned on the television broadcast, the next crop of American hurdlers is coming. Jasmine Stowers won the 60-meter hurdles by a huge margin on Sunday to claim her first US title. Her time of 7.84 is second of the world list this year behind fellow American, Sharika Nelvis who has posted a time of 7.83.
Stowers is 23, Nelvis is 24. Neither have the credentials of Dawn Harper-Nelson, Brianna Rollins, Queen Harrison or Lolo Jones, yet both could make the World Championship team this year. The 100 hurdles is so unforgiving in the United States, past accomplishments are often run down by the next wave of Americans coming out of the NCAA.
Bronze: Matthew Centrowitz
In a mile race that looked like a game of tag with all the jostling and pushing, Centrowitz emerged victorious in 4:01. His lone loss of the indoor season ended up coming in England –a defeat I attribute more to jet lag than any other issue. He was his normal steady self on Sunday, holding off Ben Blankenship and Pat Casey and never showing any sign of weakness. When he peeked over his shoulder with 20 meters remaining that marked the first time I've seen him move any part of his head during a race since 2011.
Surging….
-Tianna Bartoletta
She won the 60 meters in 7.08 with a huge margin back to second place (7.18). Bartoletta will face a much stronger field outdoors when Tori Bowie, Carmelita Jeter and others start to race in the 100. It's only March, but I'm wondering if any of them are going to be able to stop Bartoletta this year.
-Erik Kynard
Jesse Williams's spot as the top American high jumper only last two weeks. Kynard came out of hibernation and easily won the US title. He cleared 2.34 and then with no other jumpers left in the competition he moved the bar up to 2.41 and had three attempts at the American record. None were successful, but he was close enough that he figured a stern word or two with the bar could help his cause.
#USATFind @erik_kynard having words with the bar. pic.twitter.com/2jlz7829BR

— Chris Nickinson (@chrisnickinson) February 28, 2015
A clearance of 2.41 would put him in range of Mutaz Essa Barshim and Bohdan Bondarenko. Kynard is not there yet, but it looks like he is getting swept up in the worldwide high jump boom that is making every record vulnerable.
-Manteo Mitchell
From the person who gave you….. running a 4 x 400 at the Olympics on a broken leg……and……..sharing the baton during the Penn Relays 4 x 400……….comes this…… "I go through the no butt cheeks clause, that's what my coach calls it. As long as I don't see any butt cheeks, I'm doing my job."
That quote came during his post-race television interview after he won the 300 in 32.86. He led the entire race so he saw precisely zero butt cheeks.
-Alysia Montano
The anticipated matchup between Montano and Ajee Wilson ended when Wilson crashed to the track on the second lap of the 600. The fall scattered everyone else in the field, except for Montano who was at the front of the pack. With no real challengers remaining she won easily. Her time of 1:26.50 was actually slower than Wilson's mark from Saturday's preliminary heat. Still, an impressive showing for Montano in her first major competition of the season. The 800 is going to be a tough team to make in the United States and Montano doesn't look far off where she was in 2012/2013.
-Lauren Wallace
The middle distance races had the most competitive fields this weekend–and all throughout indoor season for that matter. In Boston, they were split three ways with the 600, 1,000 and mile all taking place. That diluted all the fields, yet there was still at least one big name in each event. Wallace was not one of those name. She turned in the biggest surprise of the meet, running 2:40.42 to win the 1,000 and upsetting Treniere Moser in the process.
-Natasha Hastings
The off distance worked perfectly for Hastings, her fast start was rewarded and the race ended before she could be caught in the homestretch. She held off Jessica Beard in the 300 to win in 36.52.
-Cas Loxsom
I was interested in this race because it featured a 400 runner (Brycen Spratling) against a contingent of 800-meter runners. As competitive as 800s usually are at the professional level, I figured this would be an even tighter race. I was wrong. The final turned into a route when Loxsom took off the gun and never looked back. He ran 1:15.33 and bettered the American record that he set earlier this season.
-Robby Andrews
Andrews went the the front in the 1,000 final, then drifted to the middle of the pack before roaring back to win in 2:21.91. Does this mean he is back to the form he showed as a collegian? Too soon to tell. Andrews has had the misfortune (or fortune) of being good at both the 800 and 1,500, the 1,000-meter distance proved to be a perfect fit for him. It was long enough that it had a tactical component and short enough that his kick could influence the race.
Slowing….
-Ryan Bailey
He stumbled out of the blocks in the 60-meters and was not a factor in the race. Marvin Bracy took first place, with Bailey's training partner Joe Morris in second. After his prelim heat, and his 6.50 a few weeks ago, Bailey looked primed to pop a fast time. We will have to wait for outdoors.
-Racers Track Club
How does a team with Usain Bolt, Warren Weir and Kemar Bailey-Cole lose a 4 x 100 relay? That's like having Lebron James, Carmelo Anthony and Dwayne Wade on the same team and not winning a gold medal in basketball. We may never know how Bolt's Racers team lost to a quartet from UTech 38.23 to 38.29.
However, we did get to see our first sign of Bolt this season so it wasn't all a loss. He ran the prelim and the final of the 4 x 100. The most important part of this video of the prelim is that Bolt still switches hands when he gets the baton for some reason.
-Hamza Driouch
The 20-year-old 1,500 runner has been suspended for violations of his biological passport. Driouch was born in Morocco, but began running for Qatar in 2010. His most famous accomplishment came when he won the gold medal at the World Junior Championships in 2012. The suspension runs for two years, meaning Driouch will miss the Olympics in 2016. It's hard to keep track of all the doping positives throughout the years, but it's hard for me to remember an athlete this young being busted for performance enhancing drugs. Certainly not one this high profile.
In the flawed world of anti-doping, this looks to be as close to an ideal drug bust as possible. They got Driouch young, before the the record book or major championship medals needed major restructuring. And if you want to be understandably cynical, it also means that another positive could get him booted for life.
 But that isn't the only angle to the story. Mo Farah's name got mixed into this story when pictures appeared online of Farah training with Driouch last month in Ethiopia. All of the photos came before Driouch's ban was announced (though after the suspension started). Farah's agent says that Farah was not part of any training camp in Ethiopia and "he hired some local athletes to pace for him during his workouts." 
Winners who didn't win
-Ben Blankenship
He was second in both the mile and the two-mile in Boston. In both cases, he finished runner-up against World Championship qualifiers. Matthew Centrowitz beat him in the mile and Ryan Hill blasted past him in the last 100 meters in the two-mile. Hill made the US 5,000 team in the 2013 and looks like he will be even more of factor this season. He has great training partners to model himself after, a proven coach and a very effective kick that puts him in contention to win any tactical race.
-Jordan Hasay
Another doubler–she was fourth in the mile and second in the two-mile. She gets bonus points for running the last mile of her two mile on Sunday faster than her mile on Saturday.
Race video of 2 miles is up! Last mile was 4:32! #Speed #Progress #KeepWorking http://t.co/hzRRnIxRDB

— Jordan Hasay (@JordanHasay) March 2, 2015
In other news….
-Olympic gambling
The Nevada Gaming Commission approved gambling on the Olympics. As of now, the only track and field line posted on William Hill US is Usain Bolt in the 100 meters. Bolt is -200, meaning you have to bet $200 in order to win $100. I consulted Las Vegas resident, infrequent sports gambler and co-host of the House of Run podcast, Jason, to get his thoughts on the the line.
Jason said the odds appear a bit low, but you are putting extra risk on the unknown because the race isn't for a year and half. The line will be fluid depending on how Bolt and his rivals do this summer. As unpredictable as the 100 field is, it got me thinking about forecasting other Olympic races.
Most are even tougher to predict. In fact, the men's 100 is probably one of the only events where there is an actual favorite this far out from the Olympics. Ashton Eaton, Valerie Adams and Bolt in the 200 are the only bigger favorites than Bolt in the 100. Maybe Mo Farah in the 10,000.
For Eaton and Adams, Jason says -1000 isn't unrealistic given the dominance both have displayed in their events. That seems crazy given that Eaton is only one no height in the pole vault or one crash in the hurdles away from disaster. But Eaton has never done either of those things and his margin will likely be even bigger than it was in 2012 when he comfortably won gold. A -1000 line isn't a good payoff, but is there a person you would trust more with your money in track and field?
-Olympic Rule 40
More Olympics, the IOC is poised to change their rules governing athlete sponsorship during the Olympics. Rule 40 limited individual athletes ability to promote their non-Olympic sponsors during the Olympics.
How they change the rule remains to be seen. As of now the operative word is "relaxed." As social media gets further entwined into the the culture, Rule 40 seemed virtually unenforceable. This change, whatever it ends up being, allows the IOC to save face before the athletes protest en masse. We couldn't have been far away from Usain Bolt talking about Volvo at a press conference and daring the IOC to throw him out of the Olympics.