One Comment
World Indoor Championships Over/Unders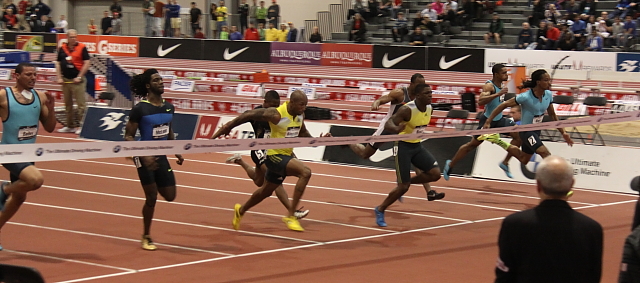 The year's first, and only, comprehensive world championship is upon us.  Sure, the World Indoor Championships aren't nearly as prestigious as the outdoor version or the Olympics, but if the competition is anything like the season thus far it will be an entertaining three days in Poland.  A meet of this magnitude deserves a deeper preview, one based on fictitious betting lines and wild speculation.
That's where we come in.
Co-host Jason spends most of his time in Las Vegas sports book and was able to cook up some over/unders for the meet.  If track and field ever gets popular enough to entice gamblers, Jason is the guy you want to know.  Your friends already think you're weird for paying attention to a track meet in Poland all weekend so why not play along and make some predictions?
-Over/under 15.5  total American medals
Jesse: Over
I think 16 medals would be an underachievement. There are 26 events contested and the USA has legitimate medal contenders in about two-thirds of them. Two medals are a possibility in as many as six events (men's 60, 400 and shot; women's 400, 800 and 60 hurdles).
Kevin: Over
I see definite medals in the men's/women's multi events, men's/women's 60, men's/women's 4 x 400, women's 60 hurdles, women's 400 and women's pole vault, and the men's shot put.  After that, there is huge group that I would place in the "likely" category–including the women's 800, women's 1,5000, men's 3,000 and men's 400.  With only two entrants per event the margin for error is smaller than it is outdoors.  Still, with 10 locks, the US only needs to find six medals in the toss-up events.
Pat: Under
Does anyone care about medal count here? Will additional eyes be on the meet because the US hosts the next one?
-Over/under .5 world records 
Jesse:  Over
I see only three in play: men's high jump, women's pole vault, men's heptathlon. Given Jenn Suhr's inconsistency this winter, I think the pole vault record is highly unlikely to be broken. Ivan Ukhov and Ashton Eaton are both capable of breaking records in their events but it's still a tough thing to do. Ukhov is probably very motivated to get the record here because the IAAF's big-money bonus is paid out in US dollars, and nobody wants rubles right now.
Kevin: Over
I agree that there are only three, although the men's shot put isn't completely out of the question. Ukhov has been on a tear this winter and only needs to improve by one centimeter to tie the mark.  Somehow, Ashton Eaton still seems like a safer better. He is much better than he was in 2010 when he broke the record in Istanbul.  Other than that Nike commercial where he seemingly defied gravity, he has been very quiet since his ho-hum gold medal performance in Moscow. Quiet Eaton is a dangerous Eaton.  I expect a big personal best and thus, a new world record.
Pat: Under
-Over/under .015 seconds as the margin of victory in the men's 60
Jesse:  Over
The last time the gold medal was decided by less was in 1999. Just because there's no favorite doesn't mean it will be a historically close race. Besides, Marvin Bracy is on a pretty good improvement curve and I think he's going to win big.
Kevin: Under
Bracy has won his last three races, but none of them have been by wide margins.  No reason to think that trend will change.  Even in Albuquerque, Trell Kimmons was just .01 behind.  If something happens to Bracy then there is even more uncertainty.  1999, be damned!  Bracy wins in another squeaker.
Pat: Under
Bracy should win, but only by .01 seconds or so. This should laud him as next great US sprinter. Will it translate in 100? We'll see. Only needs to figure it out by next year.
-Over/under 2.5 seconds for Genezebe Dibaba's margin of  victory in the women's 3,000
Jesse: Under
Because I have to pick an under somewhere.
Kevin: Under
Strong stance Jesse.  With no rabbits in this meet, it's a safe assumption that Dibaba will play it safe and won't try to do anything too outlandish.  Hellen Obiri is good enough to keep this race close until the final 400 meters.  Dibaba should have confidence in her kick (she did just set the world record in the indoor 1,500 a month ago) so she shouldn't worry about the race turning tactical. 2.5 seconds is a huge margin in an elite 3,000.
Pat: Over
Can someone win a medal in women's 3000 and get lapped? Maybe… Has that happened recently? Probably not.
-Over/under 2 mentions of Mary Cain's name during the women's 1,500 final
Jesse:  N/A
By who? The webcast I'm going to watch is probably going to be in Polish, so how would I know anyway?
Kevin: Over
I'm pretty sure "Mary Cain" is the same in Polish as it is in English.  Cain would have been the most recognizable athlete on the entire America women's team had she competed.  Thus, her name will come up quite a bit throughout the weekend.  In my mind, there are at least two clear parts in the 1,500 where she will be mentioned.  Once at the outset when they bring up who isn't in the race (Dibaba, Cain, every Kenyan). Then, when introducing her Oregon Project teammate, Treniere Moser.  I'm betting that there will at least one more reference, possibly when Moser grabs a medal behind Abebe Aregawi.
Pat: Over
At least one mention at start. One mention during race in reference to wherever Moser is in the field, and one reference at the finish as to if she could have medaled. This is BARE minimum. Expect 4-5.
-Over/under 7.00 seconds as the winning time in the women's 60
Jesse: Over
It's been 15 years since the winning time was under 7.00 and it's only been done four times in all of WIC history. The last woman who did it is best known for faking a motorcycle accident at the 2004 Olympics.
Kevin: Over
Jesse's numbers are pretty convincing here.  The women's 60 is the only sprint/hurdle race in this meet that could pass for a Diamond League field.  Shelly-Ann Fraser-Pryce, Veronica Campbell-Brown, Tianna Bartoletta and Murielle Ahoure are all entered.  Ahoure's best this year is 7.03. She probably won't need to run that fast to get the gold.
Pat: Over
Not gonna happen!
-Over/under 28 seconds as the winner's last 200-meter split in the men's 3,000
Jesse:Under
Bernard Lagat dropped a 27.77 at the US Indoor Championships off a fast pace and weaving through lapped runners. He's going to have to reproduce that kind of finishing speed to win, because if he doesn't then someone else will.
Kevin: Under
That is fast.  I thought it was closer to 29.  Jason may need to rework theses numbers.  It's counterintuitive that athletes finish faster in the 5,000 and 10,000 than they do in the 1,500 and 3,000.  Yet this is frequently the case. If the pace is slow in the first mile then this is a clear under.  No reason to think someone will volunteer be the sacrificial lamb and Lagat, Hagos Gebrhiwet, Dejen Gebremeskel, Caleb Ndiku, Augustine Choge and Galen Rupp all can finish in under 27 seconds.
Pat: Under
Hold on to your hat. Elbows up!
-Over/under 1.5 combined world record attempts for Ivan Ukhov and Jenn Suhr
Jesse: Over
If Ukhov wins then he'll take three all by himself. Right now I wouldn't call Suhr the favorite, so I'm not going to count on her for any.
Kevin: Over
This one is interesting.  They both could bow out of the competition before they even get to the world record height.  In Ukhov's case, there is a small chance that it might take a world record to win the competition.  Not likely, but it could happen.  The scenario that I see is both Ukhov and Suhr win the competition and then it comes down to how much, and for how long, they want to entertain the crowd.  In that sense, this is the most unpredictable of all the over/unders listed.
Pat: Under
-Over/under .5 events where the US finishes 1st and 2nd  
Jesse:  Over
It could happen in the men's 60 or shot or the women's 400 or 800. One-for-four is all I need to win this bet.
Kevin: Under
Those are the same four I had.  The men's shot has David Storl and Tomasz Majewski so the odds of the Americans finishing ahead of both is very low.  Francena McCorory and Joanna Atkins have two of the top three times of the year in the 400, but Kseniya Ryzhova of Russia has run 51.03.
In the women's 800, Ajee Wilson and Chanelle Price are ranked one and two and there aren't too many big names behind them. Stll, tough to bet on the 800. Bracy and Kimmons represent the Americans best chance.
Pat: Over
I'd say closer to 4 here, if I were a betting man, which I'm not. Pardon the brevity!
-Over/under 2.5 of awkward looks Veronica Campbell-Brown's competitors give her
Jesse: Over
Gotta go with the over, assuming you mean on the track. She will have seven opponents in each of three rounds. Three out of 21 is less than 15% and that looks like easy money.
Kevin: Under
Do looks of shock count as awkward?  Better question, has anyone ever won a world championship in their first race of the season?  Lashawn Merritt had a few races under his belt before he finished second in the 2011 World Championships.  Surely Campbell-Brown was training hard while she waited for her doping ban to sort itself out.  I doubt she would return just to get trounced. There is too much credibility at stake for her not to at least make the final.
Pat: Over
Way over!
***Bonus side bets***
-Greater margin of victory Abebe Aregawi or Mo Aman (+1 sec)
Jesse: Push
I'm taking a long shot and saying it will be the same, right down to hundredths of a second.
Kevin: Aregawi
Aman could take the gold convincingly and still only win by .5 seconds.  I think Aregawi's margin will be somewhere in the 1.7-2.2 second range.  With Dibaba running three world records this winter, Aregawi's 3:57 hasn't received the appropriate attention.
Pat: Aregawi
-More US medals in men's individual sprint/hurdles races (60, 60H, 400) or distance (800, 1500, 3,000)
Jesse: Sprints/hurdles
I think it's a struggle to win more than two in the men's distance races; I think Lagat is going to win a medal and Rupp has a shot too, but any medals in the 800 or 1500 would take the performance of a lifetime. I have a hard time seeing the US winning fewer than two medals in the sprints; we're not exactly bringing our 'A' team in the 400 and high hurdles, but our 'B' team in those events is usually still good enough to get on the podium. The 60 meters brings two medal opportunities all by itself.
Kevin: Sprints/hurdles
4 is a realistic number for the sprints/hurdles.  3 is the absolute minimum.  It wouldn't be a complete shock if the men's distance events produced more than that, but we are playing the odds here.  Will Leer and Lopez Lomong both have the capability to medal in the 1,500.  Ditto with Rupp/Lagat and Erik Sowinski/Nick Symmonds.  You can't cast-off any of the distance runners, but you also can't pencil any of them in.
Pat: Sprints/hurdles 
As a distance fan, I wish this was untrue, but sprints have more locks. That's factual.