2 Comments
The Monday Morning Run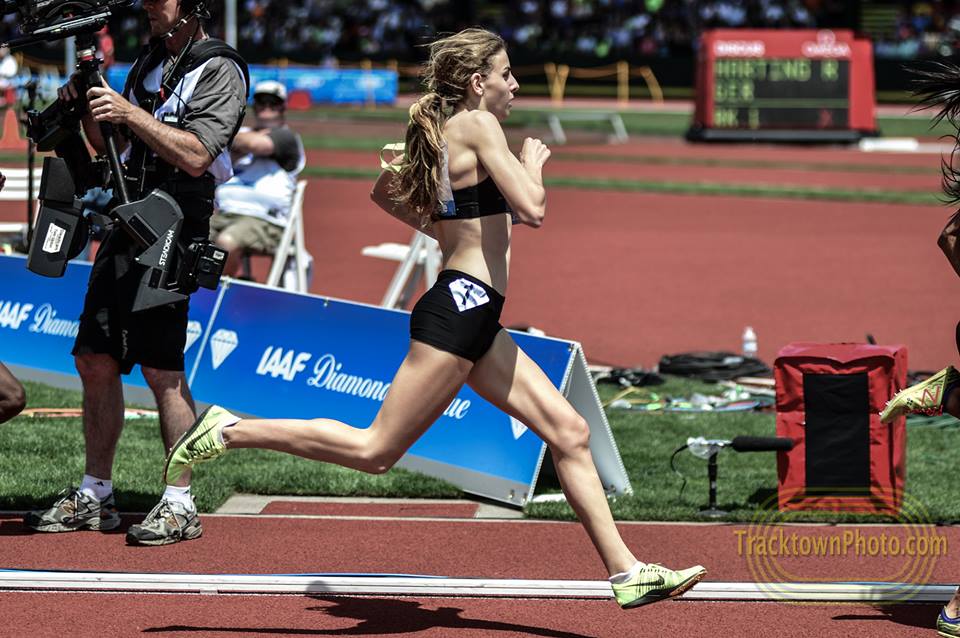 Photo Via TrackTownPhoto
The American professional indoor season started with a bullet. Two obscure world records, shoe issues, lap miscalculation and the blossoming on a new sprint star. Plenty of discussion below about the highs and lows from Boston and the New Balance Indoor Grand Prix. First, we start for the second week in row with Genzebe Dibaba.
The Medalists….
The top three performances of the week
Gold: Genzebe Dibaba
Dibaba decimated another world indoor record last week. This time it was in the 3,000 where she ran 8:16.60 to better the old record by over seven seconds.  The only faster marks outdoors were set at the 1993 Chinese National Games, which Jesse Squire describes as "a meet with no international observers, with unusually fast times across the board, and an overall air of unbelievability."
http://www.youtube.com/watch?v=mgG4NS1_xt8
Depending on where you sit (and if you're more afraid of being called cynical or naive), Dibaba's two world records in the last two weeks are either a great purge of questionable marks from track's shady past with doping, or the beginning of another difficult discussion.
In 2011, Tim Layden wrote an article for Sports Illustrated exploring the idea of running too fast. That is, when an athlete puts up marks that provoke questions about performance enhancing drugs. In Layden's piece he was discussing Carmelita Jeter, who became only the third woman to run under 10.70 seconds in the 100 meters (the other two were Marion Jones and Florence Griffith-Joyner).
If there is a middle-distance equivalent of running too fast to arouse suspicion, then Dibaba has reached that point. It's unfortunate and terribly unfair, especially considering that her pedigree (she is the sister of the women's 5,000-meter record holder and the cousin of a two-time Olympic champion in the 10,000) indicates that if anyone were to be able to legitimately run this fast, it would be Dibaba.
In the absence of any evidence, we will continue to marvel at her running this winter and hope that this era is cleaner than the one before it.
Silver: Mary Cain
Cain set another record, this time the world indoor junior record, in the 1,000 in Boston. Her time of 2:35.80 is almost four seconds faster than the mark she ran just three weeks ago. What a difference a few races and some competition can make.
As is usually the case with Cain, the time overshadow who she beat in this race. In this case, she defeated Chanelle Price, Sarah Brown, Ajee Wilson and Treniere Moser among others. She will face an even deeper field this weekend, but it is beginning to look like no American will be able to challenge her in the middle distances this winter. Perhaps she goes for the 800/1500 double in Albuquerque?
Bronze: Nick Willis
Amidst the haltingly slow pace and the disappearance of his expected rivals, Willis ran his typical composed race to win the mile in Boston. After a 2:04 first half, he surged to the front over the last 400 meters to victory in 3:57.41. Willis already has a sub-four mark outdoors this season and looks like a serious podium threat for the World Indoor Championships.
Surging….
–4 x 800s
If you don't enjoy relays, you are probably physically incapable of having fun. With a record on the line and several stars competing, the 4 x 800 in Boston was particularly entertaining.
The US All-Stars squad of Richard Jones, David Torrence, Duane Solomon and Erik Sowinski held off the New Jersey/New York Track Club Blue to get the win and set world indoor record of 7:13.11. The Brooks Beasts team with Nick Symmonds was never a factor after Matt Scherer's 1:54 opening leg.
This is track, so a technicality did need to rear its head. Since all of its members aren't a member of the same club (Jones and Solomon train in Florida, Torrance in California and Sowinski in Iowa….sounds like a team to me), the US All-Stars aren't eligible for the American record. That honor will go to the New Jersey/New York Track Club Blue, who also bettered the previous world/American record from 2000.
Lots of celebration for this one, but when you consider how much deeper American mid-distance is now as compared with 2000, it shouldn't be surprising that the old mark went down.
-Ryan Hill
Using his typical fast finish, Hill got up for a strong third behind Hagos Gebrhiwet and Dejen Gebremeskel in the 3,000 in 7:34.87. The time is a personal best and Hill's best race since his surprise third place finish at the US Championships last summer. He will definitely factor into the 3,000 in Albuquerque, especially if the early pace is slow.
Hill's showing is also a promising sign for American distance running. Gebrhiwet and Gebremeskel are Ethiopia's two best and will most likely represent their country in Sopot next month. For Hill to be a few tenths behind has to be an encouraging sign for Galen Rupp, Bernard Lagat and the rest of the Americans hoping to grab a medal.
-Ivan Ukhov
Indoor Ukhov continues to reign. After wrapping up the win in Arnstadt, Germany he took four attempts at the world record height of 8'0". Behind him, Aleksey Dmitrik also cleared 7'10 ½ to become the best second place finisher of all-time.
-Hagos Gebrhiwet
Gebrhiwet's margin of victory was just over a half a second to Dejen Gebremeskel, but he looked in control the entire race. His time of 7:34.13 was the fastest in the world this year despite being two seconds off his mark from the same meet last year.
Slowing….
-Galen Rupp
What appeared to be a major setback in the season and career of America's best distance runner, appears to have just been a footwear malfunction. With just over 600 meters remaining in the race, Galen Rupp dropped out of the mile at the New Balance Indoor Grand Prix. The television broadcast cited an issue with his left leg, but gave no further details. Later, Alberto Salazar told Ken Goe of the Oregonian that the pain in his left foot was due to the new shoes he was wearing. The Nike Oregon Project had more problems with footwear in the men's 3,000 when Cam Levins's shoe came off part way through the race.
Saturday's result is the first hiccup in a season that has gone perfectly for Rupp. The comments from Salazar (he also revealed that Rupp did a workout after the race) temporarily put a hold on any questions raised about the role the Rupp's aggressive start to the season or the shifting schedule leading up to the race in Boston played in the injury.
Rupp said after the race that dropping out was a precautionary measure with his major goals still in front of him this indoor season. Ironically, Salazar discussed Rupp's innate ability to stay healthy this week with Toni Reavis:
I've been with Galen for 14 years. In that time he hasn't averaged one day off per year that hasn't been planned. I'm counting time on the Alter G as alternative training, too. But even in high school as a freshman and sophomore he had a capacity not to get injured. All that micro-trauma from training he has the capacity to regenerate. Our head physical therapist and strength coach works with a lot of other people, and he says he's never seen anyone heal as fast.
Big deal or no deal at all? We will find out in less than two weeks in Albuquerque. There, the margin will be very small between winning another US Championship and not qualifying for the World Indoor Championships.
-Jenny Simpson
The "slowing" category isn't meant to be taken literally, but Jenny Simpson did almost come to a complete stop when she hit the bell lap in Boston.. Earlier in the race, she found herself in a deep deficit to Sally Kipyego and even trailed Jordan Hasay for second.
Simpson started clawing back four laps to go, passing Hasay and making up ground on Kipyego. By the time she reach the homestretch with 250 meters to go the epic comeback revealed itself to be a cruel miscalculation. She flew past Kipyego, crossed the line, started a post race shuffle only to see Kipyego keep going.Simpson rallied and finished in 9:26.19, five seconds back of Kipyego and three seconds short of the American record.
With such a small margin to the American record, it is reasonable to ask if Simpson could have run three seconds faster if she didn't lose count of the laps. Or, is it possible that the mix up actually helped her finishing time? Slowing to a jog certainly didn't help, but it is a reasonable estimation that all of her laps leading up to bell were faster due to her error.
Regardless, she was a good sport about it after the race.
3200/200=16 yes kids, algebra is important to learn for your everyday life. This is a public service announcement 😉

–Jenny Simpson (@trackjenny) February 9, 2014
-Leo Manzano
I'll be on record as saying that we should read nothing into Manzano's last place finish in the mile in Boston. Manzano has always been enigmatic. He is the only runner on the circuit whose first and last place odds are the virtually the same in each race. This season he is without a sponsor and a coach, neither of which probably help his consistency. He ran 4:04 on Saturday, almost five seconds behind the closest runner and yet nobody should be surprised if he contends for the win in the Millrose Games next weekend.
Under the Radar
–Marvin Bracy, the 20-year-old in his second season as a pro, won the 60-meters at the New Balance Indoor Grand Prix. His time of 6.53 was enough to hold off Joe Morris and Mike Rodgers and give him his highest profile win of his young career. With the breakthrough, it is hard to ignore the parallels between Bracy and fellow Floridian, Jeff Demps. Both were two sport stars who had wildly successful junior sprinting careers and football scholarships to Division 1 powerhouses.
Demps vacillated for several years between football and track. The indecision took a toll on his sprinting. His fastest time in the 100 came in 2008. Bracy took the opposite approach. He gave up football last year and signed a professional contract to run track. Whether that leaves him in a better position than Demps is yet to be seen.
-Also in Boston, Natasha Hastings held off Regina George to win the 400 in 52.05. Size gets brought up frequently during indoor season. A low center of gravity is seen as an advantage on short tracks with fast turns. While the merits of how helpful short stature can be debated, the role strategy plays indoors can't be overlooked.
This is especially true in the 400 where a quick starter like Hastings has experienced great success. She is able to get the pole position early in the race and create a comfortable, if not insurmountable, barrier. Even if she slows over the final lap, like she did on Saturday, her opponent has to work much harder than they do outdoors to get past her.
-It's always outdoor season in Jamaica! Yohan Blake and Warren Weir ran the 400 at the Camperdown Classic in Kingston on Saturday. Not much to take from the video except that Blake appears healthy again.
-More from Jamaica, Sherone Simpson's doping case was delayed again because lawyers for the Jamaica Anti-Doping Commission weren't able to understand the lab report.
–Matthew Kisorio, the highest profile Kenyan to serve a doping ban, is planning a return to competition when his suspension ends in June. In the video from KTN Kenya, Kisorio did not describe the circumstances of his suspension only saying he was a victim of "manipulation." The report also says that Kisorio had to return 50 million Kenyan Shillings in prize money, roughly $581,000 US.
-In what is turning out to be the marathon's version of the Senior Tour, Haile Gebrselassie will face Martin Lel at the Hamburg Marathon on May 4th. Now that he is officially 40 years old, Gebrselassie is poised to break another age group record. The current 40+ mark is held by Andres Espinoza who ran 2:08:36 at the 2003 Berlin Marathon.
–After his silver medal run in London, Nijel Amos virtually disappeared. He didn't compete in the 2013 seasons and rumors surfaced that he was thinking of giving up running to become a DJ.
News this week that he plans to run in the Commonwealth Games is welcomed sign for fans who would like to see David Rudisha challenged. Another revelation from the article is that Amos tattooed his finishing time from London, 1:41.73, on his forearm. What happens if he PRs?
One Week Too Late
Exhibit A of when planning a world record attempt goes wrong. As early as November, Abeba Aregawi was on record targeting Yelena Sobolova's 3:58.28 world indoor record in the 1,500.
It seemed like a realistic goal.  Aregawi just missed the mark last year and was coming off a gold medal season outdoors. The race was to be set up as a record attempt in front of her home crowd at the XL Galan Meet in Stockholm, Sweden. All going to plan.
Then, five days before the meet, Genzebe Dibaba had to go and muck it all up. The 3:58.28 that Aregawi was chasing soon turned into a 3:55.17.
Despite the dramatic moving of the goalposts, Aregawi still gave it a good run. She set a personal best and a "before last week" world record of 3:57.91. Her race with Dibaba in Sopot at the World Indoor Championships looks right now to be one of the best of the entire competition.
Tough Talk
–Geoffrey Mutai wants to run faster in London than he did in Boston in 2011. Get in line Geoffrey, every runner wants to run faster than they did that day.
–Mo Farah on Kenenisa Bekele choosing Paris over London for his debut marathon.
"If he really wanted it he could make it work. I could have chosen the easy option and gone somewhere else for my first marathon but I've gone straight in there because that's what I do."
Mr. Bekele, your response?
–Edna Kiplagat is not afraid of Tirunesh Dibaba. That makes one of us.
-The headline reads, "Jamaica to Send Strongest Team to World Relays." So, Bolt, Blake, Fraser-Pryce, etc.?
"We write to the coaches and the athletes' reps and get in touch with them. They will recommend which of their athletes will be available and then we choose the best team out of what is available at the time."
Oh, so not the best team at all.
–Ezekiel Kemboi wants a world record in the 3,000 steeplechase this season. And with that, 2014 has set a world record for most athletes saying they are going to target a world record.
The Week Ahead
Saturday's Millrose Games in New York City is the second stop on the domestic professional indoor circuit. All of the entries have been released. A few of the highlights below:
–Men's 60 meter hurdles: Ashton Eaton, Jarrett Eaton, Trey Hardee, Terrance Trammell. 
Eaton has already raced this event once this season. Can he upset the specialists?
–Women's 60 meter hurdles: Nia Ali, Janay DeLoach Soukup, Kristi Castlin, Yvette Lewis
No Kellie Wells, Brianna Rollins or Dawn Harper, but still a strong American presence. Heptathlete Brianne Theisen-Eaton and 2008 Olympic gold medalist in the 400-meter hurdles, Melaine Walker are also entered.
–Women's 3,000: Abbey D'Agostino, Kim Conley, Emma Bates, Betsy Saina
Conley is on a roll this winter. D'Agostino and Bates are the two of the best in the NCAA.
–Men's 60: Ryan Bailey, Isiah Young, Ameer Webb, Marvin Bracy, D'Angelo Cherry
Can Bracy back up his win in Boston? Will there be a world leading time?
–Men's 300: Wallace Spearmon, Lalonde Gordon, Manteo Mitchell, Renny Quow
Spearmon is racing in his wheelhouse event. Gordon is the world leader in the 400.
–Men's 2,000: Bernard Lagat, Evan Jager, Andrew Bumbalough, David Torrence
Let's break down the record chances:
US indoor- 4:58.6. 100%, half the field should get under this mark
US outdoor- 4:52.44, 50%, one pacing calculator I looked at has 4:52 equivalent to a 3:50 mile and a 13:18 5,000. I'm confident that several of the men in this race are in 13:19 shape. Less so for a 3:50 mile.
World indoor- 4:49.99, 10%, it would take 10, 29-second 200s. Or, they would have to go through 1600 meters in 3:52 and then hold the pace for 400 more meters.
World outdoor-4:44.79, 1%. El-Guerrouj outdoor records aren't to be trifled with.
–Women's Mile: Mary Cain, Alexa Efraimson, Treniere Moser, Cory McGee
Cain was originally slated to compete against Icelandic phenom Anika Hindriksdottir in the 800, but a matchup against 16-year-old Efraimson isn't a bad substitute. This is a deep race. Aside from the names listed above, Sarah Brown, Emma Coburn, Katie Mackey and Nicole Sifuentes are all on the start list.
–Men's 1,000: Nick Symmonds, Erik Sowinski, Robby Andrews, Mike Rutt, Tyler Mulder
The American record is the target for Symmonds, but he will also have to worry about winning the race. Sowinski split a faster 800 leg in the 4 x 800 relay at the New Balance Indoor Grand Prix. Symmonds gets into shape fairly quickly, so he should be much sharper on Saturday. The field will be chasing David Krummenacker's mark of 2:17.96 from 2002.
–Women's 800: Anika Hindriksdottir, Ajee Wilson, Natoya Goule
America's first look at Hindriksdottir, who could well be one of Mary Cain's chief rivals for the next several years. Wilson finished last in the 1,000 in Boston.
–Men's Mile: Nick Willis, Alan Webb, Leo Manzano, Cam Levins, Will Leer, Lawi Lalang
Willis and Manzano were at opposite ends of the finishing order in Boston. This is Alan Webb's farewell race.
Also on Saturday, the USA Cross Country Championships take place in Boulder, Colorado. Jenny Simpson and Chris Derrick are the headliners.
Renaud Lavillinie vaults in pursuit of the world record on Saturday in Donetsk, Ukraine.
Reading List
-The aforementioned Toni Reavis interview with Alberto Salazar. The coach discusses Galen Rupp, Mary Cain, the two peaks per year system Mo Farah's marathon training.
-Writing in the Washington Post, David Epstein separates facts from myths in the debate about sex differences in sports. Epstein uses many examples from the world of running.
-Are you watching the Winter Olympics? If so, I highly recommend Martin Bingisser's primer on the track athletes competing in the bobsled. In other bobsled news, Lauryn Williams will be pushing the number one sled for the Americans.