No Comments
Daily News Roundup: Cheat Sheet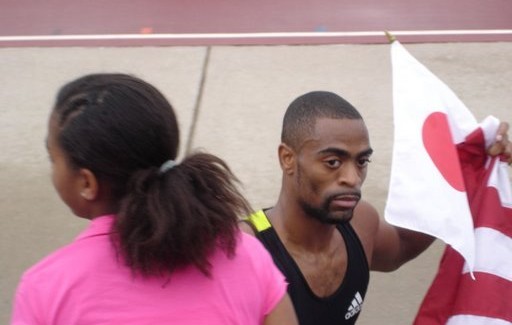 Tyson Gay in 2007, at the peak of his powers. (Photo by Jesse Squire)
A story by Sports Illustrated writer David Epstein, titled Cheat Sheet: They Tyson Gay File, was released earlier today at Pro Publica. It's a must-read.
If you're a track fan, you have some idea of what happened to Tyson Gay. After years of injury and decline, the sprinter's early 2013 season was remarkable. Then he tested positive for something at the USATF Championships. He accepted responsibility but denied knowledge that he was doping; "I basically put my trust in someone and I was let down," he said.
Epstein delves into the world of who that probably was, an "ant-aging" doctor who has worked with NFL players and a small number of sprinters, including Kelly-Ann Baptiste, who also failed a test. Lauryn Williams, the retired sprinter-turned-bobsledder, apparently looked into working with him but decided against it.
Anti-aging doctor works with athletes, supplies them with performance-enhancing drugs. Sound familiar? Biogenesis and Anthony Galea are just two other examples. It appears that "ant-aging" medicine is the modern snake oil, sold by charlatans and con men. Epstein's story certainly makes it appear that way.
The photo at the top of this story is not the best available image of Tyson Gay, but it's an appropriate one. It was taken by yours truly at the 2007 USATF Championships, where Gay blew away the competition in the 100 and 200 and served notice that he would be the man to beat at the World Championships. That happened five to six years before Gay supposedly began working with this doctor. Five to six years is an entire career for a world-class sprinter, and Gay should have been on the downside of his abilities. But that's easy for me to say while sitting back and watching, and not being dependent on my physical abilities for my livelihood. If a flim-flam man is going to take advantage of athletes who want to hear something less than the truth, it's going to be on the downsides of their careers.
All of this does make me feel better about one person in particular: Usain Bolt. His career peak was at the 2009 World Championships, just as he was turning 23 years old, and since then has been in slight but undeniable decline. That's completely normal.
Links
Kevin Sully looks at the week's pro action with his Monday Morning Run.
Apologies for the delay, but the weekly college recap will publish tomorrow morning.
News
Runner's World's Morning Report has the weekend's news.
Ken Goe's daily Oregon track & field rundown explains why Oregon ran two top-tier distance medley relays at the same meet, plus the morning's news links.
The Onion informs us of Lolo Jones' unusual accomplishment: she's the first American to be objectified in both Winter and Summer Olympics. (As usual, the headline is the funniest part.)
More from The Onion
Report: the "sharp pain" Galen Rupp felt when he dropped out of Saturday's mile at the New Balance Indoor Grand Prix was a cuboid bone that popped out of place. It's fine now.
More from Runner's World
Track & Field News summarizes the records set so far this year.
More from T&FN
The EAA rounds up the weekend's European action.
More from European Athletics
From Martin Bingisser: an Olympic viewer's guide to women track and field stars turned bobsledders. It goes a lot deeper than just Lolo Jones.
More from HMMR Media
Video of the day
A newsreel summary of the 1959 Millrose Games.

Stat corner
The all-time US indoor list for 3000 meters and 2 miles, down to 7:50.00. "cv" means converted from 2 mile. "BU" means Boston University, while "RLC" is the Reggie Lewis Center; "ATC" is the Armory Track Center and "MSG" is Madison Square Garden.
I think it's interesting to see so many of the USA's great distance runners all on one list. Note how many came from Saturday's race in Boston: numbers 3, 5, 16, 20, 30 and 48.
| | | | | | |
| --- | --- | --- | --- | --- | --- |
| 1 | 7:30.16 | | Galen Rupp | 2/21/13 | Stockholm |
| | 7:31.31 | cv |  — Rupp | 1/24/14 | Boston (BU) |
| 2 | 7:32.43 | | Bernard Lagat | 2/17/07 | Birmingham ENG |
| | 7:33.23 | cv |  — Lagat | 2/16/13 | New York (ATC) |
| | 7:33.44 | cv |  — Rupp | 2/11/12 | Fayetteville |
| | 7:33.67 | |  — Rupp | 2/2/13 | Boston (RLC) |
| | 7:33.77 | cv |  — Lagat | 2/12/11 | New York (MSG) |
| | 7:34.65 | |  — Lagat | 2/21/08 | Stockholm |
| | 7:34.71 | |  — Lagat | 2/2/13 | Karlsruhe |
| 3 | 7:34.87 | | Ryan Hill | 2/8/14 | Boston (RLC) |
| 4 | 7:36.50 | cv | Andrew Bumbalough | 2/16/13 | New York (ATC) |
| 5 | 7:37.40 | | Garrett Heath | 2/8/14 | Boston (RLC) |
| 6 | 7:38.29 | cv | Evan Jager | 2/16/13 | New York (ATC) |
| 7 | 7:38.35 | cv | Doug Padilla | 2/16/90 | Los Angeles |
| 8 | 7:39.23 | | Tim Broe | 1/27/02 | Boston (RLC) |
| 9 | 7:39.94 | | Steve Scott | 2/10/89 | East Rutherford |
| 10 | 7:40.25 | | Matt Tegenkamp | 2/9/07 | Fayetteville |
| 11 | 7:40.71 | cv | Marc Davis | 2/20/93 | Los Angeles |
| 12 | 7:41.30 | cv | Brian Abshire | 2/20/93 | Los Angeles |
| 13 | 7:41.59 | | Adam Goucher | 2/10/06 | Fayetteville |
| 14 | 7:42.29 | | Bob Kennedy | 2/24/96 | Fairfax |
| 15 | 7:42.49 | | Steve Holman | 2/24/96 | Fairfax |
| 16 | 7:42.95 | | Will Leer | 2/8/14 | Boston (RLC) |
| 17 | 7:43.33 | cv | Steve Prefontaine | 2/17/74 | San Diego |
| 18 | 7:44.16 | | Lopez Lomong | 3/11/12 | Istanbul |
| 19 | 7:44.73 | | Todd Williams | 2/24/96 | Fairfax |
| 20 | 7:44.88 | | Hassan Mead | 2/8/14 | Boston (RLC) |
| 21 | 7:45.00 | cv | Steve Lacy | 2/22/80 | San Diego |
| 22 | 7:45.12 | | John Scherer | 3/10/91 | Seville |
| 23 | 7:45.72 | | Matt Lane | 1/31/04 | Boston (RLC) |
| 24 | 7:45.89 | cv | Ed Eyestone | 2/2/85 | Dallas |
| 25 | 7:45.90 | | Sydney Maree | 2/27/90 | Seville |
| 26 | 7:45.95 | | Reuben Reina | 2/24/96 | Fairfax |
| 27 | 7:46.09 | | Terry Brahm | 2/10/89 | East Rutherford |
| 28 | 7:46.19 | | Matthew Centrowitz | 2/4/12 | Boston (RLC) |
| 29 | 7:46.42 | | Joe Falcon | 2/10/89 | East Rutherford |
| 30 | 7:46.55 | | Ben Blankenship | 2/8/14 | Boston (RLC) |
| 31 | 7:46.58 | | Bolota Asmeron | 2/9/07 | Fayetteville |
| 32 | 7:46.81 | | Chris Derrick | 3/10/12 | Nampa |
| 33 | 7:46.84 | | Jon Riley | 1/27/02 | Boston (RLC) |
| 34 | 7:46.85 | cv | Alberto Salazar | 2/22/80 | San Diego |
| 35 | 7:46.94 | | Dan Browne | 2/5/99 | New York (MSG) |
| 36 | 7:47.19 | | Alan Webb | 1/28/05 | Boston (RLC) |
| 37 | 7:47.20 | | Jason Lunn | 1/31/04 | Boston (RLC) |
| 38 | 7:47.26 | | Jim Farmer | 2/2/90 | New York (MSG) |
| 39 | 7:47.47 | | Brian Baker | 3/2/96 | Atlanta |
| 40 | 7:47.67 | | Jim Norris | 3/14/92 | Birmingham ENG |
| 41 | 7:47.78 | cv | Paul Cummings | 2/19/82 | San Diego |
| 42 | 7:48.08 | | Anthony Famiglietti | 1/27/2002 | Boston (RLC) |
| 43 | 7:48.24 | cv | Rudy Chapa | 2/16/79 | San Diego |
| 44 | 7:48.35 | | Andy Bayer | 1/21/2011 | Bloomington |
| 45 | 7:48.70 | cv | Frank Shorter | 2/19/71 | San Diego |
| 46 | 7:48.74 | | Matt Giusto | 2/15/1992 | Los Angeles |
| 47 | 7:49.05 | | Chris Lukezic | 2/10/2006 | Fayetteville |
| 48 | 7:49.05 | | Craig Miller | 2/8/14 | Boston (RLC) |
| 49 | 7:49.12 | | John Gregorek | 2/11/1984 | East Rutherford |
| 50 | 7:49.12 | cv | Ernie Freer | 2/20/93 | Los Angeles |
| 51 | 7:49.17 | | Kirubel Eressa | 3/9/2013 | Fayetteville |
| 52 | 7:49.55 | | Josh Rohatinsky | 2/7/2009 | Boston (RLC) |
| 53 | 7:49.56 | | Luke Watson | 1/31/2004 | Boston (RLC) |
| 54 | 7:49.63 | cv | George Young | 2/22/69 | San Diego |
| 55 | 7:49.93 | | Daniel Huling | 2/5/2011 | Boston (RLC) |
| 56 | 7:49.98 | | Paul Vandergrift | 3/14/1992 | Birmingham ENG |
| 57 | 7:50.00 | cv | Thom Hunt | 2/20/81 | San Diego |