One Comment
Geoffrey Kamworor broke the only rule of falling down in a race--and it was awesome: Monday Morning Run
Kevin Sully | On 28, Mar 2016
This week the parade of March World Championships continued. The time between indoor track and outdoor track was occupied by the World Half Marathon Championships, which took place on Saturday in the United Kingdom.
Back-to-back, but not overlapping World Championships, was oddly good timing for track and field. Any race involving Mo Farah, Geoffrey Kamworor and whole bunch of other fast Kenyans and Ethiopians is going to get attention, but doing it when there was virtually no other distractions gave it its own platform.
The men's and women's races in Cardiff were both exciting, leading to my overall takeaway that championships are cool and that there should be more of them–one every year in fact. I feel the same way about the World Indoor Championships, but I think hosting a half-marathon is even easier to pull off since it can be staged in accordance with a road race that already exists. Anyway, add that to the to-do list for Seb Coe, right below somehow finding more Usain Bolts…..
The Medalists
The top three performances of the week…
Gold: Geoffrey Kamworor
The playbook on falling during a race is unanimous. As much as it goes against human nature, don't try to get it all back at once. When Lasse Viren tumbled to the track in the men's 10,000m at the 1972 Olympics, he methodically made his way back to the main pack and then set the world record.
But Viren didn't have throngs of 90-minute half marathoners hydration belts and all hurdling over his body. While Geoffrey Kamworor was on the ground and trying to get up after he fell at the start of the World Half Marathon Championships, he was completely cut off from the race in front of him.
In a race that is 13.1 miles long, it's strange to think that something could happen in the first step that changes the results. It's unlikely that the leaders would have put up an early pace so quick that Kamworor couldn't have recovered, but I can only imagine the helplessness of being a speed bump for the entire field while the race you were supposed to be at the front of goes on without you. So Kamworor got up and chased and ended up reportedly running 4:15 first mile.
If this was a high school cross country race, a second gun would fire and everyone would groan and line up again. Not so for Saturday. There was an unending wave of runners behind the first couple rows of elites. Having a mass race in conjunction with the World Half Marathon Championships seemed like a great idea, and only in this incredibly fluky way did it seem to backfire. The general public was promised to share the roads with Olympians and in this case they got to trip over one at no extra cost.
Since it was Kamworor, he was able to recover. And because of the presence of the mass runners, we have video of aftermath of Kamworor's fall and attempt to get back to the pack. In it, he looks like an like an F1 driver trapped in a Trader Joe's parking lot–dodging the slower objects that surround him as weaves his way back to the front.
The start, along with the bad weather, added a few degrees of difficulty to his eventual win. Running 59:10 with rabbits in good conditions is impressive and this race offered neither. Once he recovered from the fall, Kamworor and Bedan Karoki worked together to push the pace and distance themselves from Mo Farah and the others.
Eventually, Kamworor broke free of Karoki and won by a healthy 26 seconds. Farah finished third in 59:59, outkicking Abayneh Ayele of Ethiopia. Anytime Farah doesn't win, it's a bit of a surprise, but really this result confirmed more that it refuted what we know about Farah, Kamworor and Karoki. It is Kamworor who won this same race in 2014. He has a faster personal best than Farah in the half marathon and has made a career so far at these late winter/early spring championships (World Cross Country, World Half Marathon).
Spinning this forward to the Olympics, Kamworor and Karoki look to be in great shape and can press Farah at 10,000m. Can they give more of a challenge than they did at the 2015 World Championships? That depends on where you believe they are on their career trajectory. For the sake of confidence, I think Kamworor had to win the race on Saturday. If he's not better than Farah in a half marathon, I don't see how he's better when the distance gets shorter. Remember, Farah ran 3:28 in the 1500m last year. As much as everyone wants, and expects, him to be good at every distance, there has to be some give and take in his performances.
Silver: Peres Jepchirchir
Jepchirchir won the women's race in 1:07:31 and led a Kenyan to a 1-3 finish in the team race. Kenyan dominated the competition overall with all five of their runners in the top seven. Unlike the names at the top of the men's competition, Jepchirchir is not a known quantity. She is 22-years-old and her personal best in the half marathon is a 1:06:39 from the RAK half in January.
Over the past few years, she's focused on road racing and not the track. This follows the same trend the Kenyan and Ethiopian men have followed over the past 10 years with runners going after the big prize money on the roads instead of the traditional progression of distances on the track. But Jepchirchir said after the race that she is focused on making the Kenyan Olympic team in the 10,000m.
I'm sure part of this is due to the allure of the Olympics. They only occur once every four years so why not make the team when you've got the chance? Long-term though, even if she's a hit in the 10,000m I'm guessing it's back to the roads. Until the money becomes comparable between, the surfaces I think this generation of women isn't going to wait as long as Tirunesh Dibaba and others did to run marathons.
Bronze: Bedan Karoki
Lost amidst Kamworor's gold and Farah's bronze was a great run for Karoki in second. Like Kamworor, the half marathon looks like his best distance. It's has to be great to be tops in the world in something, but it's a tricky spot when that distance doesn't exist at the highest level of the sport.
Karoki's never beaten Farah on the track and is probably also behind Kamworor and Paul Tauni in the 10,000m. He has yet to run a marathon though so perhaps his best chance at an Olympic medal comes will come from an even longer distance.
Twitter Questions
A few questions from readers. Send your question to @HouseofRun to be included in next week's post. No question too irrelevant.
-Who is the favorite for the 5k at the trials? Rupp or Hill?
@ManchRunner
To be a complete a buzzkill, let me first say that I think there is an outside chance that Rupp doesn't run the 5000m. He might qualify in the 10,000m at the beginning of the Olympic Trials, commit to the marathon/10,000m and decide that he doesn't need one more race in his legs on his quest for Rio. This, however, would go against the track runner's adage to always leave one's options open so I'm guessing Rupp does both in Eugene and then makes his choice right before the declaration deadline.
There is no chance he runs the 5000m and not the 10,000m so we can assume he will enter the 5000m with tired legs. Advantage, Ryan Hill.
Also, it's a championship 5000m race which traditionally goes slowly. That puts increased emphasis on closing speed. Again, advantage Hill.
Recent history is also trending Hill's way with a victory over Rupp at last year's US Championships and a runner-up finish at the World Indoor Championships. Right now, Hill's best distance is the 3000m, where Rupp looks destined for the marathon. I'm trying to take the broad view and not disproportionately weigh what we just saw in Portland, but barring an crazy results from either man before the Olympic Trials, Hill is the favorite.
-Which 5k split is more impressive? Kimetto 14:10 from 30-35k in WR run or Kamworor/Karoki 13:41 from 10-15k?
@schwartzeven
Ok, let's compare these side by side.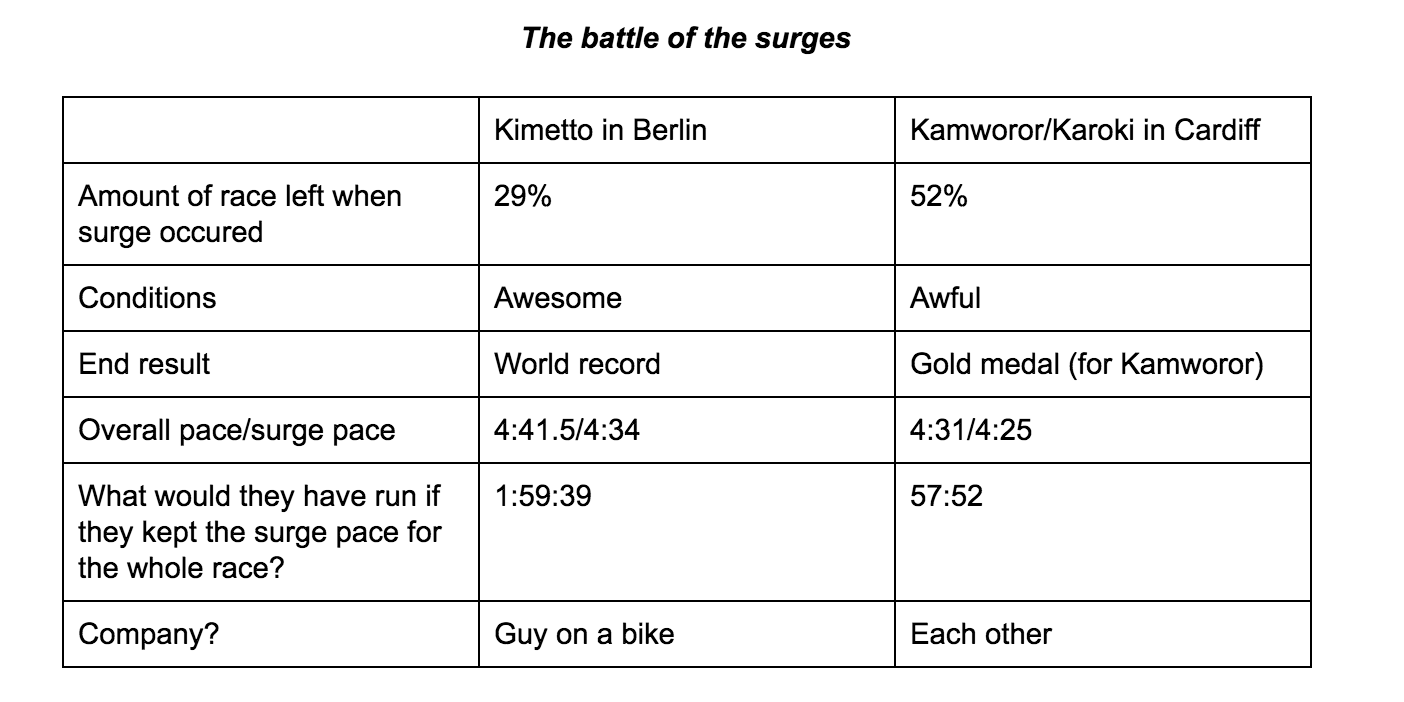 I'm still torn. Kamworor and Karoki's move was riskier because there was more of the race remaining, but they also had each other to run with. Kimetto benefitted from great conditions and a rabbited pace in early in the race, but he also ran faster than anyone in human history. I think I will go with 14:10 followed by 13:41 with a honorable mention to Kamworor's 4:15 opening mile after he fell.
-What events will be the hardest in which to make the US Olympic team? Women's 100 hurdles, Men's 100, maybe?
@niv06290
If you are defining toughest to make relative to the rest of the world, then it is women's 100 hurdles hands down. The US has at least two teams worth of women who are capable of winning in medal in Rio de Janeiro so it's a given that a potential Olympic champion won't make it out of Eugene.
Last year's World Championship flop was more of an aberration that any significant sign that the US dominance is flagging in the event. How many non-Americans can crack the top eight of Dawn Harper Nelson, Queen Harrison, Keni Harrison, Brianna Rollins, Nia Ali, Jasmine Stowers, Sharika Nelvis, Lolo Jones? There is really only a handful–Tiffany Porter, Cindy Ofili, Danielle Williams, Cindy Roleder and a healthy Sally Pearson. More are capable of an upset in a one-race setting, but in terms of sheer depth throughout the season the high hurdles for the US women is better than any other nation's event group except possibly the Kenyan men's steeplechase.
Other events that aren't as good on the world level, but will nonetheless be difficult to crack the top three in Eugene–women's 800m, men's 100m, women's 400m and men's shot put.
-With indoors over and the 26.2 team selected, when is the next race that will give us insight into the team for Rio?
@HouseOfRay
I'll go with the Drake Relays on April 29th and 30th. The announced fields so far are Diamond League quality and I think the mid-distances and hurdles will give a glimpse into the American pecking order. The other relay meets in April (Mt. SAC, Penn, Florida, Kansas) will feature Olympians, but none offer the amount of money that Drake will cut in the form of giant novelty checks.
I don't think a bad race at Drake excludes anyone from Olympic contention, but a good performance will put the word out on someone who might be a bit underrated.
Throwing Stuff
I don't discuss the throws enough, so I wanted to point you in the direction of some quality throws content from the past week. Last week Jesse interviewed Sam Mattis, the current world leader in the men's discus and a student at Penn's Wharton School of Business.
In the audio realm, Martin Bingisser spoke with Adam Nelson at the World Indoor Championships and discusses American shot putting and Nelson's attempt at a comeback.
From The Stands
Most of my experience at Portland for the World Indoor Championships was confined to the media tribune and the mixed zone. I had a wonderful view for all three days, but covering a meet isn't the same as buying a ticket and sitting in the stands. Often times chasing stories means missing events taking place in the stadium and extra hours at the track doesn't leave much time to take in other activities outside the stadium. Luckily, we have readers who did watch the meet from a fan's perspective.
Here's friend of the blog, Julian, with a few musings from his time at the meet. It includes a reminder that indoor track takes place in very close quarters and you never know who you will see on your morning run during a World Championships.
-One of the great things about athletics, is it's the only sport where you can see the greatest in the world competing on TV, and the next day find yourself doing the same thing, right next to them (not for long as their pace kills you quickly, but it happens). No one watches Peyton Manning on Sunday, and then catches passes from him in a pickup game on Monday.
The world of running; however, is a lot closer to the ground. I decided to go out for a Friday morning jog, and at first it's was like any other run – seeing the same citizen-runners that you would see in any city (except the city where Yuki Kawauchi lives).
But then it started to happen. Two Ethiopian athletes run by me. No, not just random people who look like they might be from the Horn of Africa. These were Athletes, though I didn't specifically recognize them. My naiveté at being in a city when some of the world's greatest athletes descend upon it kicked in. Another Ethiopian athlete ran by me, and as she passed, my mind went through the calculations of "Is that Meseret Defar? I'm not 100 percent, but I think it is."
My mouth, however didn't wait for confirmation, and just went ahead and blurted aloud "That's Meseret Defar, oh shit." As I ran a bit more, I got winded and tired as my out of shape self usually does.
Then all of a sudden a svelte figure entered the running trail in front of me. No need for mental calculations this time; that was Genzebe Dibaba. (Alright, I concede that it also could have been Tirunesh Dibaba. But I've got no reason to think that she was there or would be there this weekend, so I'm going with Genzebe). So one of the greatest runners of all time, is running just ahead of me on the same trail I'm running, at just enough distance ahead that I could run with her, but not close enough that it's in a stalkerish way.
So what do I do? Of course, I run with her.
And there it was, for two glorious seconds I was running with Genzebe Dibaba (before she broke me, and swiftly moved away in the same way, that she's pulled away from so many world class fields). I watched her run off, further into the distance, fluidly & effortlessly like this is the thing that God sent her to this earth to do (i.e. God sent her to earth to break the spirits of middle aged running nerds, world class athletes, and occasionally get beat by Almaz Ayana, who gives her a fake "hey girlfriend, great race" hug afterwards).
-One of the most interesting things to see is coaches attempting to get time with their athletes on the track. The problem is, they have to do it by sneaking into someone's seats. In indoor track, athletes get in where they can fit in, and I often saw a world class athlete get bumped by a spectator who was claiming their rightfully purchased seats.
-I saw Mutaz Barshim hurdle a six-foot high jump bar in practice, easily the coolest individual thing I witnessed. While he did not win, or even get on the medal stand, he is still the most amazing jumper to watch. That is not to take away from Gianmarco Tamberi. He drew everyone in with the half beard, and yeah that is his shtick, but he does exude personality, which goes beyond the beard and could make him a star. When he returned on the final day to watch the women's high jump, he was the most popular person in that section of seats.
-There was a lot of "is that so and so?" Faces you recognize out and about, but not quite sure of who it might be. A lot of, "can I Google this person without this person noticing that I'm either Googling them, or someone who looks like them?" I write all this to say yeah, that was Matt Tegenkamp.
-I saw Sifan Hassan, who is quite possibly the thinnest runner on the circuit, dragging a suitcase, which had to weigh three times more than her off of the train. This is like one of the three or four best 1500m runners on the planet, shouldn't she have people to do this for her? But this is track, so she doesn't.
-The Italian coaches came close to having a heart attack on every jump attempt of their athletes, although their biggest scare came from a large Ukrainian gentleman. Said large Ukrainian athletics fan, came out of nowhere to scream and yell for Andriy Protsenko.
At first it was kind of funny, but he stayed there and stayed loud at the base of the steps, blocking people's view. Protsenko seemed to express a combination of both mild appreciation for the vocal support, and mild embarrassment. Someone from the row behind me went up to him and said something. Soon after the large Ukrainian man stepped away, and climbed back up the steps. But took the time out to put a finger in that guy's face with a menacing Eastern European accented, "Don't call me asshole."