No Comments
Daily News Roundup: Some Oversight?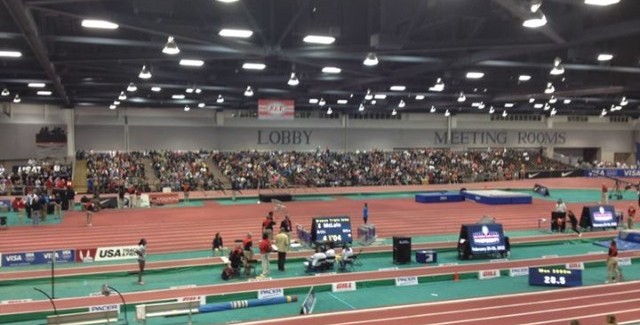 The 2014 USATF Indoor Championships might be a turning point in the organization's history.
If you've been paying any attention at all to professional track and field in the last two weeks, you know that two high-profile disqualifications happened at the USATF Indoor Championships, ones that reeked of favoritism towards a particular training group and which were sort of resolved but not really.
Yesterday, The Oregonian's Ken Goe reported that USATF leadership has agreed to a meeting on March 10 with the TFAA, the fledgling athletes' organization, "to discuss the procedure for protests and appeals of results at championships track meets".
Last week the TFAA requested that "USATF allow two TFAA-appointed representatives to monitor appeals and protests at U.S. championship meets". Note that the announcement of the meeting merely said procedures for protests and appeals would be discussed, so there's no guarantee that TFAA monitoring of said protests and appeals will be part of that discussion.
Regardless, I think this meeting is a very big deal. Apparently no one else does; a scan of the most active online track and field forums found no discussion of this meeting. But as a lifelong union member who grew up literally a stone's throw away from the site of the 1934 Auto-Lite strike, I can tell you that management does not happily share power. They'll fight you every step of the way and there was a time when they'd literally go into it with guns blazing.
There's no power sharing on the table for this meeting and even oversight is just a maybe. The important thing about this meeting is that its very existence, USATF management has now legitimized the TFAA and has set some degree of precedence for its ability to speak for athletes (a role supposedly played within USATF by the Athletes' Advisory Committee). It's kind of a big deal.
Links
To help Kara Goucher decide on her new sponsorship, yesterday Jim McDannald posted this handy flow chart.
The new House of Run podcast is up! Jason and Kevin discuss Mary Cain's withdrawal, Veronica Campbell Brown's reinstatement, Ashton Eaton's world record potential and all the other story lines for this weekend's World Indoor Championships. The guys discuss the American medal odds in all the events and make some not so fearless predictions.
News
Runner's World's Morning Report has all of yesterday's news: Geoffrey Mutai and Molly Huddle are in the NYC Half Marathon field, Kenenisa Bekele faces Wilson Kipsang in the Great Manchester 10k, and more.
Ken Goe's daily Oregon track & field rundown looks at the Oregon Ducks' chances at a fifth straight NCAA indoor championship.
College news…
NCAA Championships entries were released last night. Most notable: Arizona's Lawi Lalang is doing a mile/3k/5k triple. No one has ever won all three at the NCAA indoor–heck, no man has ever won three individual titles at a single NCAA indoor of any kind. Dartmouth's Abbey D'Agostino is signed up for a 3k/5k/distance medley relay triple, too.
More from Record Timing
The latest Bowerman Award Watch List was released. For those of you keeping score at home, Lawi Lalang is now tied with Florida sprinter Jeff Demps for the most Watch List appearances in the short history of the award.
More from The Bowerman
World Indoor Championships news…
The IAAF previews the men's events.
More from the IAAF
Runner's World previews the US team's distance runners and calls teenager Ajee Wilson a gold medal favorite.
More from Runner's World
Kenya's Helen Obiri is confident she can retain her 3000 meter gold medal despite the presence of Genzebe Dibaba, who has been on an unprecedented record-breaking tear this winter. I guess you have to believe you can win even when no one else does.
More from The Nation
The EAA looks at the return of veteran high jumper Blanka Vlasic and the rise of teenage half-miler Anita Hinriksdottir.
More from European Athletics
Flotrack's Workout Wednesday looks at Erik Sowinski, the two-time US 800 meter champion.
More from Flotrack
Chris Kelsall interviews Gabe (Anderson) Grunewald, the US 3000 meter champion.
More from Athletics Illustrated
Video of the day
A journey from 2.00m to 2.09m in the women's high jump.