No Comments
The Weekend's Best Matchups - London Diamond League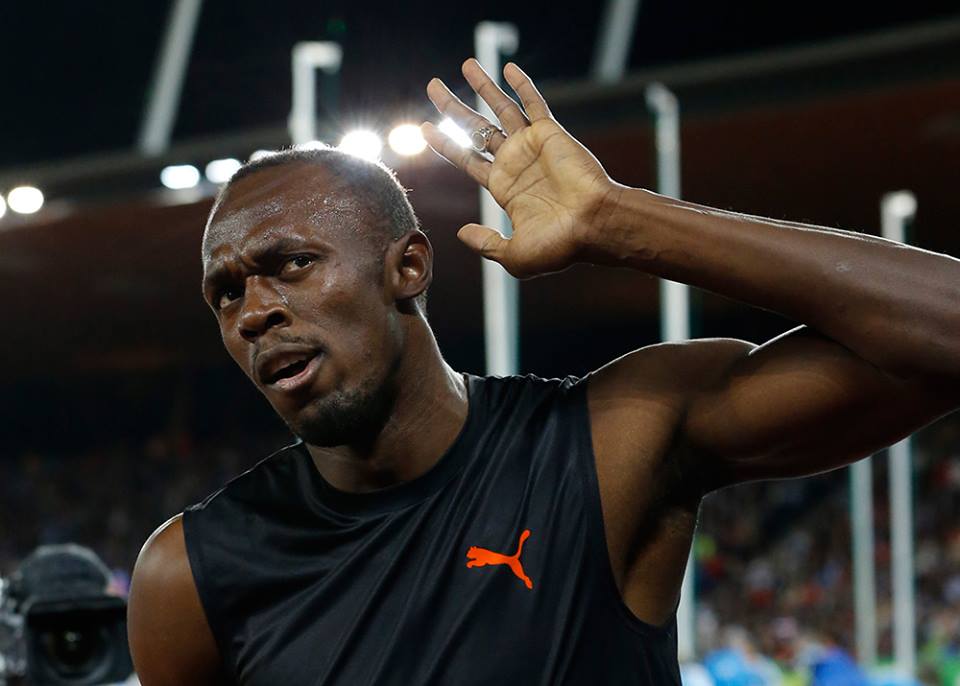 Jesse Squire | On 25, Jul 2013
Usain Bolt should have no trouble hearing the 80,000-strong crowd in London. (Photo courtesy IAAF Diamond League Facebook page.)
The main competition over this weekend is the London stop on the Diamond League tour, held over two days and dubbed the "Sainsbury Anniversary Games" since it's been roughly one year since the Olympics.
The Olympic stadium's 80,000 seats have long since been sold out and Usain Bolt and Mo Farah are the headline draws. Bolt has no peer in his race and so doesn't feature into this preview, because this is about highlighting competition.
Before we get to the dandy dozen matchups, you need some info.
The schedule, start lists and live results are at the Diamond League website.
The meet will be carried live in the USA on Universal Sports TV and UniversalSports.com from 3:00pm on Friday and 9:00am Saturday (Eastern time).
Since most American cable networks don't carry Universal Sports (which makes UniversalSports.com unavailable) and no Canadian network is broadcasting the meet, you'll need overseas feeds. Try WatchAthletics.com (day 1 and day 2) and Trackie.ca.
On to the matchups! Twelve of 'em, presented in chronological order.
Jen Suhr vs Yarisley Silva
Pole vault, Friday, 6:55pm local time (1:55pm ET)
Suhr broke the world indoor record back in March but Silva has ruled the outdoor season. She's beaten Suhr two out of three times this year and has the top four heights cleared outdoors. These two are hands-down the best of the year.
Notably absent from the conversation is world record holder Yelena Isinbayeva; only twice in the last three years has she cleared 4.85 or better, while Suhr has done it five times in that time period.
Kori Carter vs Zuzana Hejnova
400 hurdles, Friday, 8:04pm local time (3:04pm ET)
Carter had an amazing season, lowering her PR by nearly 4 seconds and breaking the collegiate record. She was a scratch in the final at the US Championships and hasn't raced since, but her 53.21 is still the world leader. This will be her first race outside the United States since the 2009 World Youth Championships, and her first as a pro. Hejnova rates #2 on the world list and has won all of the four Diamond League races.
This is a very deep race, as all of the top five on the world list are here: Carter, Hejnova, Georganne Moline, Perri Shakes-Drayton, and Dalilah Muhammed.
Bohdan Bondarenko vs Mutaz Essa Barshim
High jump, Friday, 8:09pm local time (3:09pm ET)
No one had cleared 2.40 meters (7′ 10½") outdoors since August 2000 until Barshim did it at the Prefontaine Classic in June. Thirty-three days later, while Barshim was sitting out with a minor back injury, Bondarenko went one centimeter better (7′ 10¾") in Lausanne. Only three other seasons have ever had multiple jumpers over 2.40, so we're looking at one of the best years of all time. Olympic silver medalist Erik Kynard isn't far off that height, either, and he's also competing in London.
American Teenagers vs The World
1500 meters, Friday, 8:36pm local time (3:36pm ET)
800 meters, Friday, 8:56pm local time (3:56pm ET)
Mary Cain (1500) and Ajee Wilson (800) may not be threats to medal at the World Championships, but they are serious threats to win their races on Friday. Each are the second-fastest entrants (by 2013 best times) and aren't far off of first. Wilson may have the tougher assignment, facing off against Brenda Martinez, who beat her at the US Championships.
Cain's rise has been more meteoric and more charismatic, resulting in a feature article in Sports Illustrated, but Wilson is more competitive on a world stage. She's higher on the world list (14th versus 24th for Cain) and has won more (gold at the '11 World Youth and '12 World Juniors versus sixth for Cain). But she is two years older and doesn't run the glamour event.
Duane Solomon vs Nick Symmonds
800 meters, Friday, 9:33pm local time (4:33pm ET)
Just a year ago, Nick Symmonds was persona non grata at the London stop on the Diamond League tour. (Follow the link if you don't know what I'm talking about.) Now he's not only welcome but the second-fastest entry in the race. The fastest is his American frival Duane Solomon. And this is not because Athletics Kenya blocked its Worlds qualifiers from competing in this meet, but because Solomon and Symmonds are #1 and #4 on the world list.
In fact, the USA has three half-milers this year faster than any Kenyan. That third runner is here in the form of Brandon Johnson, the fast-improving former hurdler who is shaping up to be this year's Duane Solomon. Solomon came out of nowhere last year after switching coaches to the legendary Johnny Gray, the same guy who now coaches the out of nowhere Johnson. (Neither, however, is a former greenskeeper.)
Aleksandr Menkov vs Luis Alberto Rivera Morales
Long jump, Saturday, 2:00pm local time (9:00am ET)
Menkov is the clear favorite for long jump gold at the World Championships, and the fight for silver and bronze is wide-open. Not yet 23 years old, Menkov has only lost twice this year and one of those was to Morales at the recent World University Games. Menkov is out for revenge, and we'll also find out if Morales' win was a fluke or an indication that he'll challenge for a medal.
Jess Ennis vs comeback trail
100 hurdles, Saturday, 2:11pm local time (9:11am ET)
Long jump, Saturday, 3:50pm local time (10:50am ET)
Going into last year's Olympics, Ennis might have been a bigger star in England than even Mo Farah. The entire idea behind this meet as the "Anniversary Games" is a celebration of Britain's amazing hour of three gold medals by Ennis, Farah and long jumper Greg Rutherford.
The problem is that things change very quickly in track and field. Rutherford is out with injury and Ennis was too for a very long time. The champion heptathlete hadn't competed since those Olympics until Tuesday, when she set a new javelin PR. She still reports achilles tendon pain and has yet to fully commit to competing at the Worlds. Here she is entered in the hurdles and long jump, and there's no guarantee she'll come through both unscathed.
Renaud Lavillenie vs Bjorn Otto vs Raphael Holzdeppe
Pole vault, Saturday, 2:17pm local time (9:17am ET)
No matter how you look at it, Lavillenie is the year's top pole vaulter and Otto and Holzdeppe are the next best. Lavillenie's record this year is 16 wins in 20 meets, and three of the four winners in those losses were Otto (twice) and Holzdeppe (once).
Michael Tinsley vs Javier Culson vs Johnny Dutch
400 hurdles, Saturday, 3:05pm local time (10:05am ET)
Tinsley is the world leader and started off the season with seven straight wins before running third in Birmingham and a disastrous eighth in Lausanne. This will be his first race since that Fourth of July debacle. Culson doesn't rate as fast on the clock but won those two meets over Tinsley. Dutch has few wins (and none at all since Rome on June 6) but has been tremendously consistent.
High Hurdlers vs clarity
110 hurdles, Saturday, 4:07pm local time (11:07am ET)
As I see it, there have been twelve "major" high hurdle races this year. Four athletes have won two of them (David Oliver, Ryan Wilson, Orlando Ortega, Ryan Brathwaite) and another four have won one (Aries Merritt, Jason Richardson, Andrew Riley, Hansle Parchment). The top four on the world list are separated by just four-hundredths of a second. Never has the word "parity" meant so much and it's tremendous fun to watch.
Oliver, Wilson, Ortega, Merritt and Richardson are all entered here and maybe one of them will win decisively and pull away from the rest as the favorite for gold at the Worlds. Or maybe not.
Everybody who is anybody
Women's 100 meters, Saturday, 4:20pm local time (11:20am ET)
I keep some Power Rankings of my own in order to keep track of who's on top in each event. All of my top seven in the women's 100 are on the entry list. Shelly-Ann Fraser-Pryce is first and Blessing Okagbare is second, but they could be threatened by the Americans I have in third and fourth. US and NCAA champ English Gardner is running her second Diamond League meet after a not-so-good run in Paris, and Carmelita Jeter has been struggling with injury all season.
Mo Farah vs the clock
3000 meters, Saturday, 4:32pm local time (11:32am ET)
The original plan had been for fan favorite Farah to face off against formidable foes. But then the Kenyan and Ethiopian federations forced their national team members to stay home, and when you don't have top Kenyans or Ethiopians in a distance race then you don't have much. Only Tariku Bekele offers up decent competition for Farah.
So then you start looking at the clock and records. The European record is 7:26.62 by the notorious Mohammed Mourhit, which might be more than Farah wants to go after right now. The UK record of 7:32.79 by David Moorcroft is much more doable.