3 Comments
Five Things We Learned in Shanghai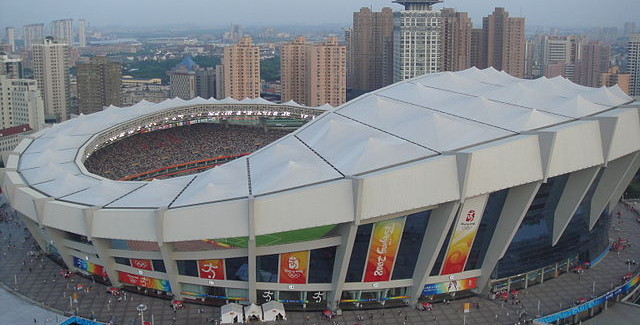 Jesse Squire | On 18, May 2014
The Diamond League tour went to Shanghai today. Results are available from the IAAF and video is available from WatchAthletics.com.
Here are my five takeaways from the meet.
Sometimes it isn't wise to go with the pacemakers.
Arthur Lydiard once said "this idea that you must maintain contact with the leaders has slit more throats than it's saved". Today's women's 1500 meters was a prime example.
The pace went out hot and America's Jenny Simpson, the Worlds silver medalist, was well back on the first lap. The leaders hit 400 in 62.27 (3:53 pace) and Simpson wanted none of it. She was ninth after 400 meters (seventh if you discount the two pacemakers), more than ten meters off the lead, and stayed that far back for most of the second lap. The pace slowed in the third quarter (67.19) and Simpson moved up, drawing even with the lead at about 250 meters to go. World champion Abeba Aregawi powered away for the win but Simpson held on for second. Her patience was rewarded with 4:00.42, the second-fastest time of her life (and her fastest in five years).

Sometimes it is.
The women's steeplechase included all of the top six runners from last year, and none of them went with the pacemaker. The only one who did was American Emma Coburn, Simpson's training partner. She built up a big lead of 70 meters with two laps to go, when the pack decided that she wasn't coming back to them and started closing down the lead. It was too little and too late, and Coburn's boldness was rewarded with a clear win–the first American win ever in this event on the Diamond League circuit–and a new PR of 9:19.80, the second-fastest ever by an American.

Tafik Makhloufi is distance running's heel.
In pro wrestling parlance, a "heel" is a villain, someone the crowd loves to hate. Forget the accusations of doping–those get thrown at lots of runners–and just look at this guy's style. He doesn't have the eminently punchable face of a Johnny Manziel but otherwise he fits the bill.
Remember the 2012 Olympics? He jogged about 150 meters in his 800 meter heat beofre dropping out, and got thrown out of the meet for not providing "a bona fide effort". He then got a doctor to say that he had a knee problem and got reinstated for the 1500 meters. He won gold in that event on a late sprint, raising cries of dirty pool.
Today he was leading down the homestretch of today's 800 meters and stretched his arms out a few steps in before the finish in celebration–or to keep the others from passing him, depending on your viewpoint. Either way it didn't matter, as Kenya's Robert Biwott went past on the outside for the win.

Blessing Okagbare could be a real triple threat.
Competing in two events at a Diamond League meet is quite rare, and Nigeria's Blessing Okagbare won two today. She won the long jump by a single centimeter, then came back later for the 200 meters. She won that with relative comfort, made possible by the late withdrawal of Shelly-Ann Fraser-Pryce. "SAFP" is the world's top sprinter right now but Okagbare is a pretty clear #2, and one of the two or three best in the long jump too.
Excellence at both the world-class level in both the sprints and long jump is more rare than you'd think. Among recent athletes, only the nefarious Marion Jones was able to do it, but she was basically a sprinter masquerading as a long jumper. Skilled long jumping along with top-level sprinting brings up just three names in my mind: Carl Lewis, Irena Szewińska, and Jesse Owens.

Sandra Perkovic is off the charts.
Earlier this year, the Croatian threw the discus 70.51 meters (231′ 4″) at a small meet in Split. It was a huge throw, the furthest since the implosion of the Soviet system in 1992. While more than six meters short of the official world record, it's the best since any real efforts at doping control came into being.
Today she threw once centimeter further. Dani Samuels just missed the 20-year-old Australian record and was left some ten feet behind. The discus is an event highly affected by wind, so it's hard to throw far inside an enclosed stadium, but that didn't stop Perkovic. She's my early pick for athlete of the year.