2 Comments
Monday Morning Run: Devon Allen ups the ante, Simpson beats Cain, Spearmon's future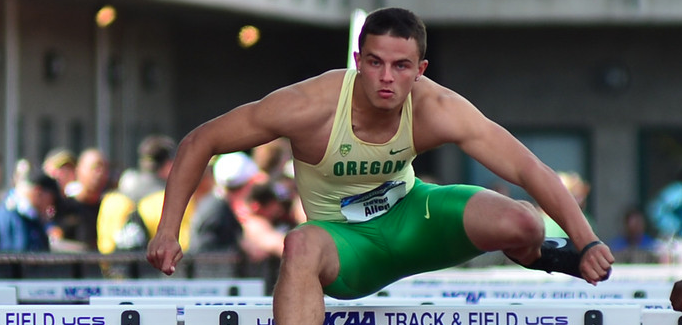 Kevin Sully | On 30, Jun 2014
Photo via TrackTownPhoto
I spent the weekend sweating through multiple shirts at the USA Outdoor Championships in Sacramento.  Today's edition of the Monday Morning Run runs through some of the highlights from Sunday.
-In the span of a month, Devon Allen went from a relative unknown to US champion in one of the nation's strongest events. However, his win on Sunday in the 110 hurdles didn't do anything to move him closer to a decision on his future in the sport.
On Sunday, Allen ran 13.16 to beat a loaded field that included defending champion Ryan Wilson and world champions David Oliver and Jason Richardson. In the short term, Allen is still committed to playing collegiate football this fall and said Sunday's race was likely his last race of 2014.
Oliver himself played collegiate football and knows the lure of potential big money in the NFL will be tough for Allen to turn down.
"Even if we never see him again he still had one of the greatest seasons for a collegian ever," Oliver said.
That season began well, but didn't give any indication that he was capable of becoming the best in the country.
"As the year started going on I thought it could happen," Allen said. "Things just started clicking in practice."
–Ronnie Ash described his day as "bittersweet." At 12:30 p.m. he smashed his personal best and set a world lead of 12.99 in the semifinals of the 110 hurdles. Two and a half hours later he was in the medical tent with ice on his ankle, a bandage above his nose and most of the skin missing from his left shoulder.
Ash caught his trail leg on a hurdle in the final, which sent him tumbling head first to the track. After receiving treatment for about an hour, he said he didn't suffered any injuries to his head and expects to return to racing this summer.
Along with the bruises, he leaves Sacramento with the first sub 13-second performance since Aries Merritt's world record in 2012.
-More injuries….Bershawn Jackson had to be helped off the track after he fell around the second hurdle in the men's 400 hurdles.
-I think we have settled the pecking order in the women's 1,500 for a while. Mary Cain is better than every American except Jenny Simpson. Simpson did all of the work on Sunday and was even able to increase her lead over the last 200 meters, winning in 4:04.96. Cain spent most of the race in third place behind Simpson and Katie Mackey, but made a strong move on the last lap to move into second place.
"I felt like I really could challenge her (Simpson). If she went out and it was a 3:58 race, then she would win cause I don't think right now I can run a 3:58," Cain said after the race. "I think I gave her a little bit too much of a gap, but jeez it's Jenny Simpson, she's run 3:58."
-Other quotes from the 1,500. Cain: "Afterwards I went over to her (Simpson) and I said you know, before the race I told my coaches there is one woman who can beat me and I'd be ok with it, it was you, so good job."
Simpson (When asked if she thought Emma Coburn could break her American record in the 3,000 steeplechase): "It's more like do I think she's not going to get it."
–Mary Cain and Alexa Efraimson's exploits have redefined what it means to be young and successful in the mid-distances. But the first finishers in the women's 800 are pretty young as well. Ajee Wilson, 20, won the race in 1:58.70 and Laura Roesler, 22, set a personal best of 1:59.04 in second.
Three others ran 2:00.18 or faster in the race.
–Maggie Vessey ran the 800 in aviators and a swirly orange and blue uniform.
-The men's 800 blew apart after Charles Jock fell in the first lap. Jock said he was clipped from behind. Video shows Jock making contact with Mike Rutt about 250 meters into the race. The result was Duane Solomon and Cas Loxsom breaking free of the group and the rest of the pack scrambling to try and regroup.
None of them did.
Solomon won the race in 1:44.30 and Loxsom placed second in 1:45.37. The next runner, Erik Sowinski, finished more than a second back.
Jock did not finish the race.
-Saucony's decision last year to not resign any sprinters left Wallace Spearmon without a main sponsor for the first time in his professional career. Oakley still sponsors him, but he does not have a shoe contract.
How did Sunday's race help his chances of a contract?
"Well, I just saw the Nike guys and I don't think they were very happy," Spearmon said after he finished second in 20.19.
"I just need to run fast, that's just how our sport works…..if you are one of those top three you are set, if not, you are fighting for it and it's the first time I've been in this situation."
Spearmon said he has been speaking with Asics, but is open to other options.
"I'd run for K-Swiss right now. I'd run for Timberland, it really doesn't make a difference I'm just trying to do what I love. "
-More Spearmon— he has at least two 400s schedule this summer, one in Canada and one in Europe. Get your predictions in now.
–Curtis Mitchell ran 19.99 with a tailwind in the semifinals of the men's 200. He won the final in 20.13 and grabbed his hamstring at the finish.
–Inika McPherson, not even five and half feet tall herself, jumped a lifetime best of 6-6 ¾ (2.00 meters) to win the women's high jump. She also had the most stylish approach to the mixed zone.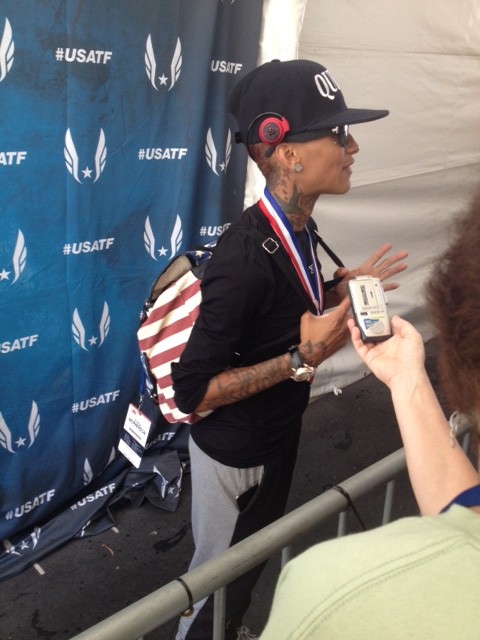 -In both the men's 200 and men's 110 hurdles, the faster times were run in the semifinals. Perhaps the 90-degree temperatures took their toll on the athletes running multiple rounds on one day.
-Before the semifinals of the men's 110 hurdles the on-field PA announcer explained that men hit more hurdles than women because they have raise their center of mass higher. Looks like somebody read The Sports Gene.
–Evan Jager and Dan Huling went 1-2 in the men's 3,000 steeplechase. Jager's win was the only victory for the Bowerman Track Club. How did the other mid-distance and distance clubs fare?
Final distance derby tally: 3 for @NikeRunning & @newbalance, 2 for @Saucony, 1 for @HOKAONEONE & @adidasrunning pic.twitter.com/nB72TrMu2E

— Pat Price (@WritingAboutRun) June 29, 2014
-Total attendance for the five days in Sacramento was 38,283. This includes Wednesday's non-ticketed shot put at the State Capitol. The five-day breakdown was as follows:
Wednesday: 5,550
Thursday: 5,824
Friday: 8,131
Saturday: 9,227
Sunday: 9,601
-It was hot on the track on Sunday, but it looks like we missed the worst of it. According to Weather.com, the high on Monday is supposed to be 107 degrees, . When the wind was calm it was pretty uncomfortable especially on the metal bleachers or in the mixed zone where there was little ventilation and lots of bodies.